Today I want to share with you my top 10 healthy lifestyle tips. It seems every time you turn on the Television or read a Newspaper someone is sharing knowledge about how to live a healthy lifestyle. It is an incredibly popular topic. This blog gets a minimum of 500 people a day searching out information on a healthy lifestyle. My intentions are to ensure that you not only know how to live a healthy lifestyle but you're also able to actually do it.
Let me start by asking, what is it that brought you here?
I'd guess it is because you want to find out what you need to do to live a healthy lifestyle.
So a better question I'd want to ask you, is what has made you decide that you want to live a healthy lifestyle? Is it a powerful enough reason to make you 100% committed to succeeding at doing this?
Let's get one thing straight. Anyone can establish a healthy lifestyle, but very few would find this easy to do. Only if you want it enough will you be able to implement everything necessary.
Let me define exactly what is meant by the term a 'healthy lifestyle.'
"A healthy lifestyle is making the best daily life choices to preserve good health and well-being, lowering the risk of being seriously ill or dying early." Larry Lewis
A healthy lifestyle has an incredible number of benefits, for example:
Reduces the incidence and impact of health problems
Reduce the risk of heart disease, stroke and diabetes
Reduction in probability of virtually all diseases
Increase the length of one's life
Improve joint stability and flexibility
Increase overall strength and stamina
Maintain bone density
Prevent osteoporosis and bone fractures
Improve sense of wellness and mood
Reduce symptoms of anxiety and depression
Improve self-esteem
Improved self-confidence
Improve sharpness and clarity of mind
Improve memory in elderly people
Reduce stress
Improves quality of life
As I've used in the definition of a healthy lifestyle it is dependent on making 'the best daily life choices'
So what are the choices you need to make?
Let me now share with you some major choices that you can make to help stay healthy. The main benefit of these lifestyle choices is that in the future you are less likely to develop heart disease, stroke, diabetes, liver problems, lung problems and certain cancers.
1. Lead an Active Lifestyle
Let me start by using some frightening statistics. More than a quarter of women and nearly a fifth of men are classed as inactive, and physical inactivity leads to around 37,000 early deaths in England alone. (National Institute for Health and Care Excellence).
Being physically active can decrease your chance of developing serious conditions such as diabetes and heart disease, and helps prevent a range of other conditions. If you have a chronic condition such as heart disease, high blood pressure, diabetes or arthritis, you can improve the condition by exercising safely.
Try to do at least 30 minutes of moderate physical activity each day, either all at once or in 10 – 15-minute sessions, 5 days a week.
2. Maintain a healthy weight
Statistics show in England alone, nearly a quarter of men and women are now obese. Being obese specifically refers to having an excess amount of body fat. The trends for children give even more cause for concern, with 18 per cent of 2 to 15 year olds currently obese and a further 14 per cent overweight. The Foresight report on obesity indicated that nearly 60 per cent of the UK population could be obese by 2050.
Whether it is a good indication or not, if you weigh too much or too little it certainly can be bad for your health. It can even cause serious conditions, such as heart disease and cancer.
Therefore, to live a healthy lifestyle you have to get your weight to be within a healthy range.
3. Don't Smoke
Smoking is the greatest single self-inflicted risk to health of all. To have a healthy lifestyle you can't smoke! Smoking is the main cause of illness and preventable death. Smoking kills around 120,000 people prematurely in the UK every year – more than 13 people every hour. If you don't smoke, then don't start. If you do smoke you can lower your health risks by stopping. Talk to your doctor about medicines to help you quit or to find out about Nicotine Replacement Therapy.
4. Don't drink to excess
Alcohol misuse is one of the biggest risk factors for increased disease and death. In 2012/13, there were estimated to be more than 1 million hospital admissions due to alcohol-related diseases. To keep health risks from alcohol to a low level, the UK Chief Medical Officers' (CMO) advised that it is safest not to drink more than 14 units a week on a regular basis. These unit guidelines are equivalent to six pints of average strength beer or six 175ml glasses of average strength wine.
5. Eat a balanced diet
Healthy Eating is an essential part of leading a healthy lifestyle. Your body requires a well-balanced diet every day in order to maintain the adequate amounts of vitamins, nutrients and minerals needed to maintain a healthy weight and body as well as protect you from certain diseases.
A balanced diet would consist of at least 5 servings of fruit and vegetables, wholegrain foods (e.g. bread, pasta and cereals), legumes (e.g. beans and lentils), lean meats, poultry, fish, and low-fat dairy products. Also keeping your intake of salt, sugar and saturated fat to a minimum.
6. Keep hydrated
Water makes up two-thirds of the body and performs a huge number of functions within your body. It is involved in all metabolic processes. It helps everything from electrolyte balance to hydration, digestion, metabolism, kidney health, lower incidence of urinary infection and protein synthesis. Aim to drink at least 2 litres every single day.
7. Get enough sleep
Sleep has the ability to optimise mental and physical energy, and optimal levels of sleep (about eight hours a night) are linked with reduced risk of chronic disease and improved longevity.
8. Maintaining good personal hygiene
Maintaining good personal hygiene is another important step for a healthy lifestyle. Personal hygiene involves those practices performed by an individual to care for one's bodily health and well-being on a daily basis. It includes bathing or showering regularly; washing your body and your hair often; brush and floss your teeth; taking care of your hair, wearing clean clothes and keeping your living environment clean and tidy
9. Managing Stress
Managing stress is essential to live a healthy lifestyle. There are so many simple and effective ways to handle stress and improve health, both mentally and physically so it makes total sense to take action and do something to get your stress in check. The risk to your health, and threat of serious illness, is increased dramatically through this constant exposure to stress. That is why managing stress is essential for you, learning tools and techniques that will help you handle stress in a positive way, and thereby reducing the harmful impact that stress has on your life. When stress is in control of you, it also controls your attitude to life and your physical health.
10. Have a positive outlook
The human spirit is the most neglected aspect of our selves. A strong spirit helps us to survive and thrive, even in the face of difficulty. You cannot have a positive healthy lifestyle and a negative mind. When we are positive, we become more engaged, creative, motivated, energetic, resilient, and productive at work.
Implementing these 10 choices into your life is going to go a long way to enabling you to live a healthy lifestyle. I assure you if you want to live a healthy lifestyle enough every one of these is well within your grasp.
Good Luck
Larry Lewis
Score Your Way To Good Health - With Our Healthy Lifestyle Plan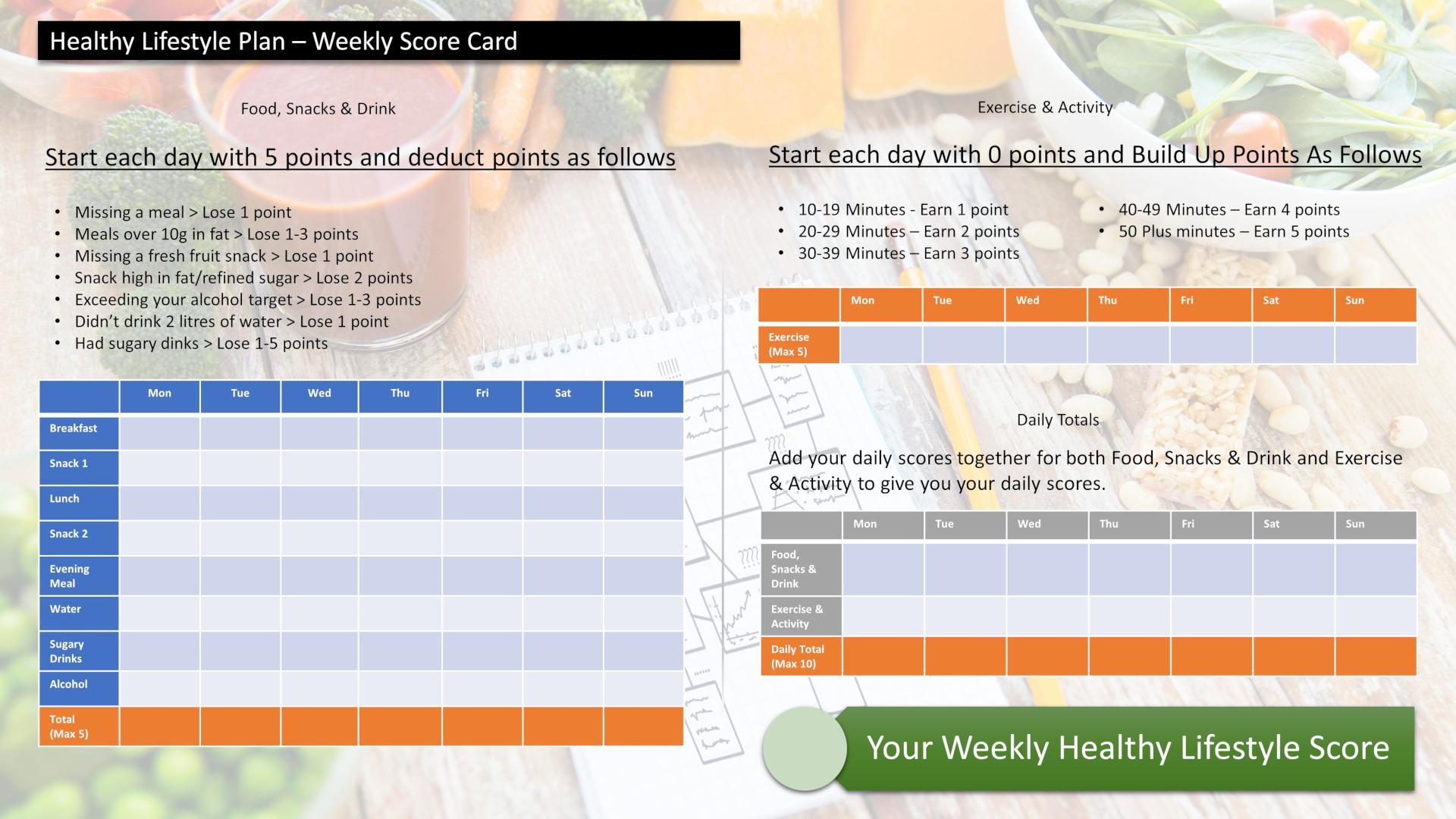 Score your way to good health with our healthy lifestyle plan and it's unique 70 point weekly scorecard!