Living a Healthy Lifestyle is within your reach, starting today, by implementing a few easy steps. You've heard it all before: eat your fruit and veg, avoid fatty and sugar laden foods, drink lots of water, exercise regularly. But why the fuss? What's important about living a healthy lifestyle and why go through the nightmare of making such huge changes?
Well let me first say, making changes to allow a healthy lifestyle isn't the nightmare. This is what's necessary to stop the real nightmare happening … illness and death.
A healthy lifestyle should be a way of living, and not just a temporary fix for a cold or to negate a gluttonous weekend. The true benefits of a healthy lifestyle are to maintain good health, equally to avoid ill health.
Living a healthy lifestyle may mean something different from one person to the next. For some, health is defined by living a disease-free life. For others, healthy is being able to play with grandchildren or perhaps adhering to a weekly exercise schedule. Though the definition of healthy may differ between people, living a healthy lifestyle is a fundamental component to achieving your optimal mental and physical well-being. In fact it is a must do for everybody.
Without a healthy lifestyle ill health will be heading your way. Be clear on that. I'm not trying to put fear into you, in fact I'm doing the opposite, sharing information that will help you make changes now, to avoid ill health in the future.
Want some proof.
A healthy lifestyle will reduce your risk of heart attack. That should be reason enough.
In addition, you'll feel better in general, have more energy and stand a lower chance of getting sick.
Did you know that being overweight or obese are, combined, the fifth leading risk for global deaths? At least 2.8 million adults die each year as a result of being overweight or obese.
44 per cent of the diabetes burden, 23 per cent of the ischaemic heart disease burden and between seven and 41 per cent of certain cancer burdens that are attributable to overweight and obesity. (Source: The World Health Organisation).
So, let me say it again, living a Healthy Lifestyle is crucial for avoiding health problems; or reverse them if they already exist.
Healthy living necessitates both physical and mental health. Sure, healthy living is a long-term commitment, not a flash-in-the-pan fad. But there are steps you can take right now that will make today healthier than yesterday and pave the way for healthy living tomorrow, too.
The way to good health is directly related to what is put into that body and how it is treated. The older you get, the more you will see your body respond positively to the benefits of a healthy lifestyle. Ready to get started living a healthy lifestyle?
Step One: Healthy Eating
All humans have to eat food for growth and maintenance of a healthy body, but we have to eat right. Let me share some of our healthy lifestyle plan principles.
• Eat three meals a day (breakfast, lunch, and dinner); it is important to remember that dinner does not have to be the largest meal.
• The bulk of food consumption should consist of unprocessed foods such as vegetables, fruits, beans, lentils, seeds and whole grains.
• Choose lean meats, poultry, fish, beans, eggs, and nuts. Better still go Vegetarian.
• Choose foods that are low in saturated fats, trans fats, cholesterol, salt (sodium), and added sugars; look at the labels because the first listed items on the labels comprise the highest concentrations of ingredients.
• Control portion sizes; eat the smallest portion that can satisfy hunger and then stop eating.
• Snacks are great, but they should consist of fruit only.
• Drink at least 8 glasses (64 oz.) of water per day
• Moderate your intake of alcohol and caffeine, or better yet, avoid them completely.
Step Two: Exercise
Physical activity and exercise is a major contributor to a healthy lifestyle. Regular exercise can help prevent coronary heart disease, stroke, diabetes, obesity, and high blood pressure. Regular, weight-bearing exercise can also help prevent osteoporosis by building bone strength. People are never too old to start exercising. Even frail, elderly individuals (70-90 years of age) can improve their strength and balance with exercise.
Choose a method of physical activity that you enjoy—one that will not feel like a chore. Start slowly and work up to a healthy frequency. Pace yourself so you don't run out of energy and become discouraged early.
A good exercise goal to work toward is 30 minutes per day, 5 times per week.
A great exercise to start with is Walking.
Step Three: Sleep
Get enough sleep daily; the recommended hours for sleep for different age groups are as follows:
12-18 hours from birth to 2 months,
14-15 hours from 3-11 months of age,
12-18 hours for 1-3 years of age,
11-13 hours for 3-5 years of age,
10-11 hours for 5-10 years of age,
8 ½ to 9 ½ hours for 10-17 years of age
7 – 9 hours for over 18's.
Keep a regular sleep schedule whenever possible. Set an alarm if necessary, and try to get up at the same time every morning, even on weekends.
Step Four: Relax
Set aside time for relaxation. Make a commitment to spend some time relaxing at the same time each day or week. Experiment with different relaxation methods until you find the one that is right for you. Here are some methods that have worked for others:
Meditation
Deep Breathing
Progressive Muscular Relaxation
Step 5: Personal hygiene
Mouth or body odour announces you in a really bad way; you do not want people taking three steps back for every step you take towards them. You have to practice those hygiene instructions strictly – "brush your teeth, especially your tongue twice a day", "take a bath with soap at least once a day", "floss daily".
This article is designed to give tips to readers about how they can improve their life to have a healthy lifestyle; it is not meant to be all inclusive but will include major components that are considered to be parts of a lifestyle that lead to good health.
Not sure how good or bad your current lifestyle is, then take the Healthy Lifestyle Quiz
Score Your Way To Good Health - With Our Healthy Lifestyle Plan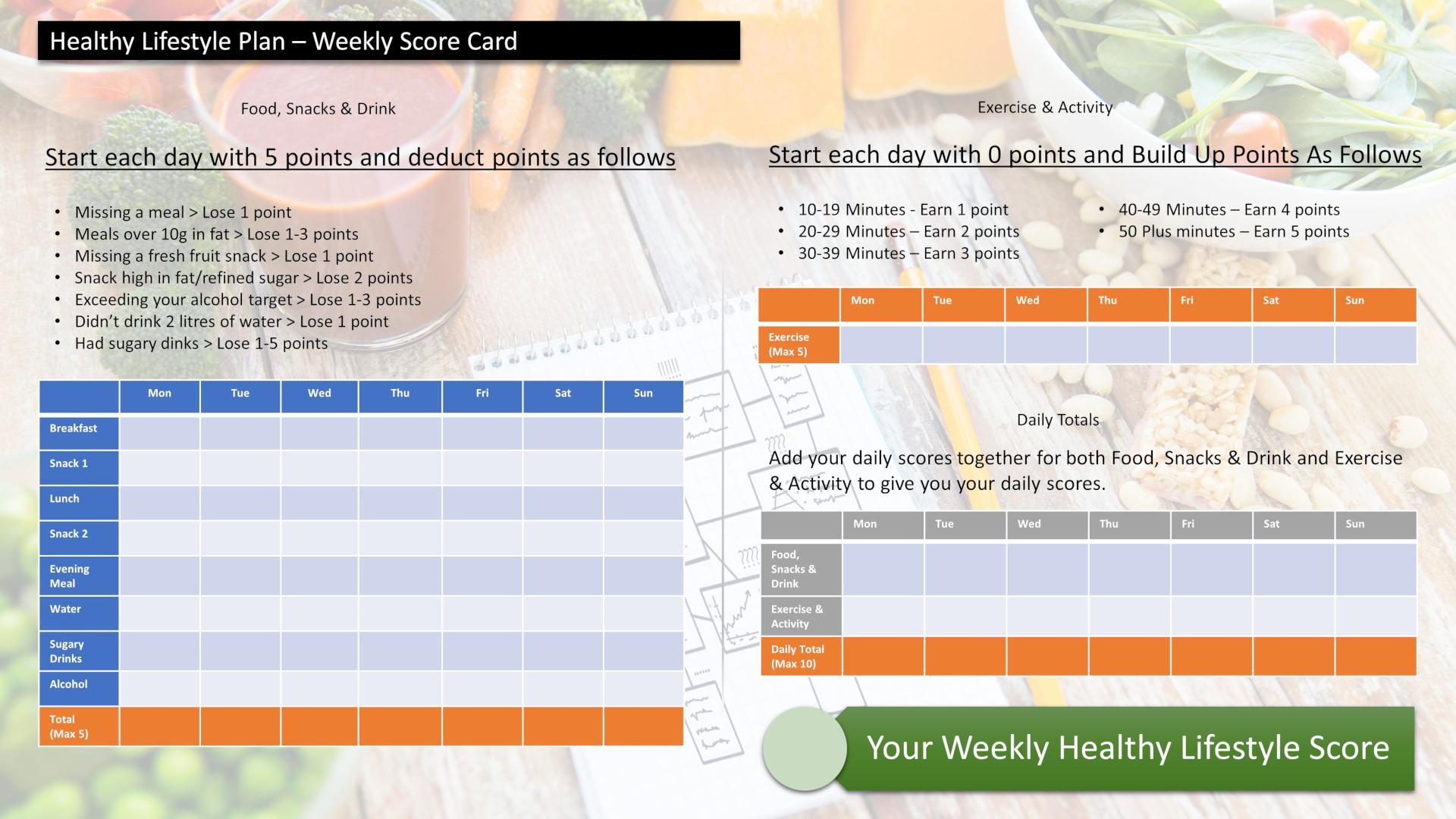 Score your way to good health with our healthy lifestyle plan and it's unique 70 point weekly scorecard!