Your health has to be your most important asset, and when you are suffering from long term illness it is essential for you, in order to heal, to devise an empowering daily routine . To have good health is not simply the absence of disease. It encompasses a healthy balance between your physical, mental and social wellbeing.
Many of you already know the road from illness to wellness is not an easy one but as the saying goes 'where there's a will, there's a way.'' You can all find the answers, implement them and see those days dominated by your ill health disappear.
Key to you successfully being able to navigate this road from illness to wellness is planning. Remember the old adage "If you fail to plan, you plan to fail."
How many times have you gone to bed and thought to yourself tomorrow is the day I'm going to start repairing my health. I'll wake up and implement healthy lifestyle changes which will see me getting myself well again. You wake up with the best intentions, you know there's nothing more important to you right now then getting back your health. Yet despite this things soon go wrong.
You can't find the energy to go for that walk or you find yourself eating those biscuits that were just there. I say again planning everything out beforehand is key if you are to successfully take the road from illness to wellness.
Creating and planning an empowering daily routine is one of the most important things you can do to help yourself. The real way to implement change in your life is to alter your habits, and assure the new habits you are implementing are good healthy ones. If you are struggling with ill health there is a strong possibility that your current lifestyle isn't working for you so how bad could making the right changes.
A long healthy life is no accident. It begins with good genes, but it also depends on good habits. Dan Buettner

You got to ask yourself whether you are making the most of the time between when you wake up in the morning to the time you close your eyes and drift off to sleep at night? I don't think there can be anything worse than waking up every day without a plan for your day. Not having a plan for your day is so draining mentally, physically, and emotionally. You need to design an empowering daily routine.

'Motivation is what gets you started. Habit is what keeps you going. Jim Rohn
Take the time now to plan a daily schedule and include everything. What I suggest is that you actually plan each week with military precision. So for example you work out every meal and snack in advance so you can do the shopping required.
For you to turn your health around, getting well once more, you have to implement some of the basic healthy lifestyle principles.
You need to SLEEP. For optimal health you should be sleeping for around 8 hours.
You need to EAT. You should have 3 main meals, Breakfast, Lunch and Dinner. As well as 2 snacks, one for mid-morning the other mid-afternoon.
Of course you need to keep yourself hydrated. So it is important to drink WATER and a very healthy option if you enjoy hot drinks is GREEN TEA. You should aim to consume at least two litres of water, every day to keep you well-hydrated.
Then the one that many of you avoid, but you really can't afford to, is EXERCISE. Doing exercise will make you feel good about yourself, and get your body healthy, make your mind alert and bring so many benefits.
We all know 'cleanliness is next to godliness' and one would think me saying you need to WASH, SHOWER, BRUSH YOUR TEETH AND FLOSS daily is something everyone already knows. Of course they do.
But when people go through a long period of ill health often they give up on looking after themselves, full into really bad habits and give up on the most basic of activities,
These tasks will act as the glue that holds your daily routine together. The reason? You'll do them every day, regardless what else you get up too. Once they are in with an allocated start and end time you can now fit in other tasks.
So I'll make an assumption you work. You have a job. We are each going to be different. Some go into work, others travel around or the lucky ones get to work from home. But in all cases we need to allocate our working time. For my work I have clear roles that I need to perform. Working on my business so to include networking, marketing, developing products, writing blogs and looking after my life coaching clients. Then in addition, there's writing my book.
Then you have to make time for your family and for a social life. The latter I admit I reserve for the weekend, but that's just my choice.
The key is to create regular and consistent daily patterns that will take you where you want to go in life, helping you maximize yourself on every level possible. I'm going to share with you all of the elements of my perfect day routine to help you create your own routine for success, happiness and health!
What My Daily Routine Looks Like…
6.00 am: I wake up and immediately get out of bed. Then I will do:
• 5 minutes of stretching to wake my muscles up and get my body lose and flexible
• 5 minutes of deep mindful breathing where I focus my attention on my in and out breaths
• Dress in my work out clothes which I prepared the night before
• Make a mug of warm water with lemon which helps to cleanse the body, and resets the pH balance which helps reduce the risk of disease and it refreshes me as well as hydrates me after 8 hours of sleep.
• Brush and floss my teeth.
6.30 am: Do 30 minutes of cardiovascular exercise on an empty stomach. This could simply be going for a walk or going into the gym and work on the treadmill.
7.00am: Have a shower which sets me up for the day. Bathing or showering brings energy to the body and clarity to the mind.
7.15 am: I enjoy a smoothie for breakfast each morning during the work week. Eating breakfast is one of the healthiest morning routines you can have! It will help you jump start your metabolism, and give the appropriate energy you need to get on with the day.
7.30am: Then I spend about 10 minutes to empower myself. I start with a Gratitude Attitude where I go through what I am grateful for in my life. Then I will repeat one or two positive affirmations such as "Today is going to be the best day ever!" I then go through my goals and action plan for the day.
7.40 am: I spend 20 minutes visualising my successful day and transport myself 5 years into the future and see my life having worked out perfectly. I have now by doing all these things ensured I've started the day in the best possible way.
8.00 am to 4.00 pm These are my work hours where I will always have 3 objectives to get completed. The 3 most important things to do today.
In addition:
10.15 am: I eat an apple for a snack, eating every three hours avoids blood-sugar highs and lows that can affect your mood and energy. (Drink green tea and water throughout the day).
1.15 pm: I eat a balanced lunch. My plate will include lots of fibrous carbohydrates, made up of one-third salad and one-third veggies. The other third will be protein.
4.15 pm: I eat another apple for a snack
6.00 pm: I get in a workout, 30-minutes of high-intensity resistance-training circuit to build and maintain metabolically active muscle.
7.00 pm: I eat a balanced dinner. My plate will include lots of fibrous carbohydrates, made up of one-third salad and one-third veggies. The other third will be protein.
7.30 pm to 9.00pm Relaxation and personal time.
9:00 pm: Spend some time reflecting on my day asking myself "what good have I done today?", reviewing progress on my goals, and writing in my journal all of the positive things that happened during the course of that day. I also list the things I want to improve upon, which helps give me clarity and direction on what I can do to make the next day even better.
9.30 pm: Now to get my mind and body to relax I do 30 minutes of meditation.
10.00 pm to 6.00 am 8 hours of sleep time.
By you creating your very own empowering daily routine and keeping to it for 5 days a week will see you well on your way to good health. Design it, live it, benefit from it.
Score Your Way To Good Health - With Our Healthy Lifestyle Plan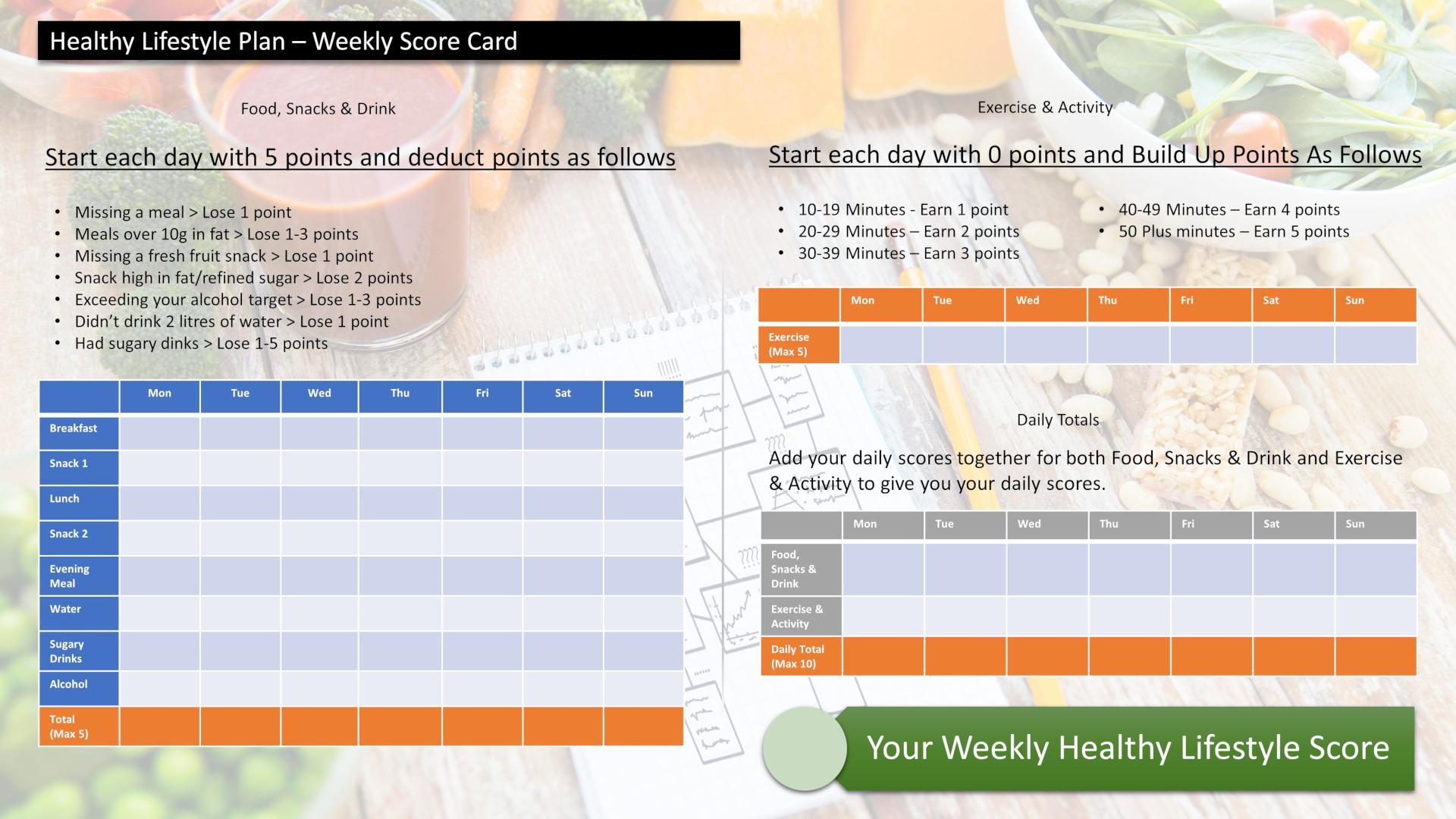 Score your way to good health with our healthy lifestyle plan and it's unique 70 point weekly scorecard!