Yesterday morning, I was going about my normal busy day when I came to the realisation…
I loved being a hobby blogger.
As a professional blogger I am always trying to produce posts that are extremely practical and of value to my reader. I blog to meet the needs of my readership. Add on top of this the need to constantly improve my blog and what it provides, I am always pressurising myself to make things better, to bring about improvements.
Don't get me wrong I love being a pro blogger. A regular income from doing what you love…that's everyone's dream. Making the difference, so fulfilling my purpose, believe me it's an awesome way to make your living.
As my blog grows more popular my incoming emails grow, the number of coaching calls do too. To the point, email and coaching calls are taking up so much of my time – probably a couple of hours in the morning and as much again in the evening – that it's nearly taking over my life. While at the same time I am making big adjustments to my blog this is making it almost impossible for me to do virtually anything else.
From the beginning of my early days in blogging, my goal has been to try to help people. And I know we are doing this for so many, and that just feels so good. But at times I also miss how it was in the beginning when I was a hobby blogger.
Pro blogging has become my full-time job. I work long hours, many days putting in more than I would in a traditional 9-5 job. It can be exhausting although it is one of the most rewarding things you can do. I wouldn't change this job for anything in the world.
I have a lot going on now that I do believe can help people and I am truly excited, and I know many people are going to love the changes. I know I'm excited about them, and they are further advancing my passions, bringing things that are important to me alive, making it possible for me to bring them to my readers.
One of the issues that I have found difficult while building the blog up and creating all its new and different parts is having to break away from my normal pattern of work. I'm now ready to resume more of my regular life.
My daily routine once consisted of writing a blog post, promoting it, engaging with my readers, particularly by way of responding to their comments, using social media particularly by chatting in facebook groups, reading and commenting on other blogs all of which I enjoyed immensely.
Now I have to keep up to date with developments in my industry, optimising our site for search engines, and constantly coming up with new posts and exciting and innovative features to attract new readers, and keep the old ones coming back for more. Building new products, focusing attention on our e-commerce shops and helping our partners finding their way. All these activities are of immense importance, and very satisfying, but also they prove very time consuming.
I want to connect with my old blogging friends again. Infact I am going to get back to connecting with my old blogging pals again, now. My blog and business may well be doing incredibly well but I shouldn't need to sacrifice the connections I have made from my early days in the blogosphere. After all it is due to many of them that my passions were developed, and my knowledge for blogging was acquired.
So even though my blog is going to continue to grow, and many new areas are going to develop over the next month or two, I once again intend to connect with my old blogging friends … that's me … Larry … not the brand… just me. I love teaching people about how to find their passions; and I find it truly satisfying showing them how to take these passions and build an online business. I love talking about it, and can for hours and hours, as I have been. But every now and again, I like being me, being stupid, or reading about spiritual things, seeing photographic blogs, reading about life, events, taking in beautiful poetry, salivating over amazing recipes, and even reading about my friends gardens. The interaction with these bloggers is so refreshing, they chat with me, as me, not someone that has made it as a blogger, who makes money from it. In fact one group, that I will be writing about soon, full of real bloggers, wonderful people, where I have been a member for the entire time I've been a blogger, not once has anyone there said to me, tell us how to do it. They just treat me as Larry, the silly English Guy, that likes to joke and who likes to give some positivity.
I personally think that this is one of the most fantastic advantages of blogging. Everyone can connect with people from every single country in the world from diverse backgrounds with totally different passions. If it wasn't for blogging, I would never have come in contact with these fabulous genuine people.
So while being a pro blogger is a dream come true and I'm so proud of building a site, that every day is getting better, that helps others achieve their highest potential and is now showing many how to focus on their passions to achieve excellence in life, the blogosphere also offers me a place to just be me, to have fun, relax, and communicate with a community of like minded people.
To all you bloggers out there, and to you thinking of starting, I never want you to forget, what you loved about blogging in the first place. You started blogging with passion, and a genuine love of writing about a subject that is close to your heart, where you could interact with people who shared your passions and appreciate you for what you do and what you say. Whatever it is you are putting out into the world never forget to let your passion simply take over, but protect this and never lose it.
Your blog and on line business, if that's what you want to have, will succeed if you continually find ways to retain your passion.
Every comment, tweet and Facebook share really helps and I couldn't have done it without you. Many thanks for everyone of you who continually supports me. It's great to have you here!
Download I Loved Being a Hobby Blogger MP3
Score Your Way To Good Health - With Our Healthy Lifestyle Plan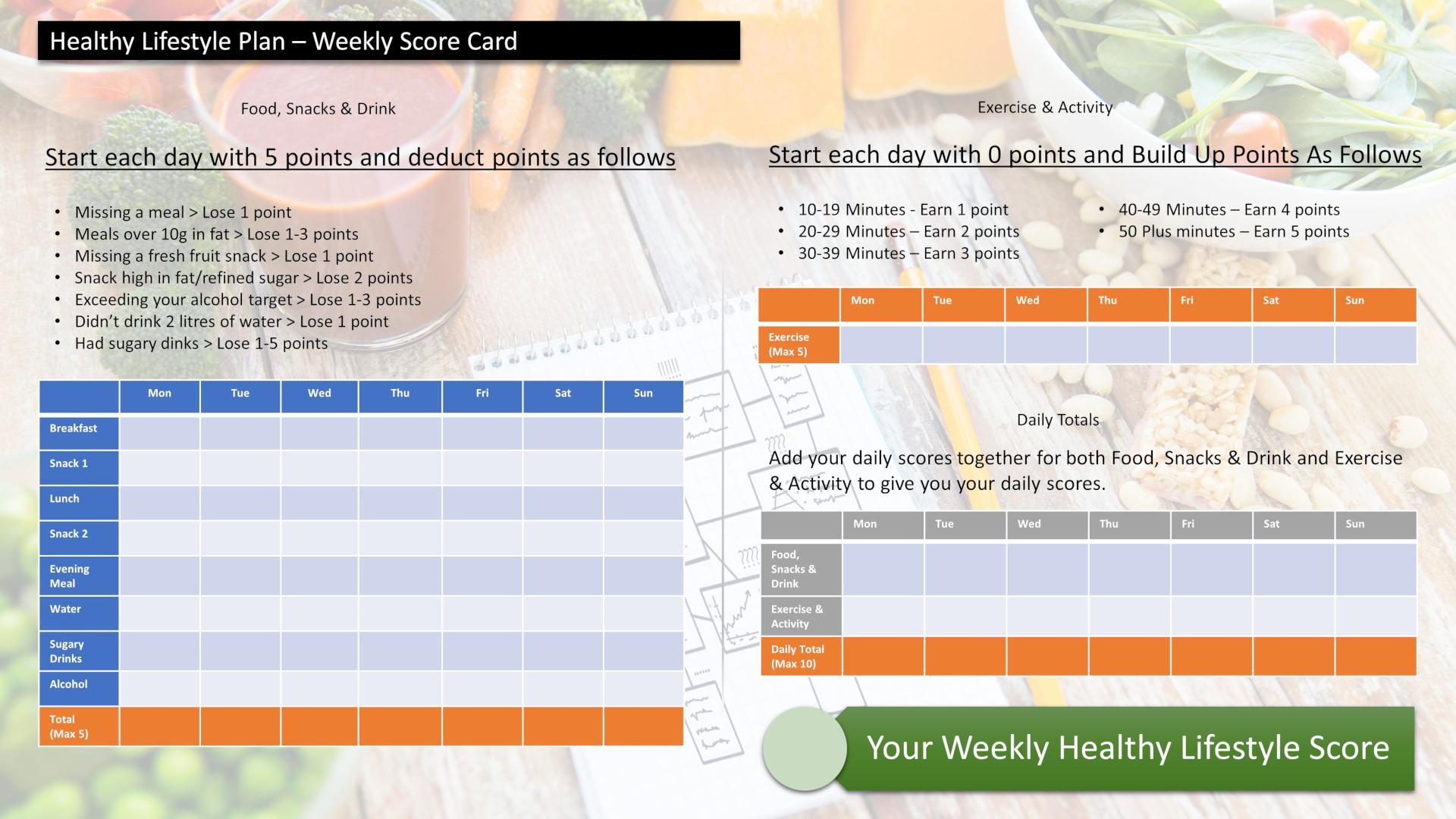 Score your way to good health with our healthy lifestyle plan and it's unique 70 point weekly scorecard!