When many people decide to become healthier and more energetic they will often take on too much, too soon. They fill their heads with 'shoulds' and 'musts' which can only end in failure.
In fact it seems that most people who try to improve their lifestyle find it one of the hardest things to do. However, with just a few simple, doable steps it really isn't that difficult to improve your lifestyle.
Follow these steps and you will end up with a fabulously healthy YOU!
Get Sufficient Sleep
Most individuals overlook the value of sufficient sleep. Most people need at least 6 to 8 hours of sleep every night. People who get enough sleep have more energy, focus and perform far better than those who don't.
Wake up an Hour Earlier
This is a really important step that can help you to improve your lifestyle. Just decide to wake up an hour earlier than you normally do and set your alarm clock for this time every morning. Try to wake up at 06:00 AM because I assure you it will be one of the most beneficial things you can do for yourself.
Go for a Walk or Jog
With this extra hour you now have In the morning, use 30-minutes for walking or jogging. You can also do light exercises. It burns calories and increase the endorphins in the brain naturally that helps to reduce your stress level. It's going to give you a new zest every morning, ensuring you're starting your day, every day, in just the right way.
Eat a Healthy Breakfast
No more excuses to why you can't eat a breakfast. This is the most important meal of your day. It provides you with the energy you need to make the best possible start to your day. A bowl of porridge and a piece of fruit is simple and quick yet it will be like filling your automobile be premium quality fuel.
Practice A Healthy Diet
Eating a healthy diet will provide your body the vitamins, minerals and energy it needs. Eat lots of fruits and vegetables, keep your meat lean particularly try white meat and fish, and try to eat small and often. I suggest eating something every ¾ hours to ensure your body stays energised.
Take time to remove stress from your body and mind
Stress can take its toll on your body and mind, so you need to take a few minutes each day to just unwind and loosen up, stretch your neck, take a few deep breaths in and out. If you have extra time, try to meditate for a bit, sit in a quiet area, focus on coming to a peaceful state of mind.
Every day do something that makes you happy
Happiness-do something that brings a smile to your face. Whether it's doing something for yourself or for someone else do something that brings cheer to your life.
Helping Someone Today
Do one thing every day to help another person. Whether it's just phoning someone to say hi, making a cake for an older neighbour or helping someone carrying their shopping, look to see who you can help today.
Get Outside for a while
Get regular exposure to daylight for at least 30 minutes daily. No more vegetating indoors, or just jumping in your car, go to work and stay in your office all day. You've got to get outside, fill your lungs with air and let the breeze touch your skin.
Work While You Work, Play While You Play
Follow this policy in the life. When you have work, just concentrate on it. When you are free, try to have fun and fill your life with great memories and moments.
My challenge to you…
Things can seem overwhelming when it's new so break these steps down and try one a day for 10 days.
Each day choose one step and take action towards its achievement.
Please let me know in the comments below Which of the 10 was your favourite or most difficult?
Score Your Way To Good Health - With Our Healthy Lifestyle Plan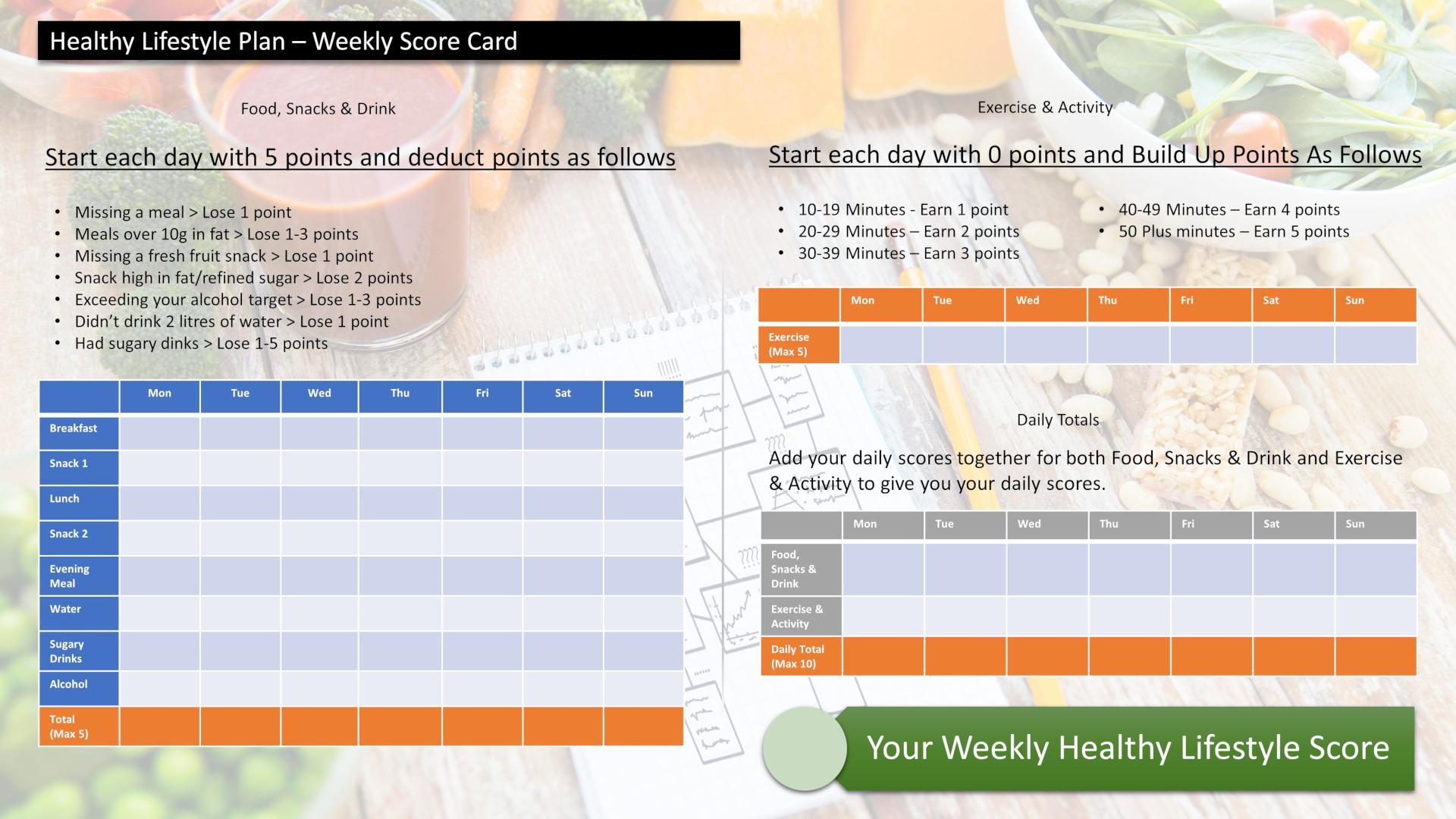 Score your way to good health with our healthy lifestyle plan and it's unique 70 point weekly scorecard!