As a healthy lifestyle living blogger I have a goal: to turn people's lives around by helping them get fit and healthy. Not everyone loves to hit the gym, slave away on the cardiovascular machines and work their muscles to breaking points with the weights like I do. Fortunately there are so many other options open to everyone, and here at Healthy Lifestyles Living we want to offer solutions to help people get fit and healthy in ways that suit them best.
Sport can impact us all at every level of our being: body, mind, soul and spirit. Sport has been defined as "all forms of physical activity which, through casual or organized participation, aim at expressing or improving physical fitness and mental wellbeing, forming social relationships or obtaining results in competition at all levels." Engaging in sport is one of the ways of being physically active and has a great influence on the level of health
Individuals who do sport are more likely to meet the recommendations for physical activity related to health than those who are not active in sport .
WHO defines health as "a state of complete physical, mental and social well-being and not merely the absence of disease or infirmity." To achieve the highest possible level of health, you need to actively participate in physical activity. Physical activity reduces the risk of most chronic diseases including cardiovascular disease, overweight and obesity, type 2 diabetes and several cancers. Furthermore, physical activity improves musculoskeletal health and psychological well-being.
We have no doubts that promoting sport will help many of you to improve your lifestyles. Shooting Hoops. Running on the track. Playing badminton on court. Lifting Weights in the gym. Kicking a football in the park. You have so many choices of sports you could be playing. I have always loved both the competitive of sport and the comaderie that it can bring. Authoring this healthy lifestyles living blog for almost three years it seems a natural progression that sport should find its way back to being a central feature of my life. After all sport should be part of a healthy lifestyle , and just doing it is so good for you. Nobody should disregard the benefits that maintaining a reasonable level of fitness can bring to you.
Soon sport will be playing an even bigger part here at Healthy Lifestyles. We will be bringing you an online store that will be stocking products necessary to build a healthy lifestyle or to keep fit or play sport. Our collection will grow through the year. My excitement about this phase of our growth knows no bounds. We will be selling fitness and sporting goods, selling dreams and selling a healthy lifestyle.
I still have to shake myself to believe we are about to open our very own sporting goods shop. To have this opportunity to marry my love for my work with my lifelong passion for sports seems almost too good to be true.
Sports has always been central to my life. I do an hour minimum of sports seven days a week. I run, I lift weights, I'm on the treadmill .I used to do a lot of team sports in the past such as football and basketball. I played racket sports weekly, squash and either badminton or tennis depending on the time of year. Now I will be doing this again and who wouldn't when they have the best equipment money can buy at their fingertips.
That's the most amazing thing. We are not selling cheap made products but the best of the best, all the famous brands. This has all come about thanks to being a blogger and believing in the power of blogging as a platform for launching a business. So soon Healthy Lifestyles Living will be a blog supported by a fully fledged fitness and sports shop. We are making living a healthy lifestyle even easier allow you to get busy doing it.
It is amazing what's possible when you bring your passions, hobbies and commitment together. And today I end this blog with a plea to you, do something where you are actively using your body. Whether it be walking, running, cycling, playing sports, going to the gym, doing a dance class, choose one, and begin this week.
Score Your Way To Good Health - With Our Healthy Lifestyle Plan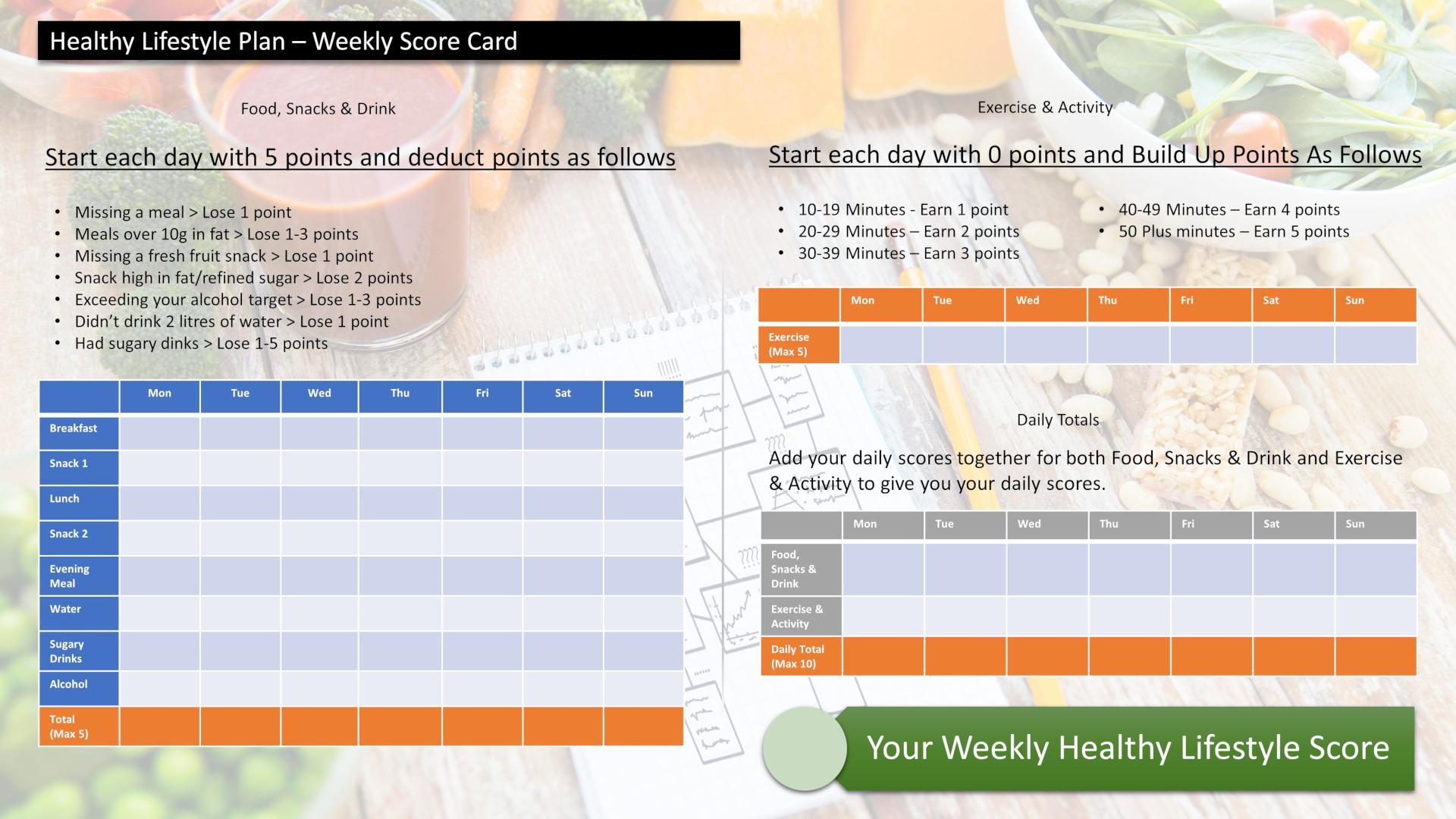 Score your way to good health with our healthy lifestyle plan and it's unique 70 point weekly scorecard!