A decision to start lifestyle change comes from strong desire, being motivated – and sometimes because you are told you have to, but can you really be your own health coach?
Of course, you have to be your own health advocate and take control of your personal health and wellbeing. Even if you don't currently suffer from a chronic disease or major illness, the more you take control of your health now, the greater the chance you have of enjoying good health for a long time to come. That must be a priority in anyone's life.
"The greatest wealth is Health." Unknown
The rise in the number of people that are developing chronic health problems is astounding. So, whether you are somebody already struggling with ill health or a person determined to avoid ill health, you have to look at the factors that contribute to the problems. Often the answers lie within your lifestyle behaviors. More and more people are waking up to the fact that their current lifestyle does not support good health.
But where do you start putting things right?
There is so much conflicting information on what are the best healthy lifestyle behaviors, that you probably feel overwhelmed and confused! You just don't know exactly what to do to help yourself.
Many of you have already experienced not feeling as healthy and full of energy as you'd like to feel. You've visited your doctor and he's recommended that you watch what you eat, start exercising and reduce stress. So you've tried making the changes, but can't seem to stick with it for the long run, and just wind up feeling frustrated and even worse the changes seem to make no difference.
A health coach can help you.
First let me tell you what a health coach isn't. A health coach is not a doctor. A health coach doesn't diagnose conditions or prescribe medications. In times of ill health, a doctor will use a health intervention to stop the disease, remove the offending infection or stop whatever is causing pain. A health coach is there for prevention, not intervention, to help lessen the likelihood of preventable disease in the future.
What a health coach will do is help you find the causes of ill health or the things you are doing which will lead to illness, often found in your lifestyle. Through lifestyle changes such as diet, exercise, stress management, sleep and supplementation you can be supported to make lifestyle transformations which will help you to heal.
"The doctor of the future will no longer treat the human frame with drugs, but rather will cure and prevent disease with nutrition." Thomas Edison
A health coach is defined as "a wellness authority and supportive mentor who motivates individuals to cultivate positive health choices by educating and supporting them as they work towards achieving their health goals through lifestyle and behavior adjustments."
A health coach will listen to you and guide you in making lifestyle choices that will improve your health once and for all mentoring and motivating you to make positive and healthy lifestyle changes.
There is no one solution that fits all. Each person is unique with individual circumstances, body type, age, sex, and lifestyle and requirements. So, everyone is different. That is why a health coach doesn't promote one specific type of diet, or one specific lifestyle structure, but makes recommendations and helps you discover what works for you.
As a health coach I see my role as helping others make positive and lasting changes to their health, guiding them through the process of creating a vision for their health and well-being, developing a healthy mindset and healthy habits, and encouraging them every step of the way until they accomplish their goals.
"Health is a state of complete harmony of the body, mind and spirit. When one is free from physical disabilities and mental distractions, the gates of the soul open." B.K.S. Iyengar
My job as a coach is to guide my clients in making small and sustainable changes to improve their health giving them the tools to do so. I'm so confident about the results I can help others achieve I give a full money back guarantee. You see, I'm a life coach, was a gym instructor, I even owned my own chain of gyms, but much of what I've learnt has come from my own experiences dealing with ill health in my own life, and I really believe it is this journey from illness to wellness that has given me the true skills to help you.
So are you ready to become your healthiest self? Curious about working with a health coach? To decide if health coaching is right for you, I invite you to schedule an initial consultation with me.
Book a free discovery session taking a careful look at your current health and where you want to be, and to determine whether we will work well together on your journey towards a healthy lifestyle.
"By cleansing your body on a regular basis and eliminating as many toxins as possible from your environment, your body can begin to heal itself, prevent disease, and become stronger and more resilient than you ever dreamed possible!" Dr. Edward Group III
Do something healthy for yourself today and talk to a health coach! Talk to me! Your life and health will improve, and you will feel better!
To start a lifestyle change you can choose to simply begin something, and hope that you will get there or work for a short time with a health coach and make sure you do.
I will provide you with information about healthy lifestyle practices; tools that are realistic and effective so that you can make informed choices and changes that are right for YOU. What are you waiting for, book a no hassle discovery session to find out whether this will be right for you.
Score Your Way To Good Health - With Our Healthy Lifestyle Plan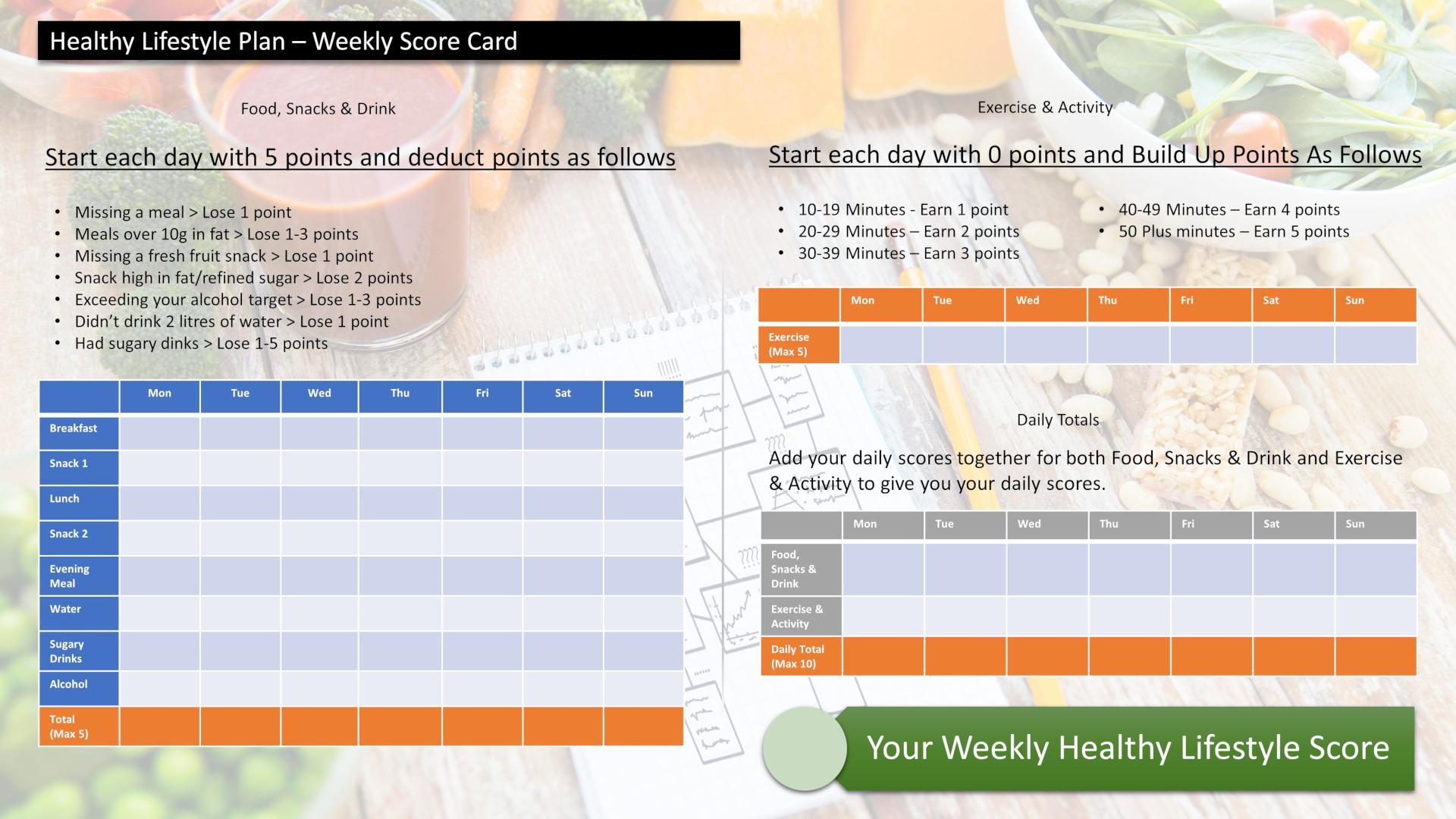 Score your way to good health with our healthy lifestyle plan and it's unique 70 point weekly scorecard!