Today I want to encourage you to get walking and enjoy the myriad of health benefits associated with doing so.
A recently published report from Public Health England (PHE) shows that around six million adults in England are so physically inactive that they are not even doing one brisk 10-minute walk each month. It found that 41% of the 15.3 million people in the age group between 40 and 60 falls into this category not getting even 10 consecutive minutes of brisk walking a month.
This report encourages you to get walking. At the very minimum it is so important from a health perspective to build 10 minutes continuous brisk walking into your day.
Last week I wrote an article aptly titled Get Physically Active which you can find at this link, where I said:
"Often, we put taking care of our health at the bottom of our "to do" list. Well I'm advising, strongly, that taking care of yourself needs to be your number one job, and you need to be your number one priority. Exercise is one of the biggest must-dos. No matter how long it has been since you last exercised. We all have to start somewhere and at sometime. Well we do if our health matters, and no one can afford not to believe it really does matter."
Jenny Harries, deputy medical director at PHE, said just walking to the shops instead of driving or going for a brisk stroll during a lunch break every day could "add many healthy years to your life".
Inactivity puts you at risk of health problems including obesity, diabetes and premature death.
Simply if you get walking incorporating regular 10 minute brisk walks into your daily schedule can make a world of difference to both health, as well as general wellbeing. It is a must do for every single one of you.
In the article I wrote on getting physically active I introduced my readers to Power Walking. This is a low-impact exercise that is simply brisk walking done with powerful arm action. To qualify as power walking, as opposed to jogging or running, at least one foot must be in contact with the ground at all times, walking at a speed at the upper end of the natural range for the walking gait, typically BETWEEN 5km/h (3mph) and 8km/h (5mph). You should walk fast, but not so fast that you feel uncomfortable, you should get your heart rate up but you should never be out of breath. Walk regularly, and within 3 weeks, your pace and endurance will increase.
If you refer to this article it gives you an easy to follow explanation of how to do power walking. And as mentioned by Public Health England just 10 minutes will help your health improve. Walking costs nothing and can be done anywhere, so all you have to do is make the decision to get active and just do it. So no excuses, it is time for you to get walking.
You want a few benefits of walking to give you the motivation, well how about these.
Walking will help:
Can prevent or manage heart disease and diabetes.
It improves blood pressure, blood sugar, and blood fat levels.
Control weight.
Reduce the risk of hypertension and cardio-vascular diseases.
Strengthen bones and muscles.
Improve mental and emotional health.
Improve balance and ability to perform daily activities, specially in older people; reduces the risk of falling in older adults;
Increase the chances of living longer.
The good news is that it doesn't take hours of painful, sweat-soaked exercise to achieve these type of health benefits. Even short periods of moderate physical activity can improve health and fitness, reduce disease risks, and boost your mood. We are only talking about a minimum of 10 minutes.
According to PHE, there is a 15% reduction in the risk of dying prematurely. Worth a walk just for that surely!
It's time to get walking. So, go read my article to learn how to Power Walk, and give it a try for at least 10 minutes TODAY!
Score Your Way To Good Health - With Our Healthy Lifestyle Plan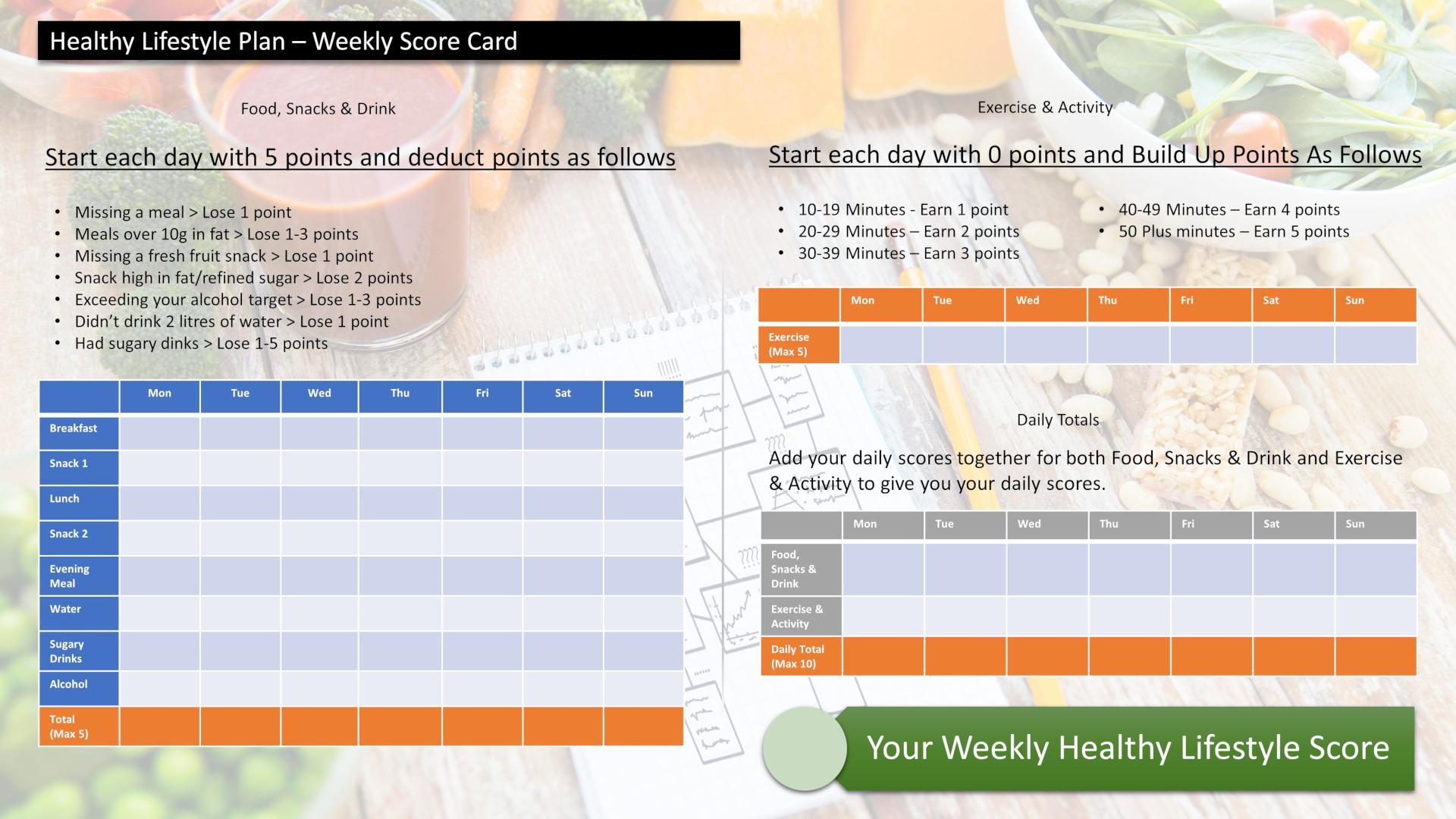 Score your way to good health with our healthy lifestyle plan and it's unique 70 point weekly scorecard!