Another year and yet again you set for yourself a healthy lifestyle resolution.
When it comes to New Year's resolution, number one on people's list is often to get healthy, closely followed by losing weight, getting in shape, quitting smoking and others that relate closely to a healthy lifestyle.
But when it comes to keeping that January 1st promise, nearly 80 percent fail.
Here at Healthy Lifestyles Living we are truly committed to making 2017 your healthiest year yet.
This year, more than any other, I find myself probably just as keen as any of you to get back to a healthy lifestyle, losing weight, getting my body back in shape. Having suffered very badly health wise over the last year following my visual impairment and its impact, so together let's make sure we succeed at our healthy lifestyle related resolutions.
Let's take a quick look at the most common health related resolutions.
1. A healthier you
2. Lose weight
3. Quit smoking
4. Cut your stress
5. Drink less alcohol
6. Get into shape
7. Improve fitness
8. Get more sleep
9. Enjoy Life More
10. Spend More Time with Family & Friends
I have no doubts a few of these will relate to your New Year Resolution. They probably have before and yet you've failed to accomplish them.
You're once again feeling motivated to eat better, exercise more, drink less or make any number of the positive lifestyle changes you've been telling yourself you want to make. You've tried before and already know making a lifestyle change is challenging.
When it comes to eating right and exercising, there is no "I'll start tomorrow." Tomorrow is disease. Terri Guillemets
So what are you going to do different in 2017?
Are you ready to make lifestyle changes and truly stick to your resolution?!?
If you want this year to be different from all your past resolutions…. you need to make a real commitment.
In terms of health many people say they wished they could lose weight, get more exercise or give up smoking or other addictive behaviours.
You need to get very specific with exactly what it is that you want. Simply saying, "I want to lose weight" isn't enough. You have to know exactly how much weight you want to lose, by what date and how you're going to achieve it. Then ask yourself, what would achieving that goal mean to me? How would achieving that goal make you feel?
It's time to make 2017 the year you finally commit to your resolution….. It's time you decided to decide that you have had enough!
Making a healthy lifestyle change is easy to start, but incredibly difficult to sustain. Sustainable lifestyle changes are the hardest thing trying to turn good choices into daily habits. When it comes to lifestyle changes, the struggle is within you. Temptations are hard to resist.
How do you start and sustain lifestyle changes?
It's simple really. You have to be the steward of your fate taking committed, ongoing, action.
Lifestyle changes are a process that take time and require support. Once you're ready to make a change, the difficult part is committing and following through. So do your research and make a plan that will prepare you for success. Careful planning means setting small goals and taking things one step at a time.
Make a plan that will stick. Your plan is a map that will guide you on this journey of change. You can even think of it as an adventure.
When making your plan, be specific. Want to exercise more? Detail the time of day when you can take walks and how long you'll walk. Write everything down, and ask yourself if you're confident that these activities and goals are realistic for you. If not, start with smaller steps. Post your plan where you'll most often see it as a reminder.
Making the changes that you want takes time and commitment, but you can do it. Just remember that no one is perfect. You will have occasional lapses. Be kind to yourself. When you eat a brownie or skip the gym, don't give up. Minor missteps on the road to your goals are normal and okay. Resolve to recover and get back on track.
Creating a sustainable lifestyle takes a lifelong commitment – to learning, experimenting, exploring, committing to healthy lifestyle changes.
Treat it as important, and remind yourself every day why you want to bring about this change and what you need to do to make it happen.
To help you take a look at my totally free training videos for the single page plan. 30 full coaching videos take you through a specific process to determine your changes, set goals, find your reasons for truly wanting them and then making plans of how to achieve them. You will find them here The Single Page Plan.
If you are ready to commit to real change, we are here and ready to help!
"We are the custodians of our bodies. We must take action to employ healthy lifestyle habits to prevent, reduce, and/or manage disease and illness." Bridgette L. Collins
Score Your Way To Good Health - With Our Healthy Lifestyle Plan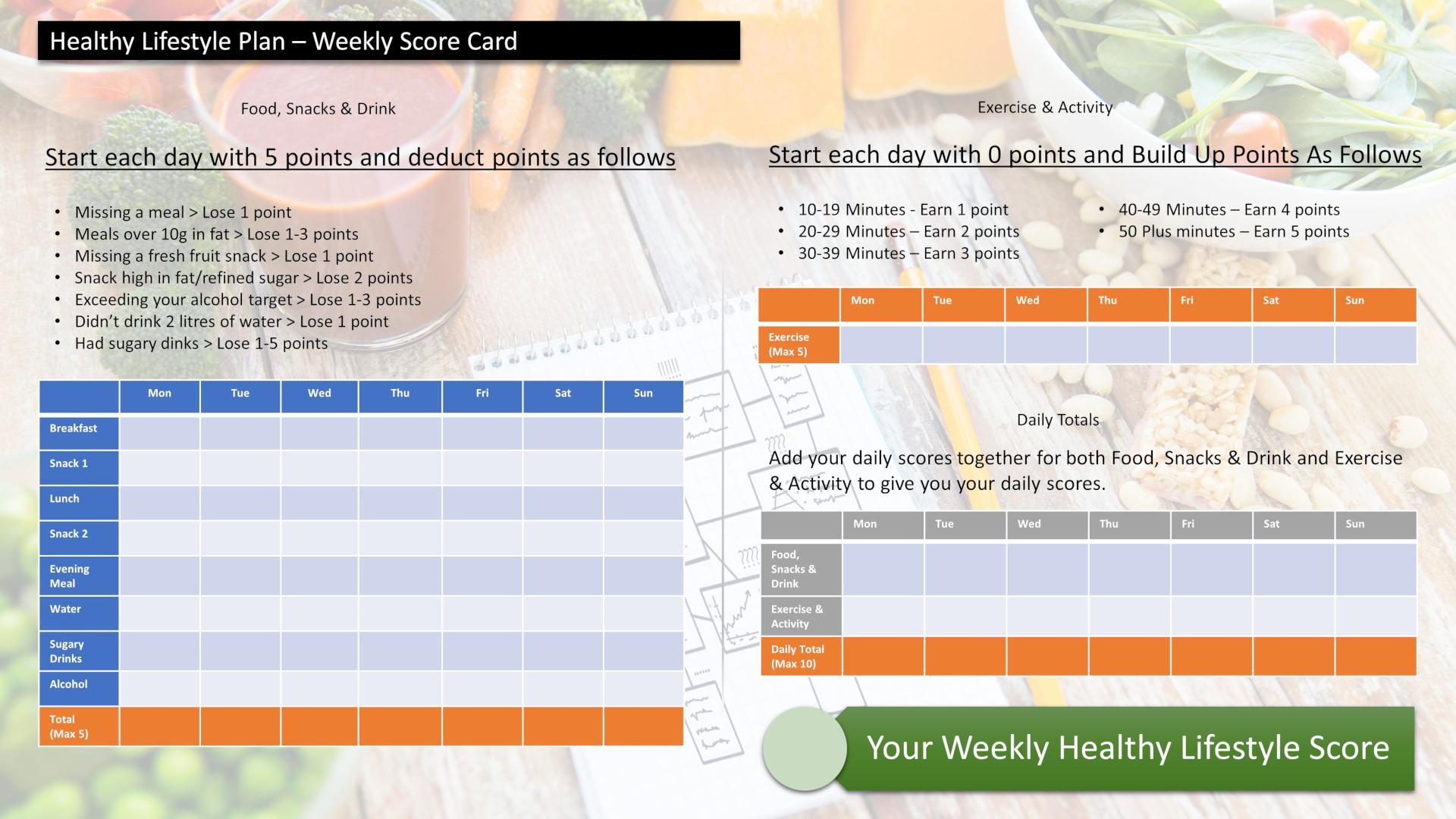 Score your way to good health with our healthy lifestyle plan and it's unique 70 point weekly scorecard!