As the sun rises in the morning and you step out of bed are you determined to make this the year you get healthy, stay healthy for life?
Good morning from us here at healthy lifestyles.
Thank you for reading today's blog post. Many of you I am sure began this New Year once again feeling motivated to get healthy, stay healthy. Seventeen days in, how's it going? Are you still on track? Hopefully you're eating better than last year, exercising more, drinking less caffeine and have successfully made a number of positive lifestyle changes.
This website focuses on helping our readers Implement a healthy lifestyle into their daily routine, and our key mission is to help you get healthy, stay healthy for life.
We know many of you have tried before but without much success.
For many of you, maintaining a healthy lifestyle is a challenge. The battles you may face are worth it, I assure you.
How will you benefit? You will soon be able to experience a day where you are full of energy and vitality. Where it seems like the clocks have been put back to a time before your weight gain or when ill health took over your life. To be able to get back in your jeans and enjoy the freedom and confidence of being back to your ideal weight. You are already aware I'm sure how you will benefit once you get healthy, stay healthy.
Lifestyle changes are a process that take time and require support. Once you're ready to make a change, the difficult part is committing and following through. So do your research and make a plan that will prepare you for success. I can help you with this, for FREE of course, with my Single Page Plan for Life. You can use it to set goals, determine the most important activities you have to carry out to achieve them and provide a plan for doing so. I have provided the template form you need and a 20 minute training video of how to use it here.
You see it is essential you make a plan that you can stick to. It becomes your personal Sat Nav that guides you on your journey of change.
Your plan needs to begin with determining the things you need to change. I'm assuming for many of you it is to get healthy, stay healthy, maybe overcome long term illness, lose weight. Identifying what needs to change enables you to then set both short-term and long-term goals, which you then need to break down into small, manageable action steps that are specifically defined and can be measured.
There are a few key behaviors that simply have to be adopted if you want to get healthy, stay healthy.
Eat Healthy
The food choices you make on a daily basis determine if you lead a healthy lifestyle or not. Eating healthy will provide your body with the nutrients it needs to leave you feeling satisfied; it will also give you more energy and help you manage stress. The foods that should make up the majority of your diet include fruits, vegetables, lean proteins, low-fat dairy products or dairy substitutes, whole grains, beans and healthy fats from nuts, avocado, olive oil and fish.
Get Active
You must fit being active into your daily routine. Consistent exercise, 30 minutes a day, seven days a week. Walking would count.
But there is more to a healthy lifestyle and to get healthy, stay healthy than just diet and exercise!
Lifestyle change is not diets and fitness fads as these last but for a while – and a real change involves so much more than food and exercise.
Considerable research has been aimed at identifying factors that contribute to successful lifestyle change.
Let's go though some key lifestyle changes which will further aid you in achieving an active, healthy lifestyle.
Get eight hours of sleep every night
Sleep deprivation has the same effect on your immune system as physical stress or illness, which helps explain why lack of sleep is tied to an increased risk of numerous chronic diseases. Small adjustments to your daily routine and sleeping area can go a long way to ensure uninterrupted, restful sleep and, thereby, better health.
Fully hydrate everyday
To maintain good health you have to drink plenty of water. A daily minimum of 3 liters (14 cups) of fluid is recommended for men and 2.2 liters (9 cups) for women. As a whole, your body is made up of about 60-80% water. Your muscles are 75% water, your blood is 82% water, your lungs are 90% water, and your brain is 76% water. The hydration of the body's cells is crucial to proper immune, endocrine, cardiovascular, neural, gastrointestinal, muscle and skeletal function.
Take time to breath properly
When you breathe in, you inhale oxygen. When you breathe out, you exhale carbon dioxide. But when done properly it can be so much more, it can be revitalising, energising as well as calming. You will benefit both physically and emotionally by spending time focusing on your breathing, and practicing deep diaphragmatic breaths.
Make time for Meditation
Meditation helps to bring the body back into a state of balance, allowing healing to occur. Regular meditation can lower your heart rate and blood pressure, improve sleep and efficiency, reduce stress-producing hormones, and have a positive influence on your internal systems.
Manage stress
Stress is a hard to control emotion that can wreak havoc on your health. The best way to manage your stress is to learn healthy coping strategies. Chronic stress can make you more vulnerable to health problems. By implementing a daily relaxation method into your life will make a huge difference. It is essential you make an effort to relax your mind and your body.
Establish a Work–life balance
Failing to establish an effective work-life balance can be damaging to your health. A good work-life balance can provide a range of mental health benefits, including greater satisfaction with quality of life, lower levels of stress and physical improvements, such as better energy levels and longer life expectancy. The pressure of an increasingly demanding work culture makes this difficult, but you have to try.
Making the changes that you want takes time and commitment, but you can do it. Just remember that no one is perfect. You will have occasional lapses. Be kind to yourself. When you eat a brownie or skip the gym, don't give up. Minor missteps on the road to your goals are normal and okay. Resolve to recover and get back on track.
Keep at it. Your greatest wealth is your health. Take the time and put in the effort to get healthy, stay healthy.
Ready to make 2018 your healthiest yet? Take an hour or two and complete the Single Page Plan for Life created by me , Larry Lewis. Download the FREE template and get full access to the training video here!
Score Your Way To Good Health - With Our Healthy Lifestyle Plan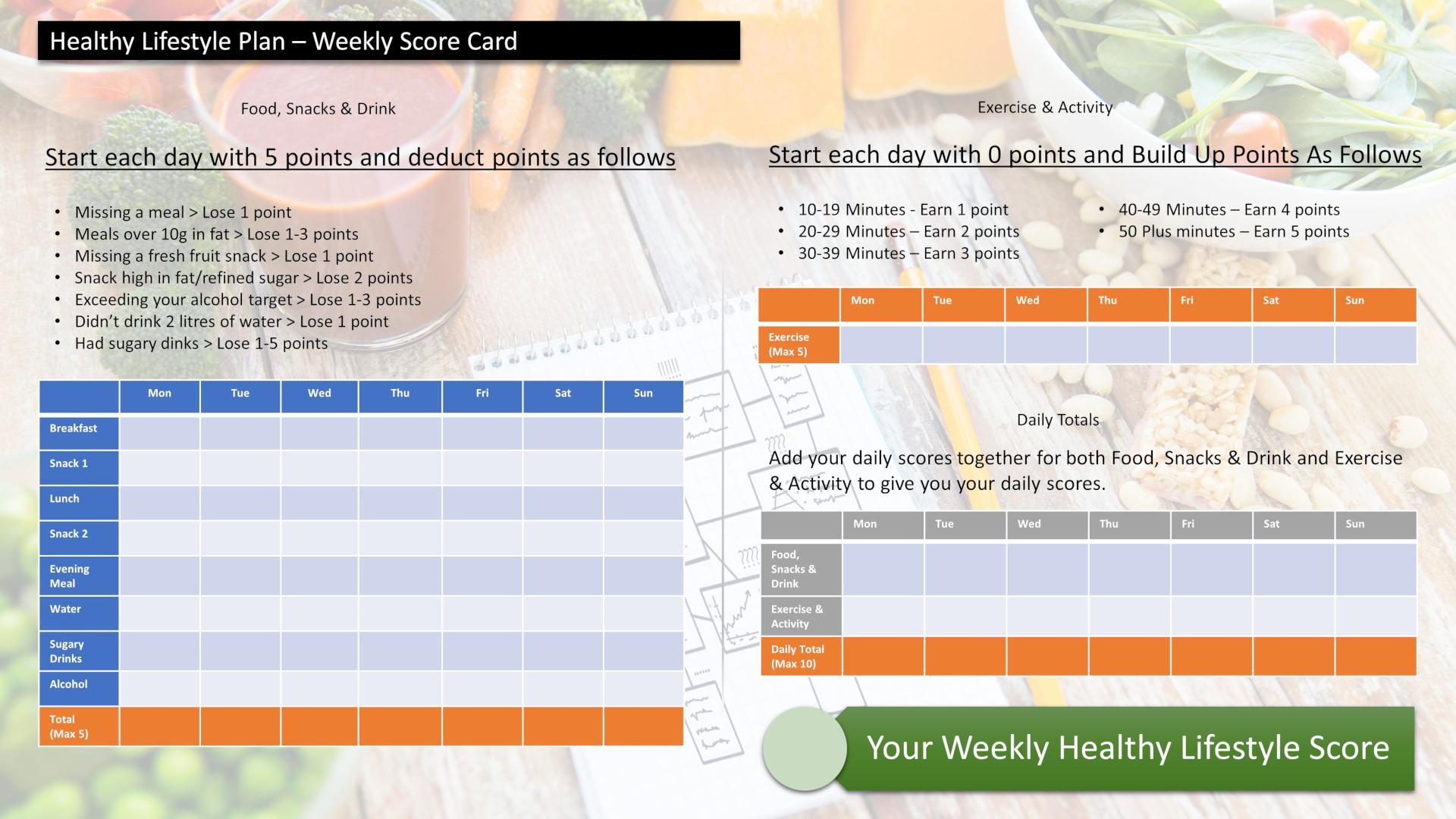 Score your way to good health with our healthy lifestyle plan and it's unique 70 point weekly scorecard!