As a life coach, it is common to come across people who wish to have better Health and it is common to start out with making a New Year's resolution to make this your healthiest year yet. Maybe you have set a target similar for 2016?
To have better health you need to have a healthy lifestyle.
Do you have a healthy lifestyle?
Do you know what is a healthy lifestyle?
If not, what would make you choose to adopt one?
After all it's pointless to say you want to have your healthiest year yet if you're not prepared to live a healthy lifestyle.
Isn't it crazy that we all know that a healthy lifestyle helps us to live at our best, so our body and mind functions optimally, yet we don't automatically choose the healthiest lifestyle that we can.
For many it takes ill health to force them to finally overhaul their life. They already knew that the way they'd been living wasn't doing them any favours in the health department but it takes illness to make them do anything about it.
Does this relate to you? Waiting for a serious health challenge that seriously impacts your life before you would consider making a change to your lifestyle. Well I've had such a challenge and it has definitely reminded me of the importance of a healthy lifestyle.
Unfortunately we often need a sense of urgency before being sufficiently motivated to change our lifestyle to the healthiest options .
Health is something we all want, but we often don't think about until it disappears. Yet recovering from ill health is much harder, more time consuming, and much more expensive, than if you concentrate on developing health in the first place. Health is something we all want, but we don't think about until it disappears.
You can improve your health however by implementing a healthy lifestyle, and although the process can be overwhelming, it is sufficient to make a few small changes which together will add up to making a big difference!
Please know THERE ARE NO QUICK FIXES TO IMPLEMENTING A HEALTHIER LIFESTYLE. Yet implementing a healthy lifestyle you must, as it is the key to lifelong good health.
Let me provide you with 9 key changes to implement a healthy lifestyle.
Think positive and focus on benefits
Who in their right minds wouldn't want chocolate? Ordering a take-away is so much easier than cooking yourself? Lots of butter spread over your bread is just so nice. A piece of cake with your cup of tea when you get home from work just makes you feel just that little bit better. I won't deny any of these things, but what I will say is you know it's neither good for you nor your waist line. Yet you can't look at a healthy lifestyle as meaning you can't eat these things you want, therefore it robs you of the pleasure. You've got to see it as being the way for you to enjoy good health, a better waist line, probably more energy too. So when thinking of a healthy lifestyle think of all the benefits it will bring you. More of this in a later post. It is important to be generally positive and in a good state of mind, as having a positive attitude generally enables you to make better decisions when it comes to all areas of your life such as your job, your lifestyle, and your health.
Eat Healthy
Eating healthy is of course one of the most important steps to implementing a healthy lifestyle. It's also the one that most people know about but choose not to follow. Eating a healthy, balanced diet is essential for good health, and can help you feel your best. The key to a healthy diet is to do the following:
Eat at least five portions of vegetables and fruit each day. My suggestion is include fruits and vegetables with each meal of the day, and fill half your plate with them.
A third of most meals should be starch-based foods, such as cereals, bread, potatoes, rice or pasta. Wholegrain cereals or wholemeal bread are more healthy than lower-fibre foods.
The other third should be protein , fish being a great choice, and if you eat meat best to eat lean meat, or poultry such as chicken.
Limit fatty food, such as fatty meats, cheeses, full-cream milk, fried food, butter, etc.
Exercise Daily
If you want to live well and live longer, you must exercise! Studies show that even 10 minutes of exercise makes a difference — so do something! It is best to get at least one half hour of exercise three times a week, but any amount of exercise is better than none at all! You can go jogging or swimming, take a brisk walk, ride a bike, take an aerobics class or get into the gym. Exercise, especially cardiovascular activity, comes with a variety of health benefits including: improved mood, better sleep, decreased risk of chronic disease, weight control and improved blood pressure and glucose control. Aim for 30 minutes 5 days a week.
Get a good night's sleep
You need anywhere between 6 to 8 hours of sleep a night and if you're not then here is a simple instruction for you: Get more sleep. Getting more sleep gives your mind and body more time to recharge and rejuvenate. Sleep plays a crucial role in good health and well-being . Sleep is a key part of a healthy lifestyle, and can benefit your heart, weight, mind, and more.
Drink more water.
Make a conscious effort to drink more water. Being adequately hydrated is essential to living a healthier life. When you're dehydrated you may experience a variety of side effects that may not only affect your health, but how you're feeling as well. I do say water, not coffee, tea or pop. Either the stuff that comes out of a tap, or you get in a bottle.
Manage stress.
Stress is a hard to control emotion that can wreak havoc on your health. The best way to manage your stress is to learn healthy coping strategies. Chronic stress can make you more vulnerable to health problems. By implementing a daily relaxation method into your life will make a huge difference. Try meditation, progressive muscular relaxation, deep breathing or mental imagery. It is essential you make an effort to relax your mind and your body. This is important for anybody. There are some amazing relaxation practices you can utilise, such as deep breathing , meditation and progressive muscular relaxation. Watch out in next few weeks I'll be releasing 'The VIP First Aid Kit' that will include 10 relaxation audio scripts.
Take time out
Make time in your life for things that are fun. There is a saying I'm sure you've heard, all work and no play makes Jack a 'sick' lad. Ok I may have changed it but you get the point. A little time out can be just what you need. This is about living life to the full giving yourself time to live. Taking time out for yourself is important for your health. So maybe make a list of things you like to do and make sure you have at least a little time each day for doing these things you enjoy.
Start a journal.
Keeping a journal is a great way to help you stick to your new healthy lifestyle. You can take notes, share your feelings, track your implementation of activities such as going to the gym, doing your relaxation session, even recording all your food eaten and water drank. Doing this helps you stay on track.
Plan ahead
Don't particularly at the beginning leave anything to chance. Plan your week or just your day. Work out and write down your weekly meal plan, your exercise schedule and the program of exercises you plan to do.
Often the biggest deterrent to improving health is feeling overwhelmed by all the available advice and research. Try to focus first on one change, do it for a week, before you make the second change.
Taking the time to focus on your health now, before you experience the effects of ill health, is the best way to keep your body and mind functioning optimally. Please don't wait until you're faced with that unenviable situation of being told you have no choice and must make drastic changes immediately. Instead, start making small changes today… go for a walk, eat more vegetables at lunch, eat fruit as an afternoon snack, take some time out to relax, go to bed early and get an extra hour of sleep.
Good luck.
Now tell me what changes can you make today to move towards a healthier lifestyle?
Score Your Way To Good Health - With Our Healthy Lifestyle Plan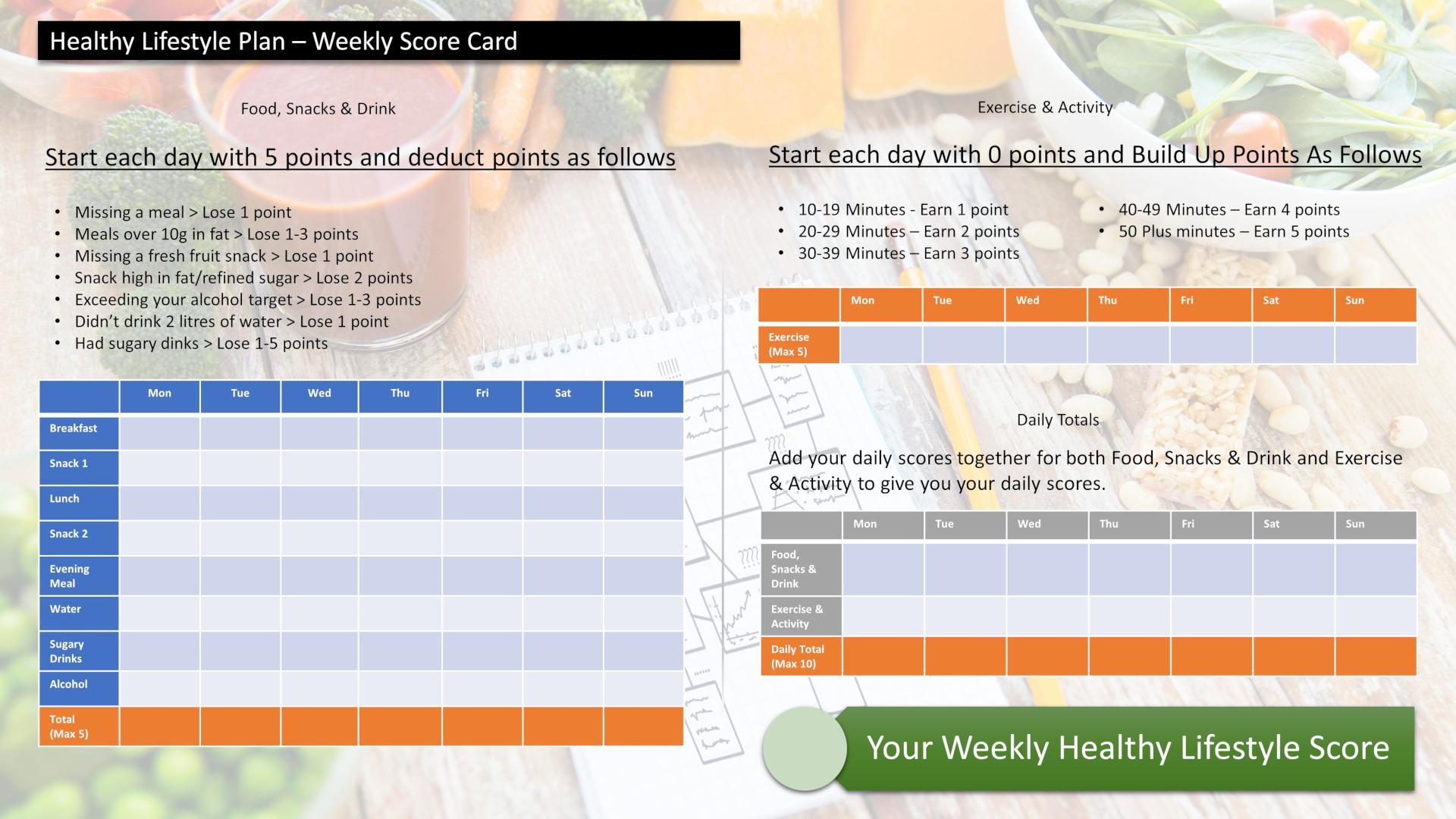 Score your way to good health with our healthy lifestyle plan and it's unique 70 point weekly scorecard!