I am working with an incredible young man at the moment.
I can see within him an individual that is highly creative, inspirational and passionate about everything that he does.
There is one thing that he is not passionate about, and that's his past. He looks back and sees a troubled youth, particularly remembering his struggles at school, and then wasting much of his adulthood away on partying till he dropped which got him away, or so he thought at the time from his frustrations in life.
I remind him that the past does not make the future.
But I also want him to realise that for most of that time there was something missing, a very major fact that he did not have. One that would have more than likely changed everything for him. This young man is Dyslexic. Unfortunately this was not diagnosed until relatively recently.
It's a pity he did not know, because with that knowledge he would have been able to understand so much more about himself, and would have been able to make adjustments to improve everything that he did.
He would have been able to learn strategies that would have helped him overcome any day-to-day problems, like he is now able to do.
Although dyslexia is the result of a neurological difference, it is not an intellectual disability. Dyslexia occurs at all levels of intelligence, average, above average, and highly gifted. Dyslexia is most commonly characterized by difficulties with learning how to decode at the word level, to spell, and to read accurately and fluently. There is no cure for dyslexia, but dyslexic individuals can learn to read and write with appropriate education or treatment.
Some, once they know they have dyslexia, are able to take actions to create outstanding results in their lives. Today's post I want to give you some famous people who are an inspiration example of those with Dyslexia.
These famous dyslexics prove that when you learn to nurture the dyslexic capabilities you have amazing potential.
Why not use them as inspiring models: they are living proof that dyslexia is definitely not a disadvantage, but in reality can be used as a strong advantage to drive on your life.
These are the perfect role models who can demonstrate beyond doubt that anyone with dyslexia can overcome their struggles and create a fantastic life. Let them be your proof that overcoming dyslexia is possible.
Orlando Bloom the English actor that I still best remember for his part as blacksmith Will Turner in the Pirates of the Caribbean films, is dyslexic.
Richard Branson an English entrepreneur, best known for his Virgin brand of Companies. Branson has dyslexia, resulting in poor academic performance as a student, but as a business man he is pure genius. An inspiration to us all.
Agatha Christie the world's best selling author creator of characters such as Miss Marple and Hercule Pierot Christie reportedly once said. "It was quite true, and I knew it and accepted it. Writing and spelling were always terribly difficult for me. My letters were without originality. I was…an extraordinarily bad speller and have remained so until this day." She had dyslexia.
Cher the singer and actress won an Academy Award, a Grammy Award, an Emmy Award, three Golden Globe Awards and a People's Choice Award for her work in film, music and television. She had a very difficult time in school, not knowing or and understanding why it was so difficult for her to learn in school, it was only at the age 30 that she finally understood that she was dyslexic.
Tom Cruise the movie star famous for Top Gun, Mission Impossible series and so many others spent his childhood trying to hide his dyslexia from his peers. Diagnosed at the age of seven, Cruise describes his younger self as a "functional illiterate". He could barely read in high school or through his earliest roles. Cruise refused to let his dyslexia stand in the way of his acting career.
Walter Elias Disney was an American film producer, director, screenwriter, voice actor, animator, entrepreneur, and philanthropist. Surely I don't have to say much about this influential and innovative figures in the field of entertainment. Who hasn't watched one of the Disney films or fallen in love with one of his characters. Walt Disney had dyslexia, which I'm sure not many of you actually knew. Why would you?
Whoopi Goldberg the comedian, actress, singer-songwriter, political activist, and talk show host winner of an Oscar, an Emmy, a Tony, and a Grammy was really struggling in school, she had a lot of problems reading and because of that was called "slow", "dumb" and "retarded". Later on in life she discovered that she was dyslexic
William Bruce Jenner an athlete, motivational speaker, and a television personality. He is mostly known for winning a gold medal at the 1976 Summer Olympics in Montreal. He was dyslexic as a child and remembers his early childhood education as being torturous. He was always afraid to go to school, feeling that he was inferior to other children doing better, and often called lazy by his teachers.
Ozzy Osbourne English heavy metal vocalist and songwriter as well as head of the family in MTV's hit reality show "The Osbournes" grew up a severe dyslexic and dropped out of high school, turning to music, drugs, and alcohol to occupy his mind and time.
Henry Winkler a Golden Globe Award-winning American actor, director, producer and author most famous for his role as The Fonz in Happy Days. Having struggled throughout his school years with unidentified dyslexia Winkler, at age 31, finally understood what he'd been grappling with all his life.
All these wonderful people are dyslexia examples to inspire you to see what you are capable of. There are a 1000 more examples of inspirational people who have made massive achievements having dyslexia, and show that everything is possible.
My message to you today is that dyslexia need not hold you back from achieving your goals in life. Let this be inspiration to you all and show you that you can achieve anything you put your mind to.
So go for it, make your life BRILLIANT!
Score Your Way To Good Health - With Our Healthy Lifestyle Plan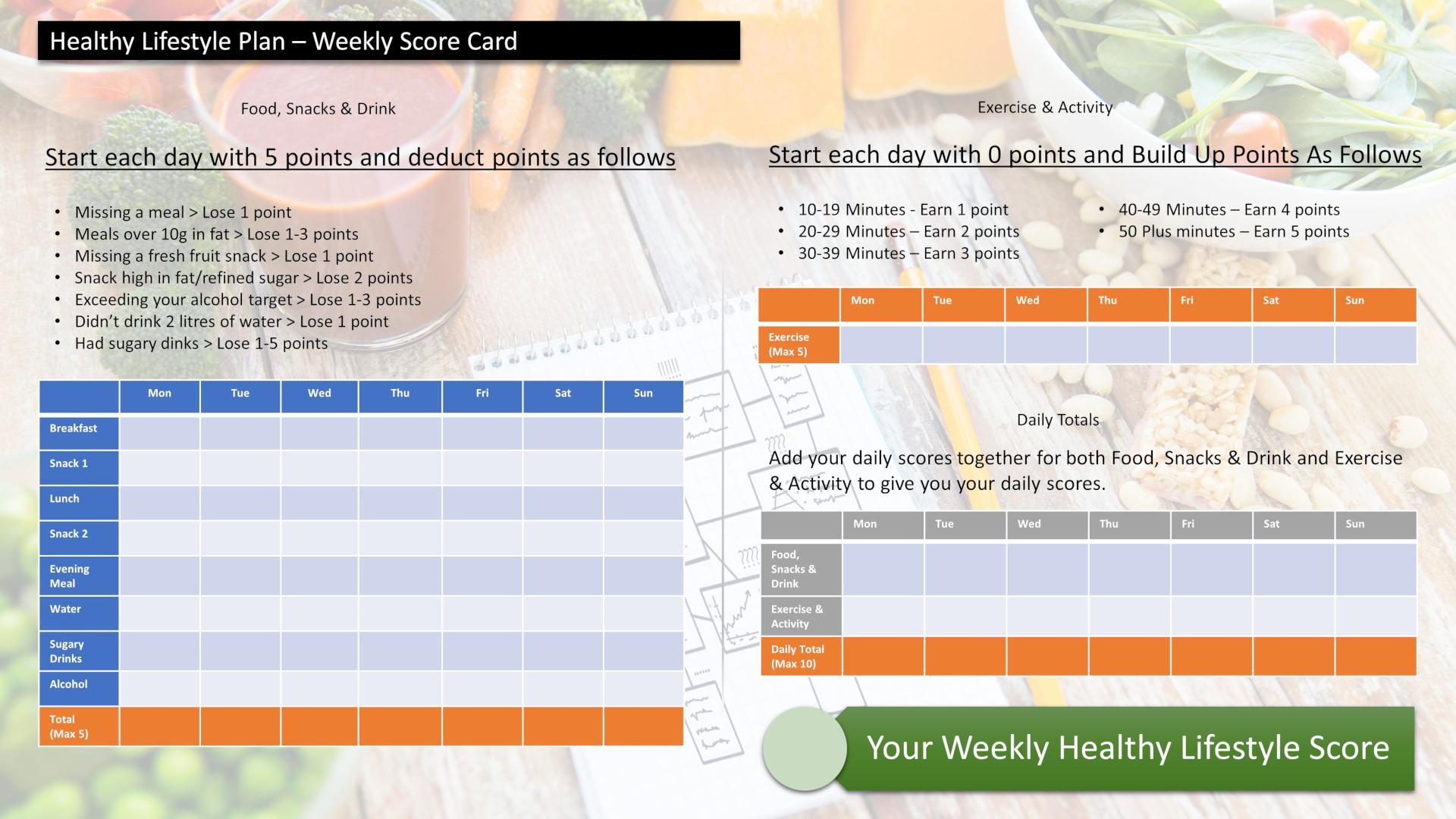 Score your way to good health with our healthy lifestyle plan and it's unique 70 point weekly scorecard!