The UK is seeing an explosion of diabetes linked to growing obesity rates.
Since 1996 the number of people diagnosed with diabetes has increased from 1.4 million to 2.6 million. By 2025 it is estimated that over four million people will have diabetes. Most of these cases will be Type 2 diabetes, because of our ageing population and rapidly rising numbers of overweight and obese people.
I was staggered about two years ago when I was shown statistics by Diabetes UK. At that time they showed that one person is diagnosed with diabetes every three minutes in the UK. The majority of people are diagnosed with Type 2 diabetes which is mostly linked to lifestyle issues such as poor diet and lack of physical activity.
The figures are alarming and confirm that diabetes is one of the biggest health challenges facing the UK today. If we are to curb this growing health crisis and see a reduction in the number of people dying from diabetes and its complications, we need to increase awareness of the risks, bring about wholesale changes in lifestyle, improve self-management among people with diabetes and improve access to integrated diabetes care services.
To avoid or manage Diabetes people  need to make changes to their lifestyle, such as eating a healthy, balanced diet, losing weight if appropriate and being physically active, doing at least 30 minutes of physical activity a day. These factors together will defuse the diabetes time bomb.
There is a lot of information available from the Diabetes UK Website. Diabetes is an area that I have much working experience, and one that I take a vested interest due to my Mother and Older Sister's struggles with it. So through this blog I intend providing advise and tips on how my readers can avoid it, or deal with it. I hope to be able to offer you direction and support towards making the positive changes relatively easily, by providing information, current research, expert opinion and suggestions. I aim to not be too technical, but to offer sound and practical information.
Being diagnosed with diabetes can be a bit of a jolt, but it is not a debilitating disease, if managed properly.  It is important to gain some personal education on diabetes, and in doing so, it becomes obvious that there are solutions towards alleviating the effects of diabetes. You just have to implement them.
I have worked with many people that when diagnosed with Diabetes they felt lost, isolated, doomed. What was important for them was to take a long hard look at their lifestyle and make several dramatic changes, including giving up smoking, changing their dietary intake, and getting serious about regular exercise. There is no need to be fearful.  Diabetes is not a death sentence.  It is an opportunity to make changes to your lifestyle before it is to late..
Here is some information I picked up this week in a national newspaper.  The Daily Mail this week had an article titled 'Eating almonds could help prevent diabetes and heart disease'. It states that Researchers have found that incorporating almonds into our diets may help treat type 2 diabetes.
The study found that a diet rich in almonds may help improve insulin sensitivity and decrease LDL-cholesterol levels in those with pre-diabetes, a condition in which people have blood glucose levels higher than normal but not high enough to be classified as diabetes.
Score Your Way To Good Health - With Our Healthy Lifestyle Plan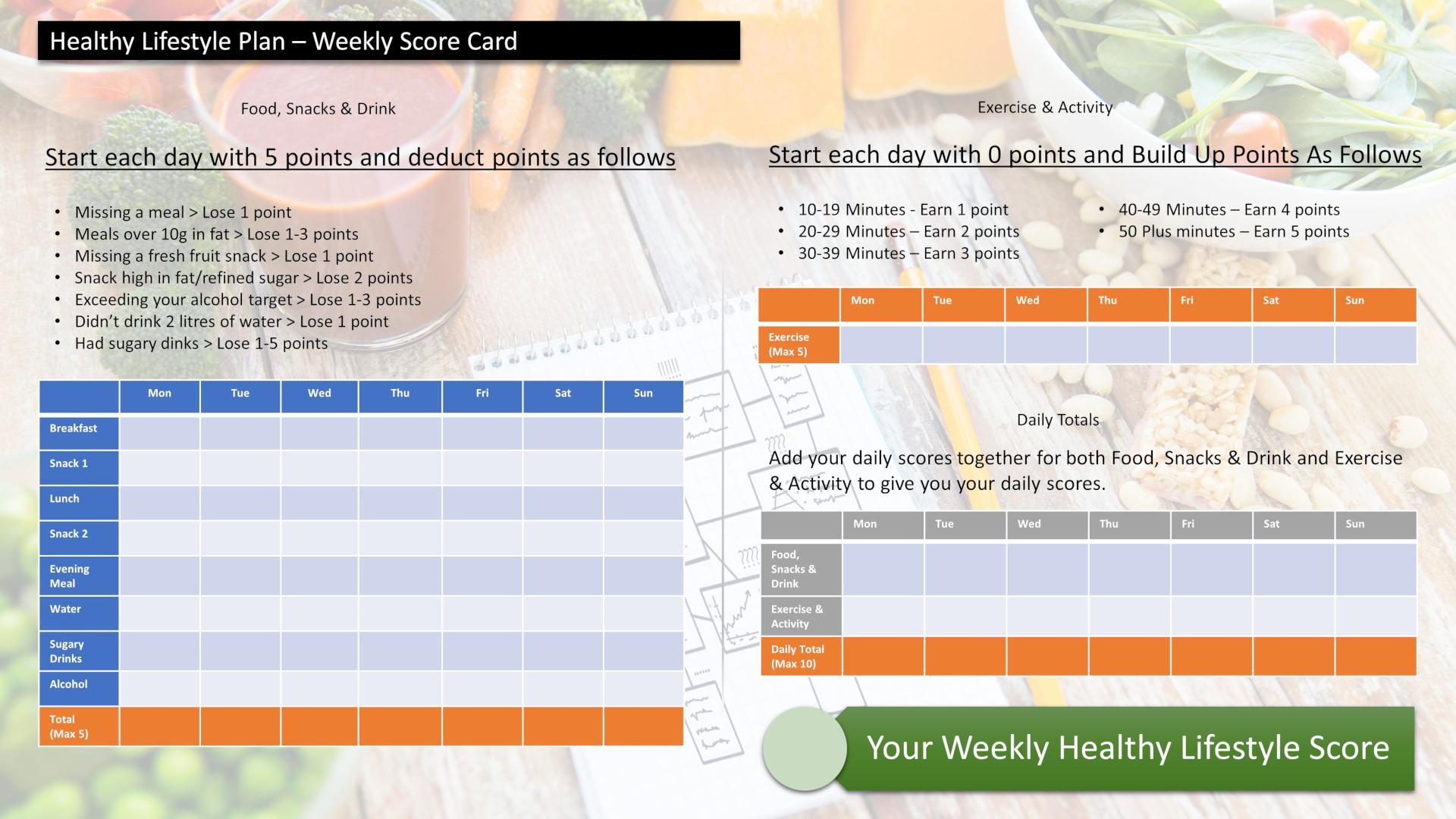 Score your way to good health with our healthy lifestyle plan and it's unique 70 point weekly scorecard!