Every year there are millions of people around the world who are diagnosed with type 2 diabetes every year.
Diabetes is a condition that is very close to my heart. It affects the lives of three very important people in my life. That is my Mother, Sister and Wife. In addition to this many of my members in my gym join, motivated by the news that they have Diabetes. Just last week, a father and son joined. The Dad had known for 5 years that he had Diabetes, and only a month ago the son found out he had the same condition, so in they came.
Diabetes is a condition where the body cannot convert the glucose in its blood into energy because the hormone insulin which enables this to take place is either not produced or does not work properly.
Diabetes is more widespread than people realise. As the owner of a fitness club, it is my job to advise members on exercise and diet to help them achieve health and fitness, establishing a healthy lifestyle. It still amazes me how many people diagnosed with diabetes pay so little attention to the medical advice which they are given which could alleviate some of their problems.
It is so important that people with diabetes look after themselves by eating healthily and staying physically active. Maintaining a healthy lifestyle contributes to reducing the risk of long term complications from diabetes such as blindness, amputation, kidney failure, heart attack and stroke. Physical activity is important for helping people with diabetes maintain good blood glucose levels and manage their blood pressure.
Diabetes is a growing health challenge for many people. The number of people diagnosed with diabetes in the UK has passed 2.8 million. Around nine in ten people with diabetes (2.5 million) have Type 2 diabetes, which is strongly linked to being overweight or obese, leading a sedentary lifestyle and eating an unhealthy diet. In many cases the condition can be prevented by maintaining a healthy weight, taking regular physical activity and eating a balanced diet rich in fruit and vegetables but low in fat, sugar and salt.
Diabetes is a serious problem. The costs to people's quality of life, the economy, society, and the NHS are already high. If not diagnosed early or poorly managed, it can result in blindness and amputation or a shortened life expectancy from heart disease, stroke and kidney failure.
Life expectancy is reduced on average by 20 years in those with Type 1 diabetes and up to ten years in Type 2 diabetes.
By the time they are diagnosed with Type 2 diabetes, 50 per cent of people have evidence of complications.
In the UK people with diabetes spend 1.1 million days in hospital every year.
80 per cent of people with diabetes will die from cardiovascular disease.
People with diabetes are two to three times more likely to have a stroke compared to those without the condition.
1,000 people with diabetes start kidney dialysis every year in the UK .
Diabetes is the leading cause of blindness in people of working age in the UK .
The rate of lower limb amputation in people with diabetes is 15 times higher than in people without diabetes.
I don't tell you this to scare you, but to make you realise that once diagnosed, you need to get things right. You can often decrease or even reverse your risk by losing weight, increasing your physical activity levels and improving your diet.
It is essential that people with diabetes are diagnosed early and treated effectively. Many of the worst effects of diabetes can be avoided.
Effectively controlled Type 2 diabetes can reduce the risk of:
heart disease by 44 per cent
stroke by 46 per cent
kidney disease by 33 per cent
eye disease by 33 per cent.
Effectively controlled Type 1 diabetes can reduce the risk of
new eye disease by 76 per cent
worsening of existing eye disease by 54 per cent
early kidney disease by 54 per cent
more serious kidney problems by 39 per cent
nerve damage by 60 per cent.
Simon O'Neill, Diabetes UK Director of Care, Information and Advocacy said "Many, but not all, people develop Type 2 diabetes because they are overweight or obese – so we must keep up the mantra of 'five fruit and veg a day', encourage daily physical activity, and warn of the potentially devastating consequences of an unhealthy lifestyle".
This is not a local UK problem. Here is some information provided by the World Health Organisation. Find more information here.
More than 220 million people worldwide have diabetes.
In 2004, an estimated 3.4 million people died from consequences of high blood sugar.
More than 80% of diabetes deaths occur in low- and middle-income countries.
WHO projects that diabetes deaths will double between 2005 and 2030.
Many of my readers I know come from the US. Statistics from the National Diabetes Information Clearing House  Report published in 2011 show:
Diabetes affects 25.8 million people of all ages in the U.S.
8.3 percent of the U.S. population
18.8 million people have been diagnosed
7.0 million people have not been diagnosed
I am truly motivated to support Diabetes UK in any way that I can. I recently did a talk on healthy lifestyle eating to one of their support groups. Now I am helping to raise vital funds and awareness, to help them improve the lives of people with diabetes and work towards a future without diabetes through further research.
So on the 16th April 2011 at my gym, the Gymz in Bishop Auckland, my members and I are taking part in a challenge to help raise funds for Diabetes UK as well as raising awareness of diabetes.
We are holding a sponsored event for Diabetes UK. We plan to use our CV equipment to notch up the 874 miles or 1406.5 km, which will cover the distance between John o' Groats and Lands End. And we hope to achieve this within 24 hours with two teams, men versus women, and see who gets there the fastest!!! Anyone wishing to take part and help us raise funds for this charity event, please get in touch. You do not have to be a member to join in. Even if it is only 30 minutes or 100 miles you wish to do, your help will be very much appreciated.
If anyone out there is willing to support us in any small way, please dig deep to support us. We are going to cycle and run till we bleed if we have to in order to complete the distance, but we are doing it to raise as much as we can for Diabetes UK.
We thank Diabetes UK for helping us with this event in many ways, including promoting us through their website. Check it out here
I will let you know how the event goes and what we raise, once its completed and my body has recovered.
Score Your Way To Good Health - With Our Healthy Lifestyle Plan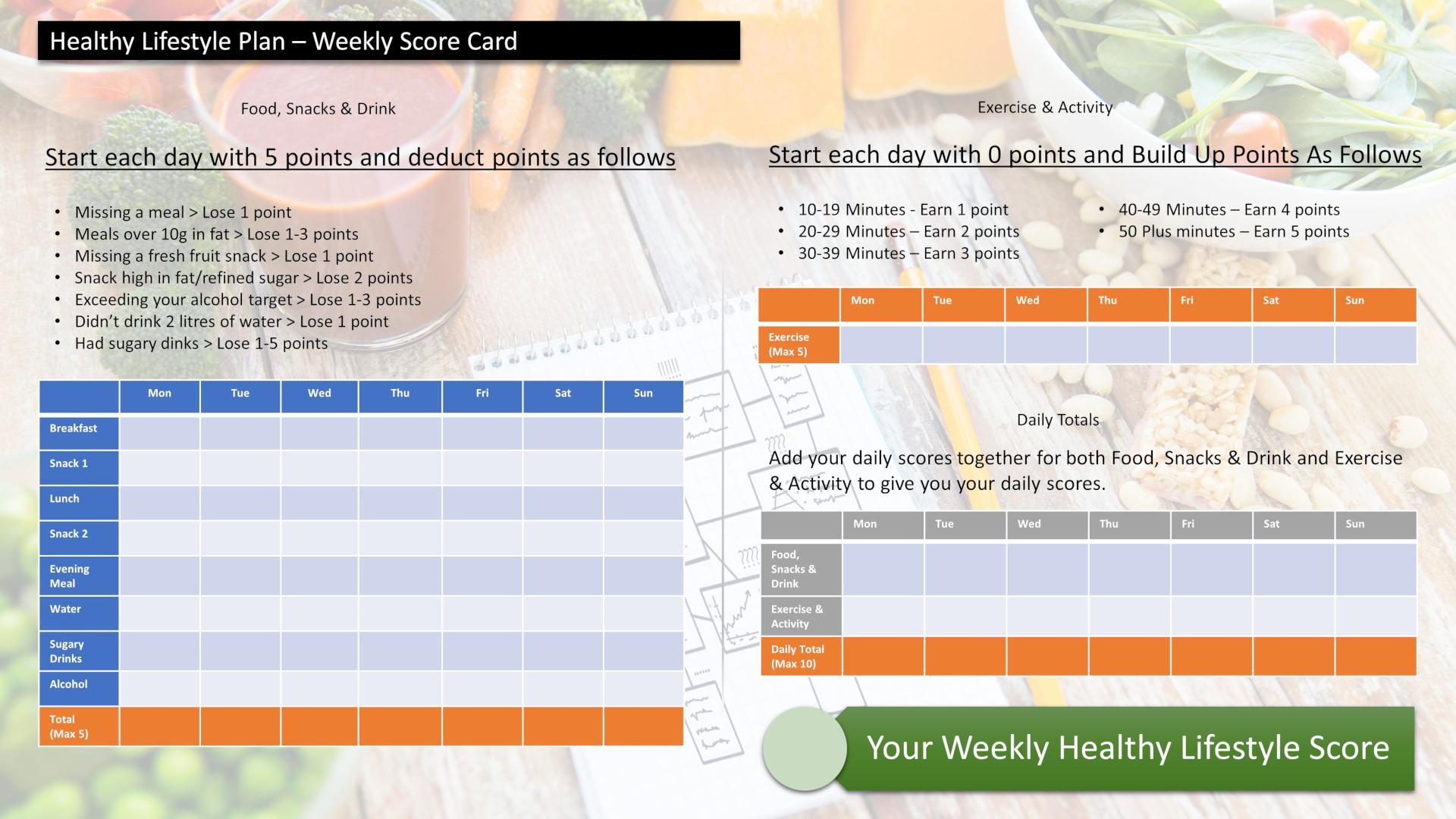 Score your way to good health with our healthy lifestyle plan and it's unique 70 point weekly scorecard!