Christmas is a wonderful time of year when thoughts turn away from your business and your everyday woes and towards celebrating and sharing with the people in your life that you love. Christmas is a time to spend with your family. It is a time for fun and relaxation. The Christmas holiday period is traditionally a time for celebration. Christmas fun is for the child in all of us. Christmas songs, jokes, games, stories, and of course lots of Christmas films!
From Christmas Eve many of us enter a week's period of festivity. Many homes are the shining beacon of Christmas with the wreath on front doors and sparkly outdoor lights all around the windows, and then inside you enter the home to see the Christmas tree with wonderfully coloured baubles, twinkling tree lights and the growing pile of chocolate boxes, crisps, nuts and cakes.
Today, is Boxing Day. We, I hope, all enjoyed yesterday our turkey and trimmings, port and wine, Christmas Pudding, and I hope you pulled a brilliant Christmas cracker. My daughter's cracker included a nail clipper, an unusual gift, especially when she tried it out on her toenails at the table. She'll kill me now.
Christmas truly is what you make of it – and may it be a perfect one for you this year! For me spending time together with my family, feasting, exchanging presents and renewing family ties is just such a wonderful time.
Christmas waves a magic wand over this world, and behold, everything is softer and more beautiful. Norman Vincent Peale
The festival of Christmas lasts 12 days and so ends on twelfth night; the 5th January.
However, the festive season often brings many detrimental health effects. While many people love the time off work many of them get, the impact of Christmas can be negative in many ways. A range of factors contribute to making Christmas a busy and potentially very stressful time of year. These include pressures of shopping, time, financial concerns and social demands, as well as fatigue, general overindulgence and lack of physical exercise. Christmas is a time of additional responsibility and a radical shift in daily patterns, and all this can contribute to raising people's stress levels.
Christmas is traditionally a time for overindulgence. According to NHS Choices, a typical Christmas Day's food can add up to a massive 6,000 calories – three times the recommended daily amount for most women, and over 2.5 times for most men. Christmas is a time where people often over indulge in food and drink and they don't feel that great about it. And they continue through the entire festive season.
A lot of forced feeding goes on at Christmas, some of which is very welcome but as the days go by one can find oneself just going through the motions. This is when you need to stop and think am I enjoying this. When indulging in that tenth mince pie, or twentieth little chocolate, do consider whether you are actually enjoying it or whether you are eating just because it's there.
Unchecked, the Christmas festive eating can add half a stone in weight over the period. So start thinking a little more. Go easy on the chocolates and nuts. Walk by the crisps and head to the fruit bowl. Cut down on your desserts. Take some physical exercise – this reduces stress and enhances mood. Just getting off the sofa and getting outside should improve mood.
Just because it's Christmas doesn't mean normal life has to stop completely! Build some time into your day to take some exercise, even if it's a simple walk with the family. And while I'm at it, cut back on the alcohol. Even doing these things, you will still have a great Christmas, and have less of a price to pay in January.
Keep enjoying Christmas, the Healthy way!
Score Your Way To Good Health - With Our Healthy Lifestyle Plan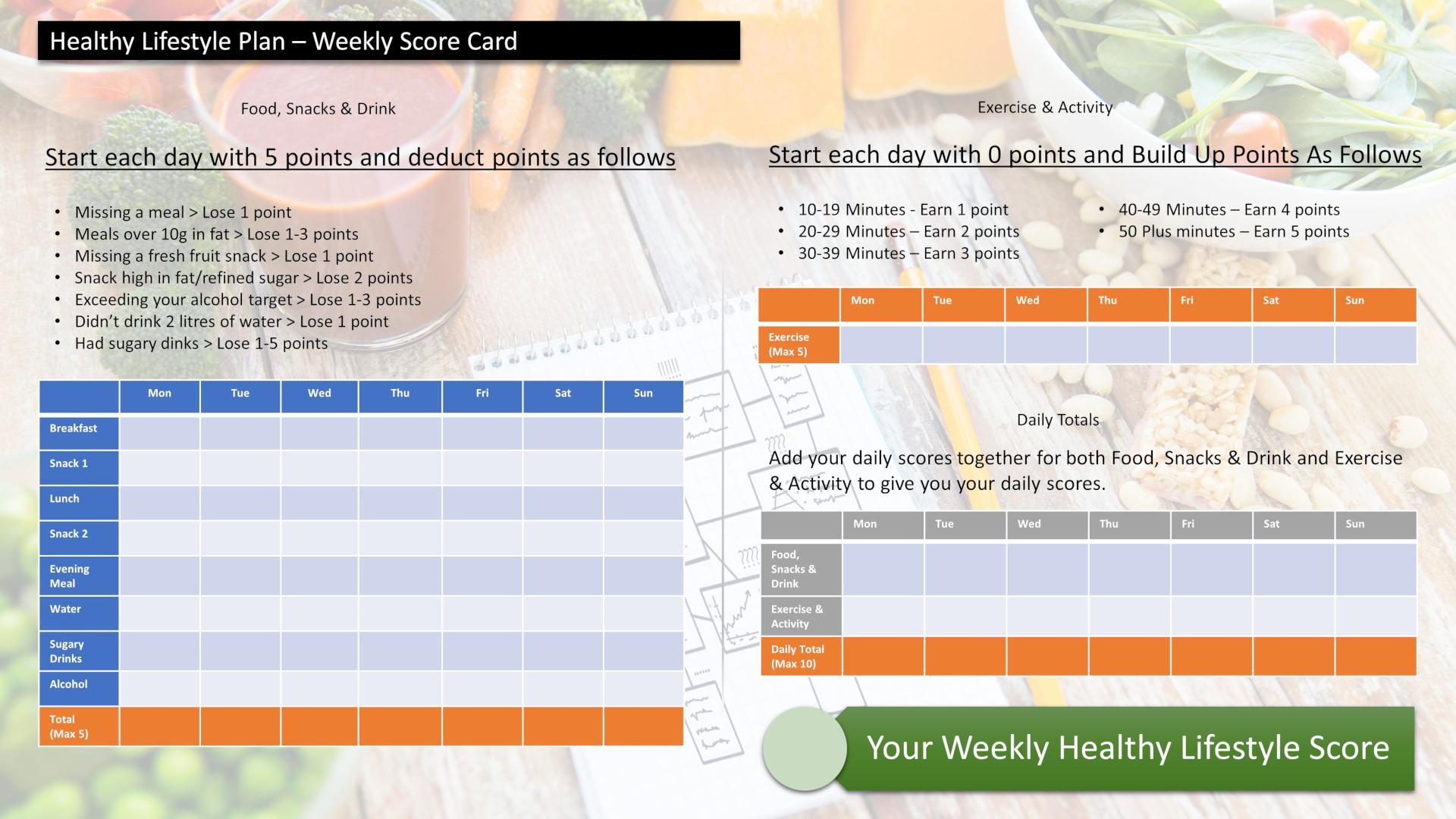 Score your way to good health with our healthy lifestyle plan and it's unique 70 point weekly scorecard!