Do you dream of that day when you can pack away your work, say goodbye to your colleagues and leave the workplace for good in order to enjoy retirement? Maybe instead of looking forward to retirement you have dreamt of pursuing your passions wanting these forefront of your mind as you still have a lot of life ahead of you and want to waste not a second.
The average 50-year-old intends to retire at the age of 61.5 years, having paid off their mortgage at 58.5, according to the insurer MetLife. Alas this is getting to be a rarity in current society. It seems that the painful reality for a majority of people nowadays on reaching retirement age is that they simply cannot afford to do so.
For many people the lives they've experience by the age of 50, 60 or 70 don't match the dreams they had at age 20 or 30. They are disappointed by their achievements and experiences, not happy with how life has worked out. If you are somebody dissatisfied at this moment I want you to remember you still have a lot of life ahead of you and you now need to get focused on making it great.
Many are bitterly disappointed that their long held retirement dream lays in tatters. Having imagined reaching an age where they could embark on an expensive world tour or being able to leave an inheritance to their beloved children and grandchildren, they find that none of this is actually possible and they need to continue to earn an income.
I was somebody who reaching the age of 50 found my nest egg was empty and my prospects looked bleak. I may have had a lot of life ahead of me, but I could see nothing more than just a life of struggle ahead of me.
There are so many stories out there to give us old timers hope. Colonel Sanders didn't start his Kentucky Fried Chicken business until he had retired, bored and frustrated, at the age of 63, and there are numerous examples of authors who didn't write their first books until after retirement.
"The most successful transitions are people who see it as a growth opportunity, where things you've always wanted to do become possible," Dr Milne British Heart Foundation
A few years ago, around the time I was turning 50 and trying to come to grips with the changes my body, mind and life were going through — I decided that I would set out on a journey to make the rest of my life the best of my life by following what I saw to be my purpose.
As my 50th bithday fast approached the urge to find personal fulfilment became overwhelming yet incredibly exciting. The journey itself has been bumpy at times but amazingly satisfying.
I had gone through a very dark period.
I lost my house, it was repossessed. Not just any house but the one I'd dreamt of owning way back in my early 20's.
I was forced into bankruptcy.
My business was decimated by the distraction of these other distractions and my reactions to them.
It all ended with the break up of my marriage and ill health.
All this left me in a bad way.
Used up
Crushed
Lost
Devastated
I felt like a failure
I was able to shift my mind changing my mindset. This is what i came to understand – when you're down and life seems like it's pushing you down, there is also the opportunity to start over.
Everything happens for a reason. Nothing has meaning besides the meaning you choose to give it. It's up to you to make each incident empowering or disempowering. And it's up to you to find the lesson in everything.
Life is fraught with unpredictability. Everyone encounters personal nightmares such as death of a loved one, heartbreak, devastating illnesses, job instability, and financial crisis. It's hard to deal with but deal with it you must. Instead of looking back you need to look forward. Not with blinkers on that can only see more devestation and problems ahead of you, but rose rimmed glasses that let you see opportunities ahead of you, and possibilities just waiting for you to find them.
Accept that you still have a lot of life ahead of you and you have the opportunity to make that life anything you want it to be, when you do life can take a whole new momentum.
My mums last 10 years of life are all the reminder I need to push me forward to live life rather than just survive. She was struck down by Dementia ending up as a shell of her previous self. Unable to communicate properly and totally dependent on others she saw out her last 10 years virtually as a prisoner of her mind. When you have seen someone destroyed like that it makes you absolutely motivated to make the most of everyday you have while you can.
I began to change my life by simply setting empowering goals and making my focus every day to work towards their attainment. The whole process of setting goals, strategizing, planning, taking action, reviewing the results and readjusting my plans, revitalised me, bringing with it hope and made me sure that I would make the most of life ahead of me.
What could you do to make the rest of your life the best of your life?
Score Your Way To Good Health - With Our Healthy Lifestyle Plan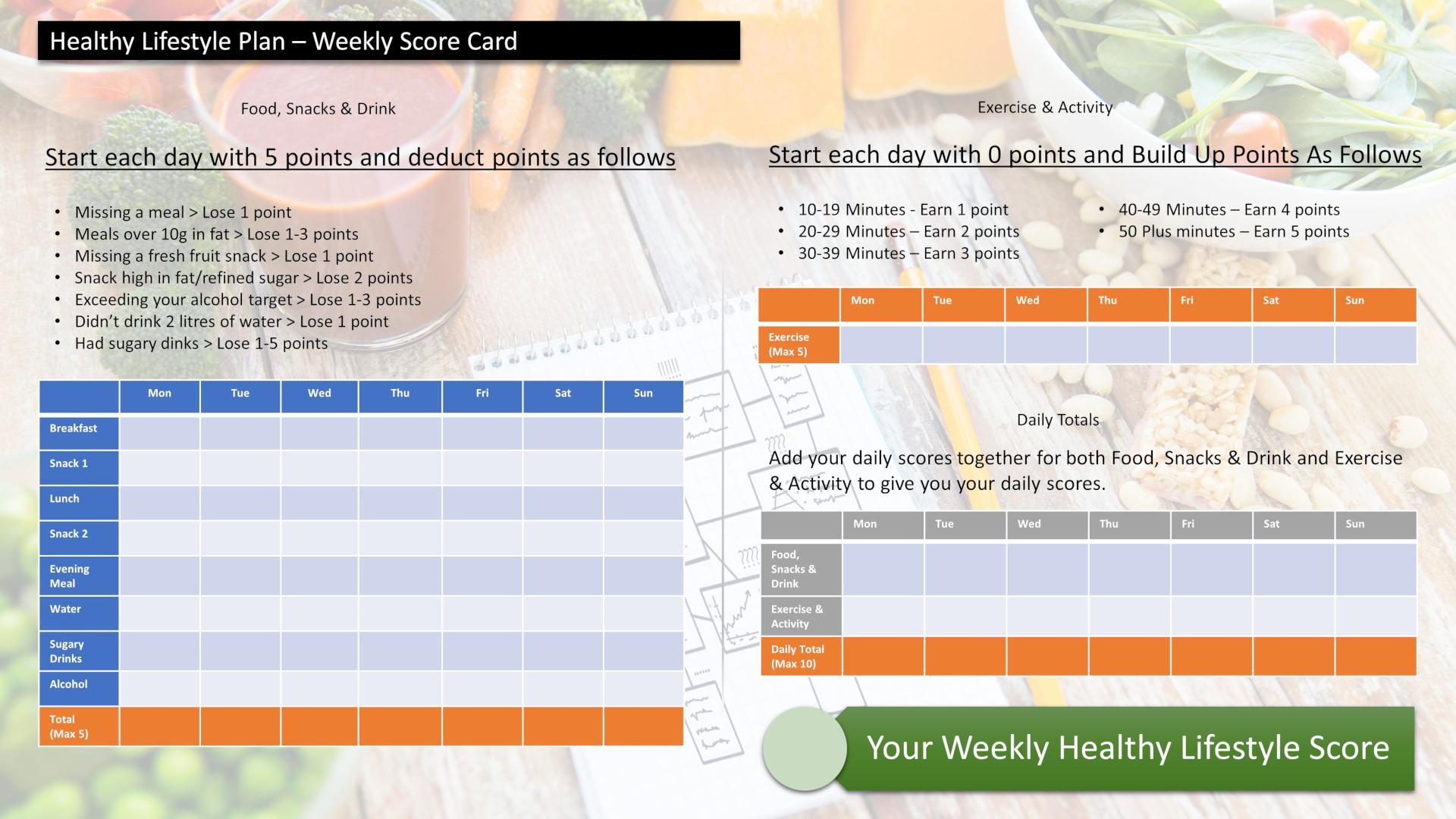 Score your way to good health with our healthy lifestyle plan and it's unique 70 point weekly scorecard!