Is it time for you to drop the masks you wear? I think it is inevitable that everyone of us will get to a point in life where we search for meaning to the life we are living and it will give rise to questions such as:
How do I find meaning and purpose to my life?
Am I doing what I really should be doing?
How is it possible to live out my purpose?
When you are asking yourself these questions you feel there must be something more, something beyond merely existing, you are looking for a true meaning to your life.
Author Ravi Zacharias said it well: "If there is no larger meaning to life…then life is without a driving force, without overall substance or explanation."
Over a lifetime we will each take on numerous roles; son/daughter, brother/sister, husband/wife, friend, student/teacher, employer/employee, parent, grandparent, great grandparent. You will have many roles to play, but these are just the masks you wear.
All these different masks you wear are suggestive of what you do, but not descriptive of who you really are on the inside. Your jobs, relationships and titles do not define you as the person you are.
But who are you really?
Have you ever struggled with this question, trying to find who you really are and the true nature of your life's calling?
How many of you right now find yourselves working in a business that leaves you completely exhausted at the end of the day, void of passion and feeling completely unfulfilled and totally dissatisfied with the rest of your life?
If you are feeling lost in your life, there is a good chance you may have lost touch with your authentic self.
Your "authentic" self, is a composite of your skills, talents, acquired wisdom, core values and beliefs. The authentic self is the you lying at your absolute core. It is the genuine you not as defined by your job, function or different role. It is all of the things that are uniquely yours and need expression, rather than what you believe you are supposed to be and do. It is the person you were always meant to be, dare I say, the person you were born to be.
Yet throughout life this is not the person you have allowed yourself to be. From an early age we learn to play different roles. We become great actors and actresses, and play our parts really well. We put on fronts to please and win over our audiences. We want to be liked, because we want to be popular. This continues through life because we then want to be successful. We constantly put on a façade that suits the role we want to play. They serve us to a point, but they have their limits. Once you reach that place where you realise there should be more to life than this, where you begin to look for meaning, here is the time where all those masks you have grown used to wearing need to be taken off, those roles you play need to be put behind you, and you now need to step into your final big role, that of being your true self, your authentic self.
This in a nutshell is what finding your authentic self is about. Once you have peeled back all these facades from years of playing the roles you have felt you've needed to make your mark on society. You will be better able to see what you value and how to make use of those values to improve who you really are and where you are going in the future.
I know being authentic has enabled me to express myself honestly and comfortably; and most importantly allowed me to connect with my passions and begin to create my perfect life doing exactly what I want doing what I love.
Make a determination that you will be all that you can be. That means learning who you are and being able to just be you. You will be pleased that you do because this truly does unlock your full potential.
Are you ready to fulfil your potential? We're all born with unique personalities, passions, gifts, and strengths. As we grow up, we lose touch with most of this, and it takes us to get to a point in life where we search for more meaning to be able to start to reconnect with them.
Imagine your life if you could step out from behind your mask and fully become the person you were born to be. What if you could reclaim your true purpose, liberate your potential, and ignite your passion in every part of your life? Come on imagine it!
I would like to express my thanks to Loddy Micucci for showing me how the path to my authentic self entwines so deeply with following one's passions. It has given me such a profound understanding to the importance of this journey. It's time for you all to remove the masks you wear and learn at last to live a life following your passions and being your authentic self.
Score Your Way To Good Health - With Our Healthy Lifestyle Plan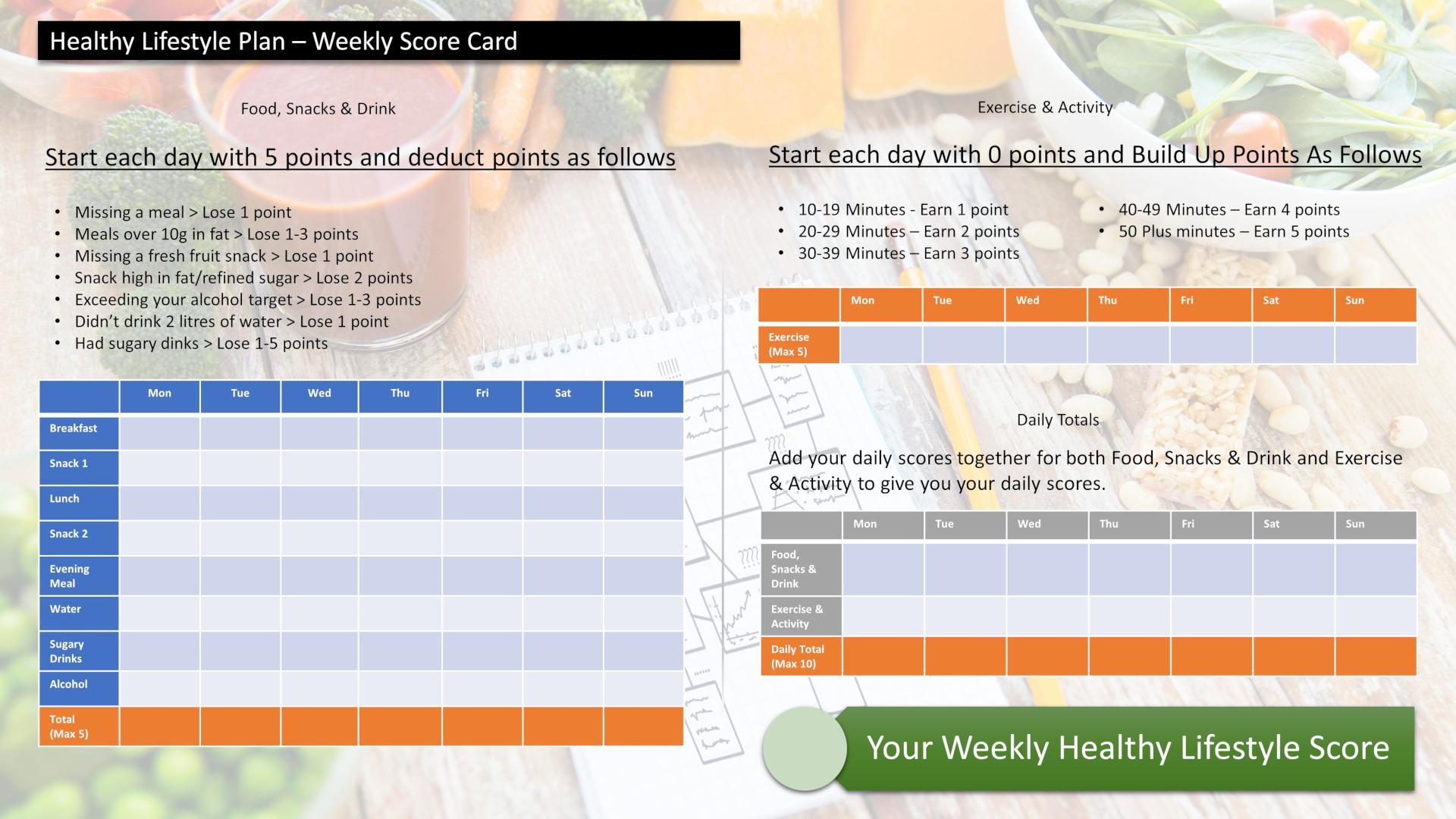 Score your way to good health with our healthy lifestyle plan and it's unique 70 point weekly scorecard!