Many would find it difficult to explain what stress is. Stress is purely a normal physiological response of the body to situations or stimulus which are perceived as 'dangerous' to the body. Stress can affect anyone at anytime in some point of life. When stress occurs regularly it cause harm toone's body.
Modern life is full of hassles, deadlines, frustrations, and demands. For many people, stress is so commonplace that it has become a way of life. Stress isn't always bad. In small doses, it can help you perform under pressure and motivate you to do your best. But when you're constantly running in emergency mode, your mind and body pay the price.
When anything causes a shift in your mental stability & pushes you to a form of unrest or discomfort this constitutes pressure. This pressure can make you feel like you have the weight of the world on your shoulders.
When most areas of your life are running efficiently then the pressure from one single event or area of your life can often be managed without trouble. Yet the exact same event can be overpowering for an individual who is dealing with lots of different situations in their lives, which are already placing them under a great deal of pressure. This final event, is like the last straw that breaks the camels back.
In these modern times in which we live the pressures that we have to deal with are often unrelenting. Frequently this constant barrage of pressure around an individual becomes overwhelming, and leads to stress which then can become potentially damaging. As the level of pressure becomes too much, stress ultimately exceeds our ability to deal with it in a positive manner. Clearly when we are under to much pressure, or the pressure upon us is long-lasting, the negative effects of stress start to show up in our life affecting both our mental and physical functioning. As this pressure becomes too much, then the fear of failure and not coping add even more pressure.
Too often the demands placed on you mean that on a daily basis you are having to deal with more and more stressful situations. Your stress response is constantly activated, and this takes a heavy toil on you eventually resulting in various common physical symptoms of severe stress which if left unattended, will eventually affect your overall health in a negative way.
These negative effects of stress are seen physically, mentally and emotionally. Everyone responds in a different way to the pressure to which they are exposed, but when this pressure reaches excessive levels for them, it can have the consequence of various physical and mental symptoms.
These symptoms differ extremely for each person, but may include: headaches, stomach disorders, sleeplessness, irritability, backache, neckache, muscle tension, anxiety, nausea. It can ultimately lead to major health problems including heart disease, high blood pressure, stroke, depression, digestive problems and sleep disorders.
So have you reached the point of burn out, where you are stressed to high heaven, and find yourself at your wits end? Are you like an over-inflated balloon, where the slightest pinprick causes you to burst?
Is the pressure you are under making you act in ways that you are not proud of but find yourself justifying this behaviour by blaming it on your situation or someone else that you blame?
If you answered yes to the above, you are obviously lacking effective ways to challenge and beat the stresses that are wearing you down. You are certainly not alone. With the growing pressures every one faces including work pressures, family commitments, financial pressures including mortgages, credit card payments, utility biils, rates and your other financial obligations, and the lack of time needed by all the demands on you, stressful situations appear to wait for you at every turn, even those small daily hassles—like rush hour traffic, queuing at the supermarket, and so many more. All these pressures and demands prove too great for many people to handle.
With the way modern day living is, the sad facts are that nobody lives without stress. The constant pressure associated with living in a fast-paced world has created an environment where nearly everyone feels the effects of stress. And our stress load keeps increasing.
There is no one definite, significant moment when you reach the unhealthy level of stress. In fact it is normally an accumulation of small stressful situations that gradually balloon and get out of control.
One very important point I bring to your attention, that knowing will help you in your stress management, is that it is not the external events or situations that do harm to you, but your response to these events. It is your emotional reaction that is the source of your stress, not the event itself. Your emotions and your feelings have a powerful impact on you. Negative feelings are stressful and damaging to your health. Positive feelings bring about health and well being, as well as boost your performance.
Much of the pressure you feel is caused by the thoughts you hold in your mind. The way you talk to yourself, the way you talk about yourself, plays a major part in how you feel. You have to improve your ability to handle pressure. You must let go of the things you cannot control.
If your methods of coping with stress aren't contributing to your greater emotional and physical health, it's time to find healthier ones. There are many healthy ways to manage and cope with stress, but they all require change. You can either change the situation or change your reaction. When deciding which option to choose, it's helpful to think of the four As: avoid, alter, adapt, or accept.
Let me offer you a solution that you can adopt right now. To step out of the constant cycle of stress, you must direct your mental focus away from your problems (things you don't want), and on creating positive solutions instead (things you do want).
Here are some simple steps that you need to take.
1. Decide to be positive from now on, no longer allowing your negative self talk to lead your mind.
2. Know what you want, the results you are after. Get 100% clear on what it is you want and be in no doubt whatsoever that you will receive it!
3. Know why you want it, the compelling Purpose that gives you the drive to follow through. This creates a laser-like focus within you, arousing your desire and commitment to achieve your goal.
4. See a mental image of the life you want. Design and hold a mental image of the life you want, fill this with emotion, and excitement.
5. Design an action plan that will get you there.
6. Break your action-plan into the smallest possible daily steps
7. Begin to take action — one step at a time.
Score Your Way To Good Health - With Our Healthy Lifestyle Plan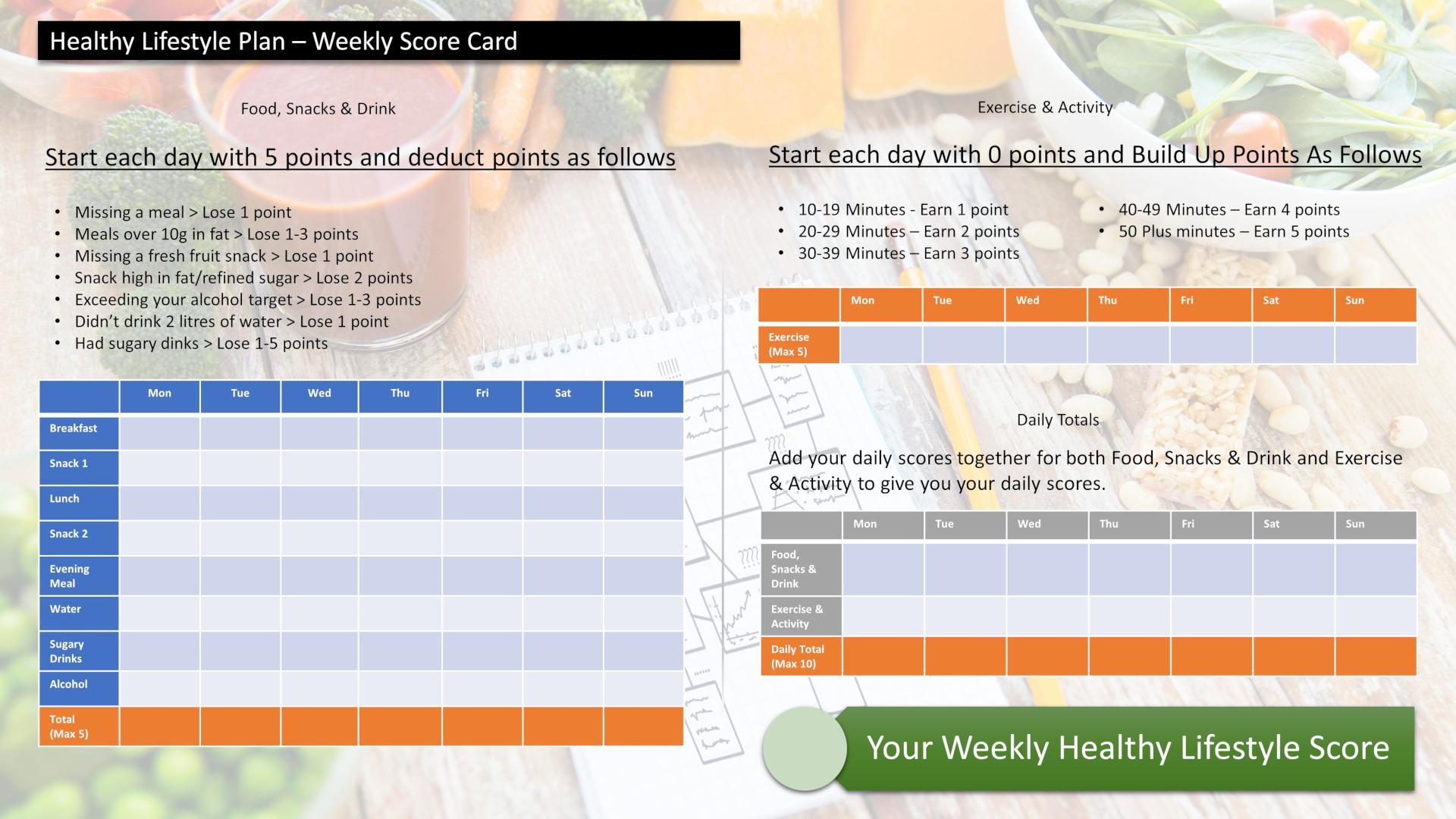 Score your way to good health with our healthy lifestyle plan and it's unique 70 point weekly scorecard!