It seems even Father Christmas isn't safe from the consequences of stress during the festive season.
News Flash! Father Christmas (alias Santa Clause) was stopped while speeding in a Sleigh. He was given a breathalyzer test, and was found to be 4 times over the alcohol limit. He has also admitted to having eaten a high-fat diet of mince pies and Christmas puddings, and having scoffed on all types of chocolates including Quality Street, Heroes and Roses. In fact the buttons of his bright red suit were popping off, placed under too much strain by his expanding belly. He is also reported to have fallen out with the Elves after arguing over a game they all played, and Mrs. Clause has left him because he didn't buy her the present she wanted.
Everyone who has ever celebrated Christmas as a child, still waits for Christmas. it can mean happy wonderful times with a day of presents, surprises, the company of family and friends, a wonderful meal and all your favourite snacks, playing games and sitting down together to watch Christmas TV. There is an image of Christmas that involves relaxing at home with the ones you love, sipping eggnog, warmed by your log fire and staring at a dazzling Christmas tree glowing from its Christmas ornaments and colourful lights.
Sometimes the season of goodwill can be the most stressful time of the year. The lead up to Christmas itself can be a very stressful period.
Often people rush around buying last minute presents, either before or after work, while tackling large crowds of other last minute shoppers. Then there's the money you have to spend to buy your loved ones the presents that will make them happy on Christmas Day. Christmas heaps a great deal of pressure on people who feel the need to buy bigger and better gifts that they simply cannot afford. The puzzle over what to buy various family members can add to the anxiety. Not only do you have the presents to get, there's also the food shop. During the festive period, many people will buy foods and snacks they wouldn't dream of at any other time of year, spending far more on their groceries then is their norm. Then of course there's the bits and pieces for the dinner table, Christmas crackers and party poppers, festive serviettes and mistletoe candles. Many people unavoidably spend too much money in an attempt to create the perfect Christmas
In the background to all this, work is winding up and usually there is an extra work load to deal with. At the same time there's all the Christmas Parties, Carol Services and other festivities you have to attend at the build up to Christmas. Then there is all that organising you have to do for Christmas. You have to get to see all your family, or their will be unrest. Who are you inviting on Christmas Day, who are you seeing on Boxing day? The family dynamics at Christmas time can be a large stressor.
Unfortunately many people get caught up in the stress and forget to truly appreciate Christmas for what it could and should be. The increasing commercialisation of Christmas , personal debt carried in the form of credit cards, store cards and on line catalogues make Christmas one of the most emotionally unhealthy times of the year for many people.
Christmas should be a time to relax, reflect and enjoy the company of loved ones. I would like to take this opportunity to offer some ways to avoid becoming too stressed, so that you can truly enjoy this festive period to the max. Here are some tips to relax and unwind during Christmas.
1) Lower expectations. Holiday season stress comes from unrealistic expectations. When you accept the imperfections, you'll reduce holiday anxiety because you'll have realistic goals and expectations. The holidays can bring up family issues and stresses. Let go of the idea of the perfect family holiday and realize all may not go smoothly. Try to accept family members and friends as they are, even if they don't live up to all your expectations.
2) Accept things will stress you out. The family will fight, the gifts will disappoint, the dog will knock down the tree, and the turkey will be dry. It's inevitable that some troubles will arise during the holiday season; going with the flow and accepting the flaws as part of life is key to overcoming Christmas stress. Realize that you have done your best. Enjoy it. There will be plenty of pesky little things that go wrong, just fix what you can and move on..
3) Learn to let go. Be responsible for your own happiness, not that of others. Each person has to decide to enjoy the day, you can't make them.
4) Keep moving. Exercise is a great stress reliever. Though you may have less time to exercise this time of year, be sure to fit some in. Instead of watching the holiday special for the hundredth time, take a brisk walk outside.
5) Maintaining a healthy diet. Don't let the holidays be an excuse to abandon your healthy habits. Have some healthy foods throughout the day, especially if you'll be attending a party later in the evening. But DON'T skip meals hoping to "save up" for later. Be sure to eat regularly and keep some healthy foods on hand for a quick snack. Also, indulgence is okay but no need to go overboard. That fourth or fifth mince pie really won't make a difference, except on your waist.
6) Go easy on the alcohol. Not only will drinking too much tempt you to overeat, you'll also feel lousy the next day.
7) Make some time for yourself. Take some time each day to be alone without any distractions. With all of the hustle and bustle of the season it's especially important to wind down a bit and rejuvenate.
8) Relaxation Techniques to Relieve Stress. There are many ways to relax the body and mind – and one of them is not sitting in front of the television or computer screen. The technique of progressive muscular relaxation has been proven to be effective in relieving stress. Make sure you will be undisturbed for a period of time, lie down wearing comfortable, loose-fitting clothes, take a few deep breaths, and systematically tense, then relax all your muscles.
9) Herbal Remedies for Stress Relief. Some good remedies are Ginseng, Aloe Vera, Evening Primrose and Goldenseal. Chamomile tea is also soothing and stress-relieving.
These are all effective ways to deal with the stress in your life, however, you need to remember that the goal is to proactively manage your stress. If you react to your stress, you'll be spending most of your time putting out fires. Instead, if you constantly implement just a few stress management techniques, you will live a healthier, happier, and more productive life, particularly this Christmas!
Have a healthy Christmas – and beyond
Score Your Way To Good Health - With Our Healthy Lifestyle Plan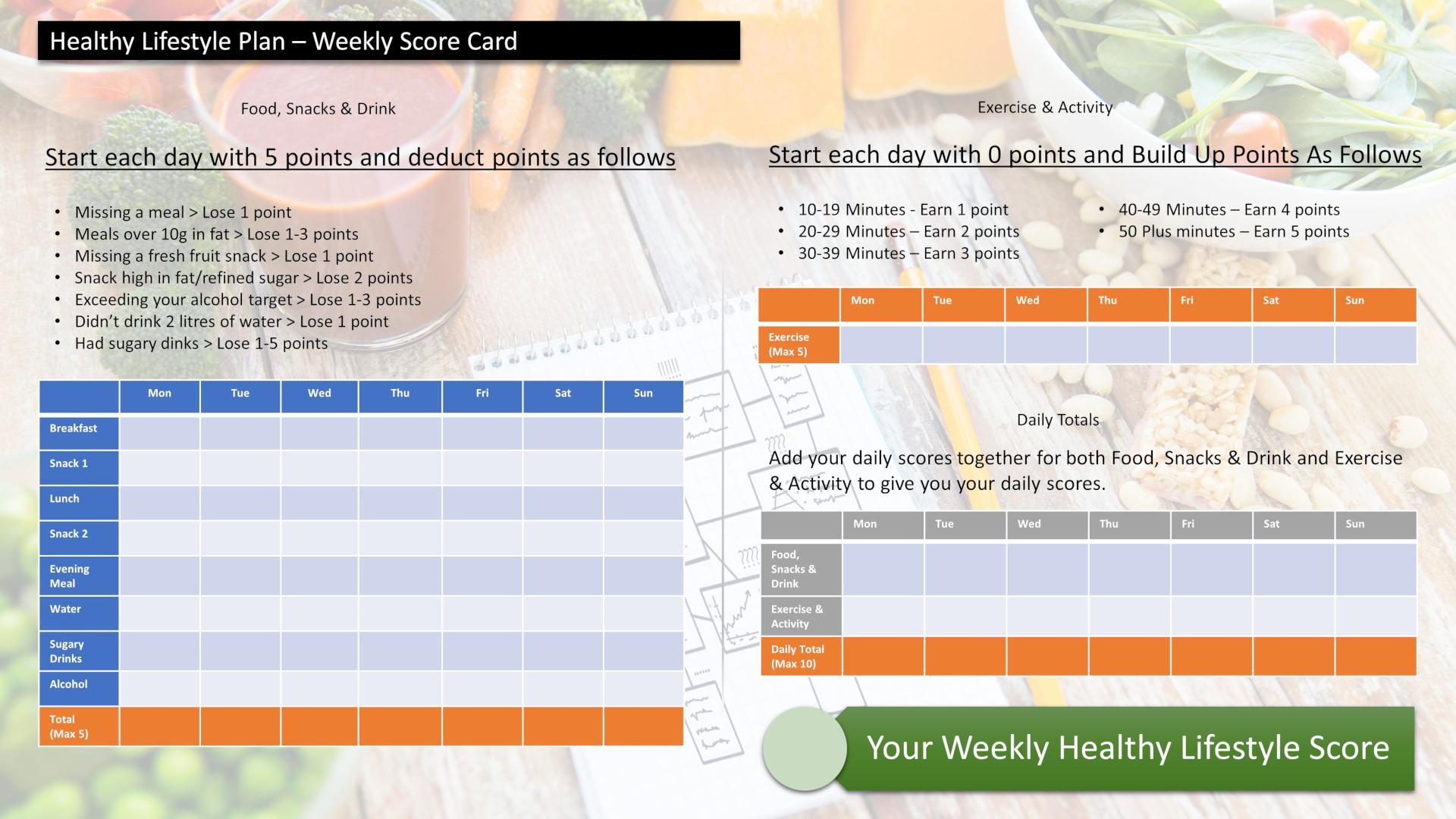 Score your way to good health with our healthy lifestyle plan and it's unique 70 point weekly scorecard!