Are you buried among a pile of stress management books? It is difficult not to feel stressed with modern day living the way that it is. Let's be honest here, we all suffer stress from time to time. It comes at us from so many directions, maybe family problems or too many pressures at work.
It is imperative for each of us that we learn to cope with stress, but to many of you don't know how to handle stress effectively at all.
Stress Management is the answer!
You need to learn and implement effective stress management techniques so as to improve your physical health, wellness and overall quality of life. Many of you will naturally resort to purchasing a stress management book searching for your answer.
Despite the many books on stress management, the truth is many of them are way to complex and don't give us the answers in a way that we need them.
When one is stressed you don't have the patience to read lengthy books, or even absorb all the information being provided to you. I've seen many good books on the subject, but many are written by academics, and you have to go through a lot of information before you can find the important stuff, such as the tools and techniques which is what you need to do to diminish the stress in your life.
That's why I'm a great believer in seminars, workshops and indeed blogs which can get straight down to the nitty gritty and give you ways to reduce stress.
The strategies for stress reduction need to be explained in easy-to-follow instructions and explanations. The more easily implemented and understandable techniques a person can learn and use, the better.
It is a good idea to learn a variety of techniques to put in your toolbox of coping skills. There are so many good ones available to you. Many are written about throughout this blog. Yet when you pick up many of the books on the bookshelf, they give you so much technical detail, wonderful intellectual explanations, yet I do question how much value this truly offers a reader who is stressed to high heaven, desperate for quick answers.
We all know the common symptoms that come with stress. A lack of concentration and focus are common. In this state I believe most of the books I've come across are far to detailed, hiding the important stuff making it impossible for someone in the state of a stressed person to find. They need quick answers, easy methods to start them off.
As a life coach, with many years of experience teaching others effective stress management skills and how to use them. I will help them find the underlying causes of their stress, teach them methods how to deal with both difficult situations and people, but I know from the outset I have to provide them with methods to get control over their stress and its impact.
Meditation, diaphragmatic breathing, progressive muscle relaxation, and visualization are just a few examples of tools I will teach them to ease their stress right at the front end.
You see in my belief, when stress is weighing us down, and our stress level exceed our ability to cope, the first thing that has to be done is to restore the balance by increasing one's ability to cope before you can deal with the stressors, causes etc. Teaching the why's and where fore's may be of intellectual importance, but at the outset it isn't going to make the difference where it's needed, and that's where I think stress management books in the main get it wrong.
Our mission here at Healthy Lifestyles Living is to be a resource for education and empowerment, helping people around the world to take control over their health and life. Our philosophy is simple – there is no quality of life without good health and there is no point in being healthy if you have a poor quality of life.
When you join our Healthy Living online Members Area which is going to be made up of a suite of programs designed to help you change your health and your life you will be offered a step-by-step approach to behavioural change to meet your needs and wellness goals, providing you the tools and techniques you need to succeed.
This Members Area will be able to provide you far more support than any stress management books will ever give you. Not only will you receive information and advice alongside tools to help you achieve your goals, methods to measure your progress, weekly "to-do" lists, motivational messages via e-mail, updated new information frequently, and email support when needed. Not bad for something we're going to be offering at only $9.95, and yes I said dollars.
Keep your eye out for our launch, it's not long now.
You will have access to our Banish Your Stress Program, Energy for Living' The Power of Passion, Power up Your Mornings, and our very special Healthy Lifestyles Living Plan, plus many more programs to support you in your personal development growth.
Score Your Way To Good Health - With Our Healthy Lifestyle Plan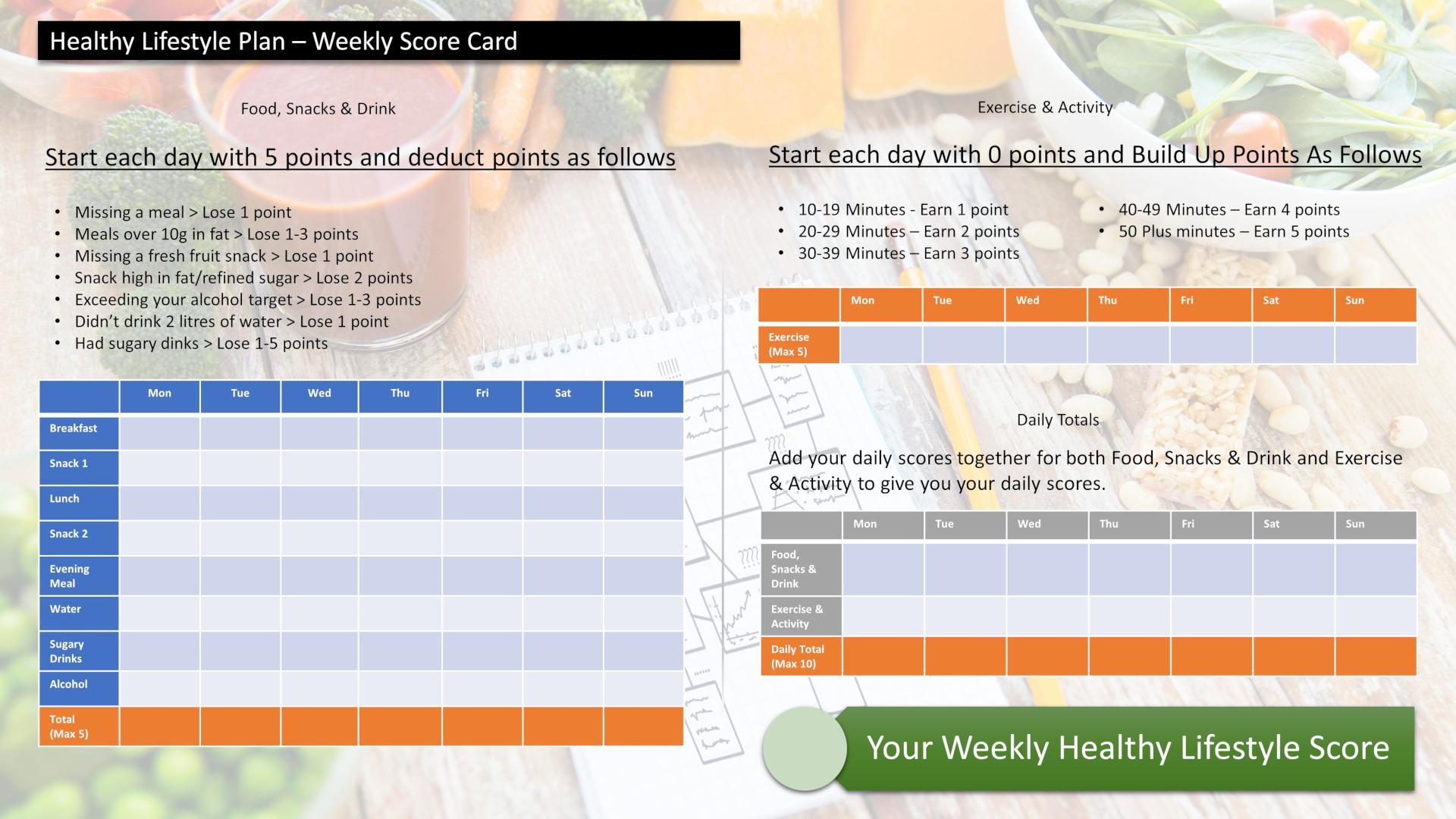 Score your way to good health with our healthy lifestyle plan and it's unique 70 point weekly scorecard!