It's Sunday afternoon and I am multi-tasking as usual. It's been a great day for a sports enthusiast like me. My morning started by watching the Chinese Grand Prix won by Fernando Alonso with my favourite driver Lewis Hamilton getting third place. Then I got to watch the local Derby of the area in which I live between Newcastle and Sunderland in the Football Premiership. With the fact that my eldest daughter's boyfriend is a fanatical Newcastle supporter I was rooting for them but unfortunately it really wasn't there day. In between writing this blog post I'm watching the Chelsea versus Manchester City F.A. Cup Semi Final and my evening will be completed by watching the final round of the Masters Golf. Come on Lee Westwood!
As I've hinted I am at the same time taking advantage of this quiet relaxing time by writing some blog posts. I think many of us find that we can't always separate our personal time and work life. I have so much to do at the moment with building both my ecommerce shops and members area that I have to take every chance I get to do the other things I need to do. For me I actually love it and particularly when I'm writing blogs there's not many things I'd rather be doing. I enjoy doing them, often having no idea the message I will end up delivering. I take it all in my stride, and I seem to just get more excited by the day by everything I'm doing.
I know it's not like this for most people. The work you are doing stresses you out big time. So many of you seem to be under intense pressure and the work related stress you are suffering from is down to the fact that the work demands on you exceed your capacity and capability to cope. It affects your health and well-being.
What one person may perceive as stressful, however, another may view as challenging. Whether a person experiences work-related stress depends on the job, the person's psychological make-up, and other factors such as personal life and general health and as important as anything something I mention frequently, whether they love what they are doing.
In my work as a life coach it seems that the biggest problems occur when work life and personal life are out of balance, it's then that stress seems to get out of control. Work commitments more and more seem to invade people's personal life.
Work-life balance and job stress presents major challenges. It seems we all are struggling with heavy workloads, and we are not managing them despite already putting in long hours of work which necessitates taking work home with us. For those of you where this is something you can't cope with it can lead to major health problems.
Physical symptoms associated with stress can include:
Fatigue
Muscular tension
Headaches
Heart palpitations
Sleeping difficulties, such as insomnia
Gastrointestinal upsets, such as diarrhoea or constipation
Irritability
Feelings of being overwhelmed and unable to cope
Depression
Anxiety
When you don't love what you do and are simply working to earn a living, by having to spend so much time working even once you've got home this is causing a reduced quality of life. The difference that I believe benefits me is that I am in my mind doing meaningful work that enhances my overall well-being.
But also I do make time for myself. Only last weekend I took 4 days off and went away. I know and believe in the saying 'all work and no play makes jack a dull boy.' SO although I love my work I make sure I take time to get away from it.
Despite work life difficulties being one of the most challenging things many of you face, I do believe that there are simple things we can do find solutions. Yet most people seem not to look for solutions. There is no doubt we are all struggling with work pressures and job stress which is challenging our work-life balance, so what can be done about this?
How many of you have establised boundaries between your work and life?
Giving enough time for family/spouse/partner/children
Giving enough time for yourself and leisure pursuits
Giving enough time for relaxation and rest
Something that has been very apparent with people that I am coaching is the conflict there work brings to their personal relationships. It is very common for those suffering from work stress to see the quality of their personal or family life suffer. Job stress imposes real costs for people ranging from reduced quality of life and health problems, to reduced quality and quantity of work.
From the perspective of workers who are finding it more difficult to balance work and non-work, a manageable workload and flexibility in work hours and schedules are the most sought-after changes. Some workers already have these and are able to balance work and life to their advantage. The pattern is clear, workers who have experienced difficulties balancing work and personal life also are most likely to report chronic job stress.
"You never have time for me anymore" is one of the most common remarks I am told people hear from their partners. This in itself becomes a bit of a vicious circle. Where now is the most stress coming from, the pressure of work or the pressure of the relationship?
One of the most helpful things you can do is make time for rigorous planning, scheduling and prioritizing of work. Using this basic approach, it will be possible to get at the root causes of your stress. The other essential thing to do is know exactly what is causing this stress in your life and why it is happening.
Many who end up working at night from home, burning the midnight oil feel as though they have no control over their life. Matters are worsened when not only that you have an extremely full workload but you also don't find your job or the work you do meaningful. It's just a job, it pays the bills but you get no satisfaction from doing it. But you have no choice and have to get things done even though it cuts into your personal life severely. When you feel you're getting no support from home, you feel very alone, desperate and on your own.
Here are some things you need to be looking to do.
Get yourself organized. Keep track of what's important, and what's not, and then schedule the important activities.
Use a Job List. Plan every day with the jobs you wish to do. By putting it down on paper you'll know what needs to be done.
Learn to say "no." Don't overcommit yourself. If you take on too much, you're creating more stress, taking on additional responsibility which is going to make life even harder for you.
Give yourself a cut of time. It's not just your relationships that will suffer when you work every hour god's given you so will your health. So make a time every evening where you will stop work and then give your attention to your family and yourself.
Make More of your Work Time. By focusing and concentrating on your important tasks and cutting out all timewasting activities you will find you will get more done in less time, this will help reduce your stress dramatically. Try to limit distractions and interruptions so you can save more of your personal time for exactly what it says personal time.
Schedule time for enjoying life. My message should be clear by now, start making time for yourself. No longer allow work to dominate your every living, breathing moment, start doing things that you will enjoy, start having fun once again.
If you are truly stressed out and unhappy with your work it may be time to think about changing jobs. Make sure you know whether it is you or the job that's the problem.
If you could make one change that would reduce the level of stress in your job, what would that be?
Score Your Way To Good Health - With Our Healthy Lifestyle Plan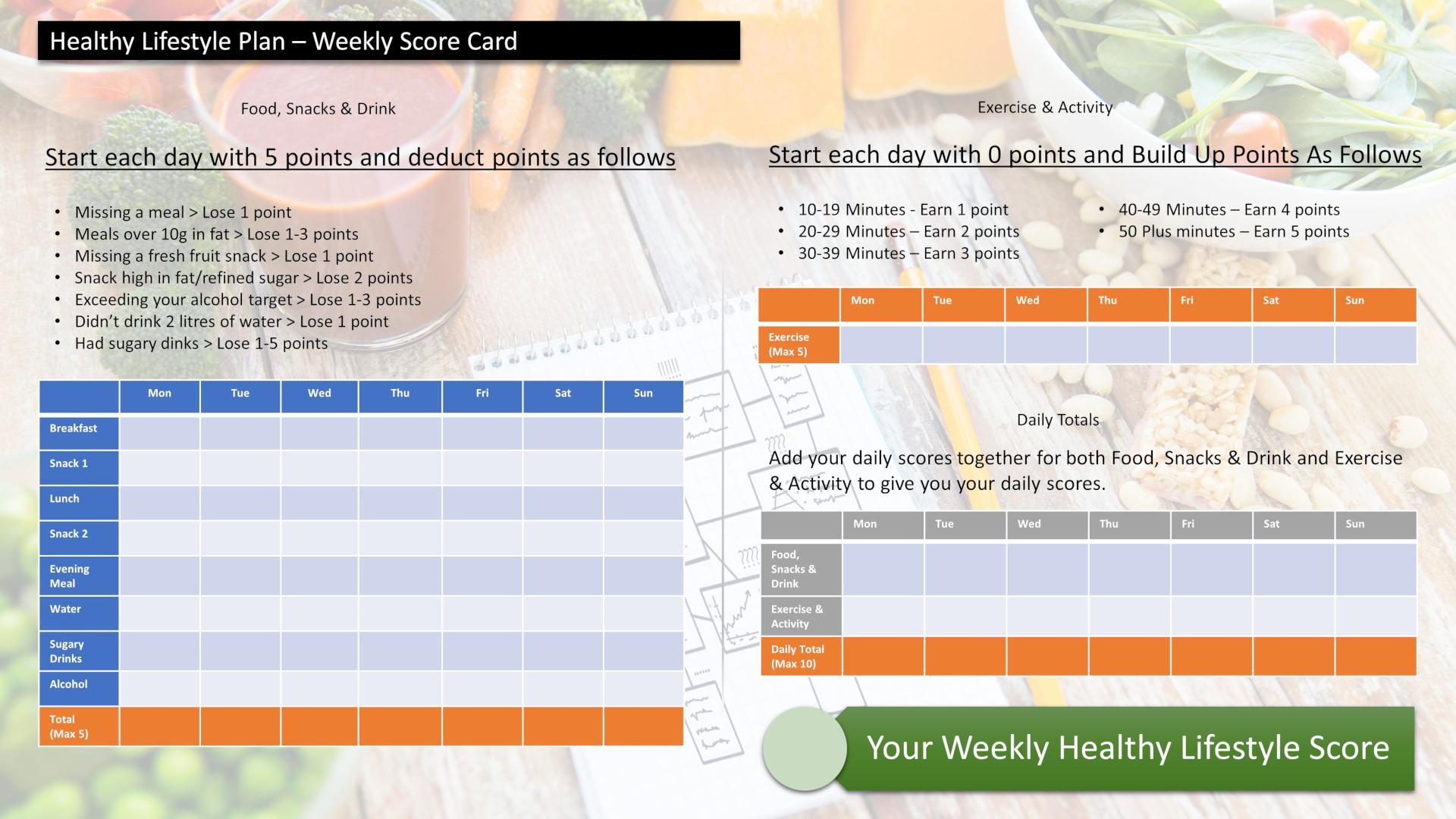 Score your way to good health with our healthy lifestyle plan and it's unique 70 point weekly scorecard!