We all share something in common, there are only 24 hours a day, 7 days a week, and 52 weeks in a year. We need to work, sleep, chill out, spend time with family and do all the other things we need and want to do in that time frame. We all find that time is truly limited. Yet it is our most valuable resource.
Despite being a business owner with many responsibilities I chose to enter the blogosphere, a crowded part of cyberspace to become a blogger, where I could now share my views. My blog gives me an outlet for myself; a way to fuel my brain and harness my passions. At the same time my blog can help make a difference in someone else's life, and to me this is a really big motivation to blogging. Since I blog for fun and not work, it's more often a stress-reliever than a stressor. But the more I get into it, the more it becomes a big part of my life, and my daily routine, the more aware I am becoming of its potential stressful nature.
The challenges of running a Blog while holding down a full time job, and taking care of all my other responsibilities can be challenging. In reality, it's become more like holding down two jobs. Ones a proper job that I get well paid for, the other is more like a hobby, or that's how it started, that pays virtually nothing. Being a blogger requires time, originality, and regularity.
Often the time you spend online can become overwhelming. There is so much to do. An article in ProBlogger demonstrates this by showing the type of jobs you have to perform in order to run a blog. These tasks include:
• Researching, writing, posting Articles
• Moderating Spam Comments
• Responding to Comments and Emails from Readers
• Following what others blogs in your niche write
• Following what mainstream media is writing on the niche
• Reading and Commenting on other blogs
• Marketing/Branding your blog
• Search Engine Optimization
• Checking Statistical Information
• Blog Design and Layout
• Networking with other bloggers via IM or email
• And so much more
As a wannabee A-Rated blogger I also have to spend inordinate amount of time reading about how to become a better blogger, how to increase my traffic, and what gadgets and gizmos I should be placing on my blog.
At some point, all bloggers I am sure will begin to feel the pressure of blogging. No one could possibly find everything about blogging easy. Well I certainly don't. With me the technical side can drive me crazy. Sometimes blogging can be really fun and enjoyable, while at other times it can feel like an overwhelming responsibility. There can't be many bloggers who haven't experienced blogger burnout at some stage.
Sometimes we Bloggers toil under great physical and emotional stress, much of it self inflicted, created by the around-the-clock Blogging community that demands a constant stream of news, comment and interaction.
We keep going because we love our blog. We love writing it. We love reading the comments and writing our own. We love to see what's happening in the blogosphere, reading our favourite blogs, and we love commenting on great blog posts. Spending time in our social networking community talking with our blogging friends can be so fulfilling and rewarding. Yet many of us have busy lives. There's a lot on our plate. We often find it so hard to 'do it all'- to juggle our numerous commitments. I'll be the first to admit that it's not always easy. Sometimes things get overlooked. I often go to bed later than I would like, not having completed all the things I had planned to do.
A little bit of pressure is a good thing, however, too much pressure isn't. I thrive on challenge and pressure and do my best work when there is a deadline looming. Somehow knowing it has to be done is the incentive to push myself that little more. Life would be tedious, repetitive and boring without a little pressure. But, and this is a big but, too much pressure isn't a good thing. In fact too much pressure can be a bad thing, a very bad thing. It's knowing how to get the balance right.
There is so much I love about blogging. I get to choose my own hours and the articles I write. I can focus on topics and subjects i am passionate about, and talk about what I want to. I enjoy being my own boss having no-one telling me what to do, when to do it, or how to do it. Being able to work from home, only having to commute from my bedroom to my study and being able to stay in my pyjamas all day if I so choose. Well okay, maybe I'm not able to do that, but if I was a full time blogger I'm sure that is what I'd be doing!
The problem is that your blog is often a labour of love but sometimes you feel it's just another thing grinding you down. For most, blogging doesn't actually put food in to your mouth, and so at times should be relegated to the very bottom of the long list of things that should be our priorities, but we don't. We keep spending our time blogging, trying to build it, keeping it alive.
Once you experience some degree of success with your blogging, you're attracting more visitors, receiving positive feedback, and maybe seeing a little money coming your way, you want to experience that feeling again and again. So, the pressure just keeps rising.
How much pressure do we experience trying over and over again to keep writing great content, yet still having to put in dedicated time and effort to optimize our blogs and attract the traffic we want?
It is essential for your health that you find the way to balance blogging and the rest of your life. Long hours, high stress, limited sleep, and poor nutrition as a result of being constantly glued to the computer are not a recipe for healthy living.
In addition to the fact that the physical strain of blogging can include damaging your eyes because of working on the computer all day every day, frequent head and neck aches from sitting in one position for hours at a time.
When I get absorbed with research and writing there are times when I suddenly find the hours have just slipped away, I have lost total track of time, and forgotten to do something for my "proper" job.
Many bloggers, desperate to keep their blog active, filled with new post after post, sleep no more than five hours a night and often don't have the time to eat proper meals. They fuel themselves by regularly consuming black coffee, and smoking cigarettes. When they do feed themselves it's often from the local delivery take-away. No matter how exhausted they may be, they force themselves to stay at the computer until they've got that article posted. I'm sure many a time a few of you have fallen asleep at the computer. The pressure that many bloggers impose on themselves is immense.
I came across an old article from the New York Times titled 'In Web World of 24/7 Stress, Writers Blog Till They Drop'. When referring to the Editor of Gizmodo, a Media Site they said "he has worried his blogging staff might be burning out, and he urges them to take breaks, even vacations. But he said they face tremendous pressure — external, internal and financial. He said the evolution of the "pay-per-click" economy has put the emphasis on reader traffic and financial return, not journalism".
So in my opinion, unless we are careful, blogging can bring about a combination of an unhealthy lifestyle, especially lack of exercise and unhealthy diet, and stress to bloggers. It is important for bloggers to make a deliberate health-conscious decision to start taking care of themselves as well as they do their blog.
Now I know that many jobs of work bring about these very same factors, and are very stressful. The difference in my mind is many of the bloggers I'm referring to make very little or even nothing in regards to financial returns. I also know many bloggers who have built a great lifestyle around blogging, get to spend lots of time with their spouse and children, and take care of themselves, yet still blog regularly, and make money from doing so.
Take care of yourself though. Striking that balance is not as easy as it sounds. It's worth putting some safeguards in place to ensure that blogging is truly a compliment to your life, and not the other way around.
As I've said, I love blogging, and love being part of the blogging world. But after all I am a healthy lifestyles blogger, and I owe it to my readers and my community to remind you of the importance of living a healthy, balanced life.
Has blogging been healthy for you, or has it heaped stress on to you? Are you a balanced blogger? Or are you, like many out there, suffering because you're not taking good enough care of yourself while blogging? Drop me a comment and let me know.
Score Your Way To Good Health - With Our Healthy Lifestyle Plan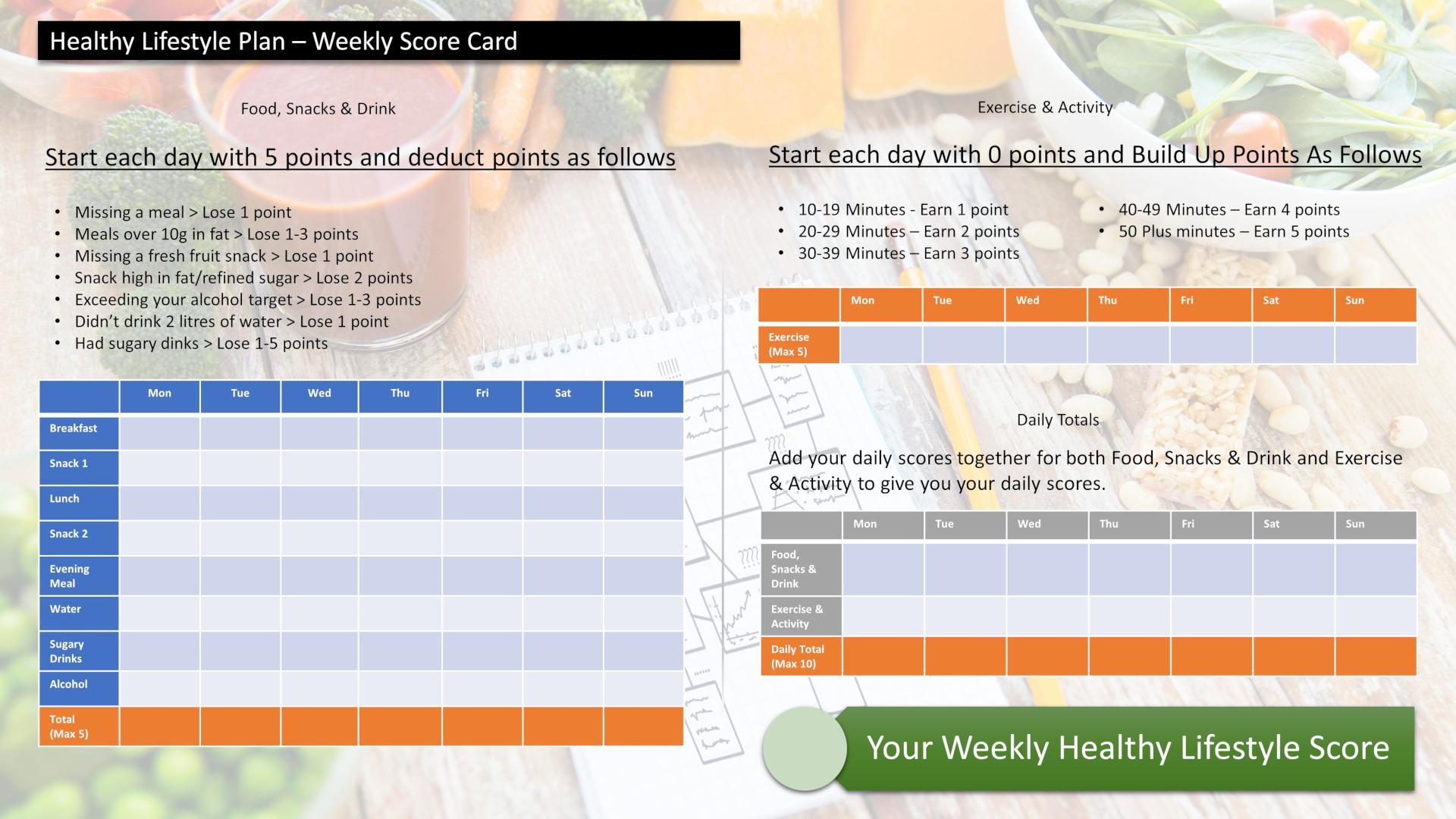 Score your way to good health with our healthy lifestyle plan and it's unique 70 point weekly scorecard!