Today I want to write on a subject that I know will effect many over the next few weeks, how to survive stress this Christmas. The Christmas holiday season is fast approaching. As if you didn't already know this.
We all know how exciting Christmas can be, we look forward to it all year long. Yet it can also be a major time of stress for many people, with financial difficulties, gift-buying pressures and hectic to-do lists rearing their ugly heads.
For me it is a wonderful time of celebration, where I get to spend time with the people I love. There can be nothing better than seeing the look of children's faces as they rip off the wrapping paper to open their presents to find what's inside. To hear the laughter as you're gathered around the table at lunch. Sitting around the fire playing games, or enjoying one of those old favourite family movies on the television. Of course there is also the feast that will be put on the table in front of you that I remember all year through.
Yet I know there are many of you that dread Christmas and the stress that it brings to you, and you need to learn ways to survive stress this Christmas.
The build up begins long before the big day.
It starts with you racing around the shops searching for presents no doubts mounting up debts on your credit card, in between putting up decorations, planning parties and liaising with relatives over who's going where for the seasonal celebrations. Creating some Christmas magic for your child is always in your mind, which is certainly complicated when you are separated or divorced.
Once Christmas comes the family is stuck in the house, the kids are overexcited, there's food to cook and then we overload our bodies with way too much rich food. .
One in five of us gets stressed during the festive season, finding it hard to cope with the demands of Christmas.'
It is a time to be merry and not a time to be stressed. So let me offer you some tips to help survive stress this Christmas and bring the ho ho ho back into your holiday season.
Get your Budget right
Christmas brings about havoc on our finances, with gifts to buy, nights out to attend, and food and drink to purchase for the big day and holiday period. You must not let financial pressures ruin your Christmas. You need to set a realistic budget even if this means cutting back on gifts, and all the titbits you normally consume. Be sensible so as to avoid the stress of mounting debt.
Avoid Family Tensions
It's that time of year when all your family may gather together. You want to avoid those annual arguments, tears or tension-fueled moments, Accept that things probably won't be perfect and things will be said and done that you don't like, but make a decision to try not to let it spoil your day. If you feel your stress levels rising, try to walk away for a while take a few moments to yourself and take
Give Love more than anything else
Christmas isn't first and foremost all about gifts and out doing each other in the food spread you put on or anything like that. It's about being with the people you love and taking the time to appreciate them and show them your unconditional love. To be surrounded with your nearest and dearest should be what excites you about Christmas, not the gift you'll be receiving from them. So stop pressurising yourself about how important it is to get them the right gift, because you simply can't buy love.
Military Planning
Christmas is a very hectic time so make sure you are organised. Make sure you've determined your arrangements well in advance. Don't leave it to the last minute, start planning as early as you need to. This will reduce your stress because you will know what you are doing, where you are going and when it is all happening. • Make yourself lists of all the people you need to buy for, all the food you need and places to go. Start your Christmas shopping early, write your cards early and be organised. It's now well into the second week of December, so you best be nearly done. Larders need to stocked, all those food items you're going to want should be out of the supermarket and in your home.
You can't do everything
So there are invitations for parties coming at you from every direction. You haven't the time or the money to do it all. Saying no can be hard, especially to friends and loved ones. But you can't do everything and there's no sense trying. Do what you reasonably can and make your apologies and thanks for what you can't. Neither should you try to make everything perfect. Do your best for sure, but don't beat yourself up constantly trying to do more and more to complete the perfect event.
Escape When Needed
Just a few minutes away from a stressful situation is enough time to calm down. So if you find yourself getting stressed, use an excuse to remove yourself from the situation to avoid any conflict and give yourself five minutes of alone time to just allow yourself to calm down. •Use relaxation techniques, such as deep breathing or focusing on your breath to cope with anxiety or tension, they'll do the trick.
Don't overdo things
How many times do you remember sitting at the Christmas lunch table unable to move, your tummy filled to bursting, looking at a plate of Christmas pudding and you think I can't cram another morsel into my mouth, I feel sick. Try to moderate what you consume. It may be the season to be jolly, but too much food and alcohol is harmful. And one very common cause of stress is the gilt of eating and drinking to much and the effects this will have on your weight. After all how many of you aren't already considering weight loss as your number one new year's resolution.
Share things out
Nobody should be slaving away over Christmas. It's a time for us all to celebrate together. So why not work side by side to help each other out. Ok, I'm not suggesting that I should be in the kitchen helping out with the cooking, I don't wish to inflict food poisoning on anybody. But while the cooking is being done, I'll be laying the table making it look rather magnificent if I say so myself. If it doesn't I won't be stressed. Just delegate tasks get everyone working together so your Christmas can be awesome for everybody. Now who am I volunteering to do the dish washing?
Christmas is a time for merriment and enjoyment. Try and survive stress this Christmas or better still make it stress free this year.
HAVE A VERY MERRY CHRISTMAS!
Score Your Way To Good Health - With Our Healthy Lifestyle Plan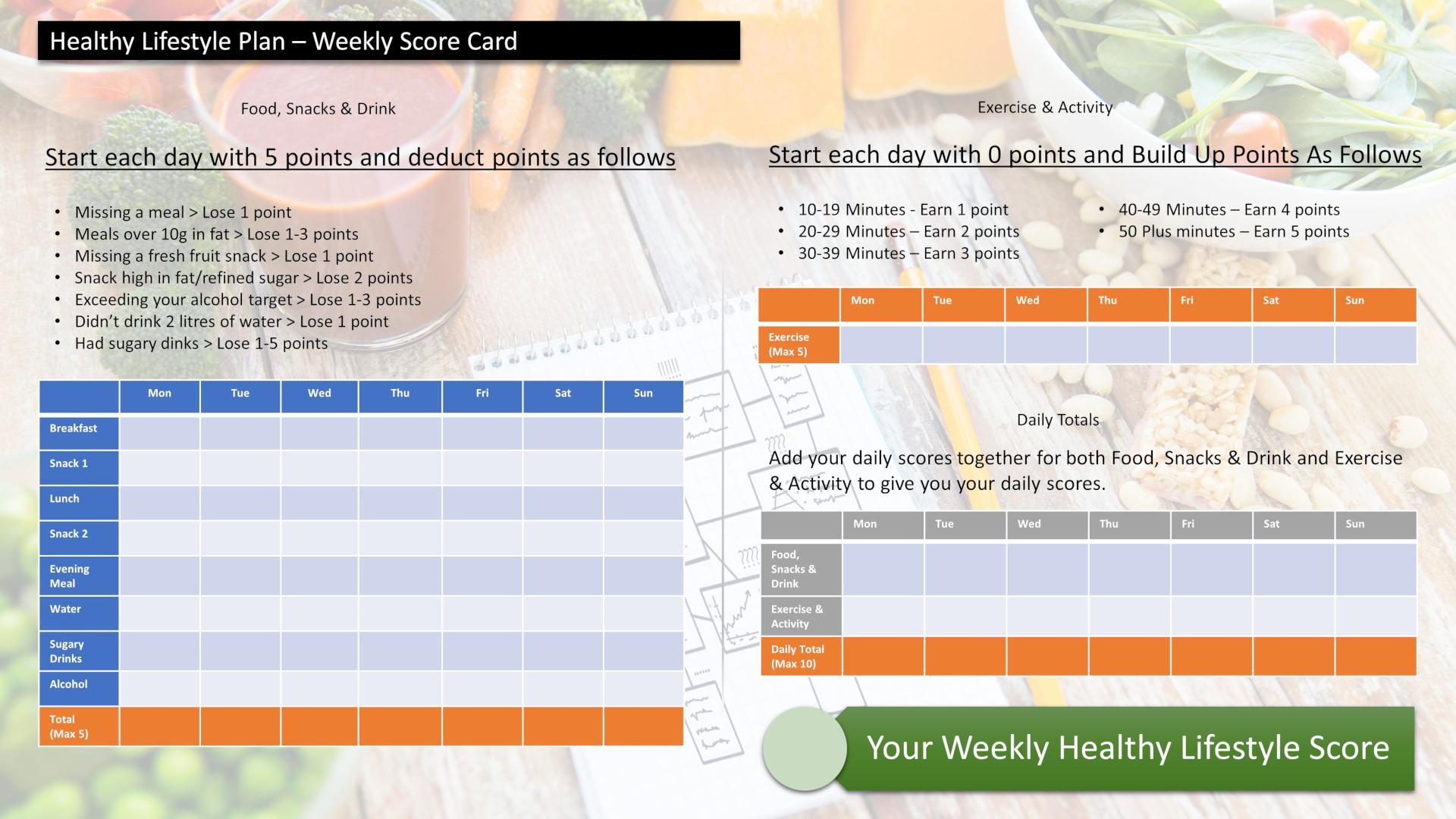 Score your way to good health with our healthy lifestyle plan and it's unique 70 point weekly scorecard!