I spent yesterday afternoon around at my families home. I left, not for the first time, concerned about the health and wellbeing of my sister and father who care for my mother who suffers with various illnesses including dementia.
As a personal development coach I know neither of them are getting the full help they need. The way they have to cope is an "absolute travesty". These are not my words, but those of Jeremy Hughes the chief executive of The Alzheimer's Society. I read them in an article referencing how carers for loved ones with Dementia were struggling.
Already in the advanced stages of dementia, my Mum isn't aware of much of what goes on around her, but it is her husband, my father and her daughter, my sister, her primary carer, who bears the burden.
I'm ashamed to admit, just being there for a few hours does my head in. Although my mum is still alive, her true personality and individuality has gone. She has gradually changed before all our eyes and is becoming more and more dependent.
I am slowly but surely losing one parent to dementia, and the other is in a constant state of crisis, coping from day to day, and he is slowly losing his independence and personality that was so special. My dad was the man that has never looked his age always appearing 20 plus years younger than he actually was, but no more.
The mental health toll on my sister and dad is enormous. She must say my Dad's name, Mervyn, 50 times an hour, sometimes asking him to put her on the commode, sometimes saying she's hungry, other times, well she can't remember why she called him. Unless you have experienced it, there is absolutely no way to understand what it is like to care for someone with dementia.
Both of them are more often than not interrupted multiple times throughout the night. They are so badly sleep deprived from caring for my mum, both of them at times look like the walking dead. (I know sis – you cover it well with make up). My dad has actually given up sleeping in a bed, he now has got himself into the habit of sleeping in his armchair. Nothing I say to him seems to get through, it's as though he has put life on hold for the sake of my mum. He is 84 for god sake.
You see my mum is quite happy to sit all day as long as his there but if he goes anywhere she'll start shouting for him as though looking for him. He probably has gone no further than the kitchen or bathroom.
The stress of being a carer has stolen both his and my sisters life. She's only in her mid 40's (see Su I will lie for you) but she has no social life, how can she, when she's got to be on hand for my mum at all time. Her only get away is going to college once a week, and she gets it in the neck for doing that.
I see both of them seriously at the precipice, standing on the edge, about to disintegrate completely with the stress.
Being a specialist in stress management I know part of doing your best is looking after yourself and making time to relax. If you try to continue day after day without a break, you invite stress and depression. In this very personal sense, its all well and good me having all the tools it's another to get those I love to use them.
It is of course essential to look after yourself when you are caring for someone with dementia, it can be all too easy to ignore your own needs and to forget that you matter as well.
Looking from the outside, with my professional head on I do see something that it vital to the situation they find themselves in. Circumstances have propelled a shift in control, and now the carer is being controlled.
It is obvious my mum wants all their time and attention. I can't say whether its conscious or subconscious, but the signs are clear.
Neither my sister nor my dad ever set reasonable limits of when they would be available and when they wouldn't. After all they loved her and wanted to be attentive to her needs. But what message they have given was that they could be manipulated. They would very quickly give in to her demands, particularly with a little moaning and groaning to reinforce it. The more they give in to her over time the more she'd push and demand.
I'm not saying my mum could now be more independent, but I do believe that my sister and my dad could be living a life where they are not responding to her demands every 2 minutes, because that's literally what they are doing. It seems there only respite is when mum falls asleep. In a way they have lost control.
Just like some children, the more some elders are told "No" they can't do something, the more they will keep fighting to do it. It can become a test of wills for power and control. For my sister and dad's health they need to say that word 'No'.
Stress is the feeling of being under too much mental or emotional pressure. Pressure turns into stress when you feel unable to cope. Stress can affect how you feel, think, behave and how your body works.
Stress is not an illness itself, but it can cause serious illness if it isn't addressed. There's no quick-fix cure for stress, and no single method will work for everyone. However, there are simple things you can do to change the common life problems that can cause stress or make stress a problem. These include relaxation techniques, exercise and talking the issues through.
I like the list given on the NHS for 10 Stress Busters which gives you a good starting point or alternatively check out the articles available at Healthy Lifestyles Living for Stress Management.
I can only pray my sister and dad can find something to make their life a little easier. They deserve it!
Score Your Way To Good Health - With Our Healthy Lifestyle Plan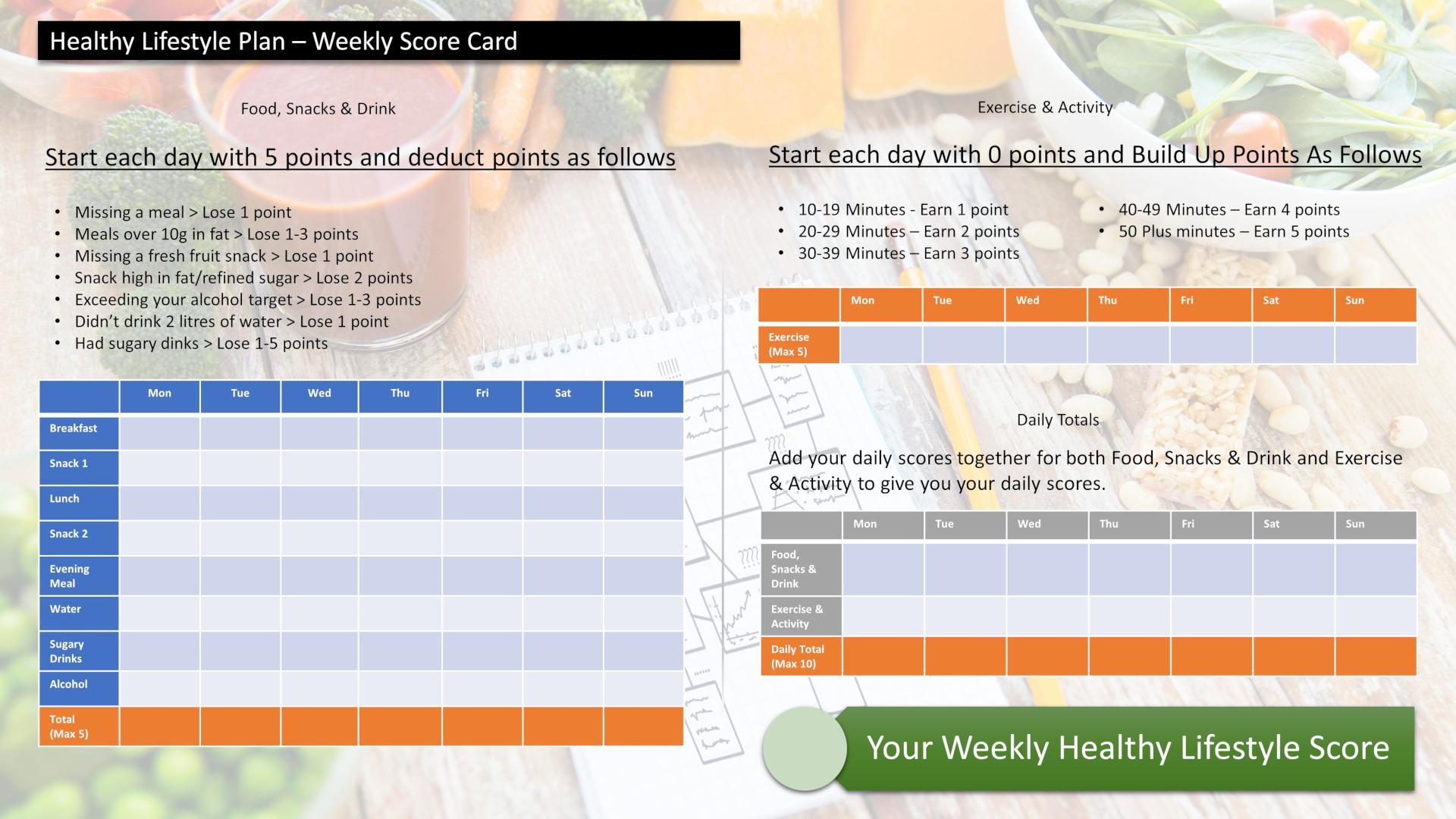 Score your way to good health with our healthy lifestyle plan and it's unique 70 point weekly scorecard!