I used to think I was my own worst critic.
I thought I knew when I wasn't at my best.
This week, I've realised that others can assess you far better than you can yourself.
In order to give yourself the best chance of success you cannot work all the time.
I used to try and burn the candle at both ends. I love my work, and I previously found it difficult to stop. But what I hadn't realised was I was ignoring other things, and at times making myself so tired that I was stretching myself to the limit. One result of this was I was short tempered. This was not something that I noticed myself, but my daughters had noticed it and it without doubt at the time affected our relationship.
Now, despite the fact I still love my work, probably more than ever, and I still put in more hours than most, I do take time out to refresh and recharge. Because of this I am far more relaxed. It's not just me that's noticed. You wouldn't believe the elation I felt last week when both of my daughters said to me 'Dad you are so different, so relaxed, so laid back, so calm'.
To hear my daughters, who I love so much, complementing me on who I had become, was probably one of the happiest moments of my life. I hope to ensure that they always see me in this light. I will be listening out for their assessment.
How much chill-out time do you give yourself in a day? A week? A month? When was the last time you walked away from your business and just chilled out for a little while?
When you make time for chilling out, you do become far nicer a person to be around.  So it is so important to give yourself a break and just chill out in life.
We put so much pressure on ourselves these days. We try to be the busiest, the best, the most hard-working. But we have to look after ourselves as much as we do our work.
We end up over-worked, stressed, out-of-balance, feeling empty/low/under appreciated, het-up and tense- so why not give yourself the time to get things back on to an even keel.
I want to be proud of all of the things that I do. My blogging, coaching, the support I give my clients and team, the life I lead the person I am, and of course the father my children see me as being. To be the best I can be, I now know it's important for me to take time out and recharge.  So now not only do I care about what I do for my business but also myself.
I think it starts with caring enough about me to realise that I had to find more of a balance between work and rest.
So yesterday I left work and took off the next 48 hours to just do things I wanted to do, just chilling out.  I headed off to a hotel, parked my car up, left my lap top locked away and have just chilled out in the way I enjoy. It started with an hours workout in the gym. Not everyones first thought of relaxation, but something I love doing. Then it was into the Italian Bistro for a wonderful 3 course meal. As a healthy lifestyle blogger I have no embarrasement to say the chocolate cake was the best I've ever had. Then it was relaxing in the bar with a glass or two of alcohol. So I've let my hair down, and thrown my healthy living guidelines out the window for 48 hours. I could tell you that today I've spent 3 hours back in the leisure facilities. Which I promise you I've done. 1 ½ hours cardio training and a weights workout. The rest was spent swimming,  and in the sauna and steam room. Now that should have helped shed some of the chocolate cake calories, if it wasn't for the full English breakfast I ate an hour before that session started.
So while my partner got busy dying her hair a pillar box red I though I'd take the opportunity of coming down into the hotel main area, getting myself my favourite starbucks coffee, grabbing my lap top and quickly writing and posting an article.
I'm off now, probably going to head to the bar, watch the football, then off to another restaurant to enjoy a high calorie meal. After all I'll be back in the gym in the morning, and on Monday back to healthy lifestyle eating.
So please remember to take time for you and you only, that no-one or no-thing can interrupt or interfere with, and where work is not your priority. If you want to be like me take 20 minutes to write a blog if you have to.
This was Larry Lewis. Enjoy your weekend as much as I am.
Score Your Way To Good Health - With Our Healthy Lifestyle Plan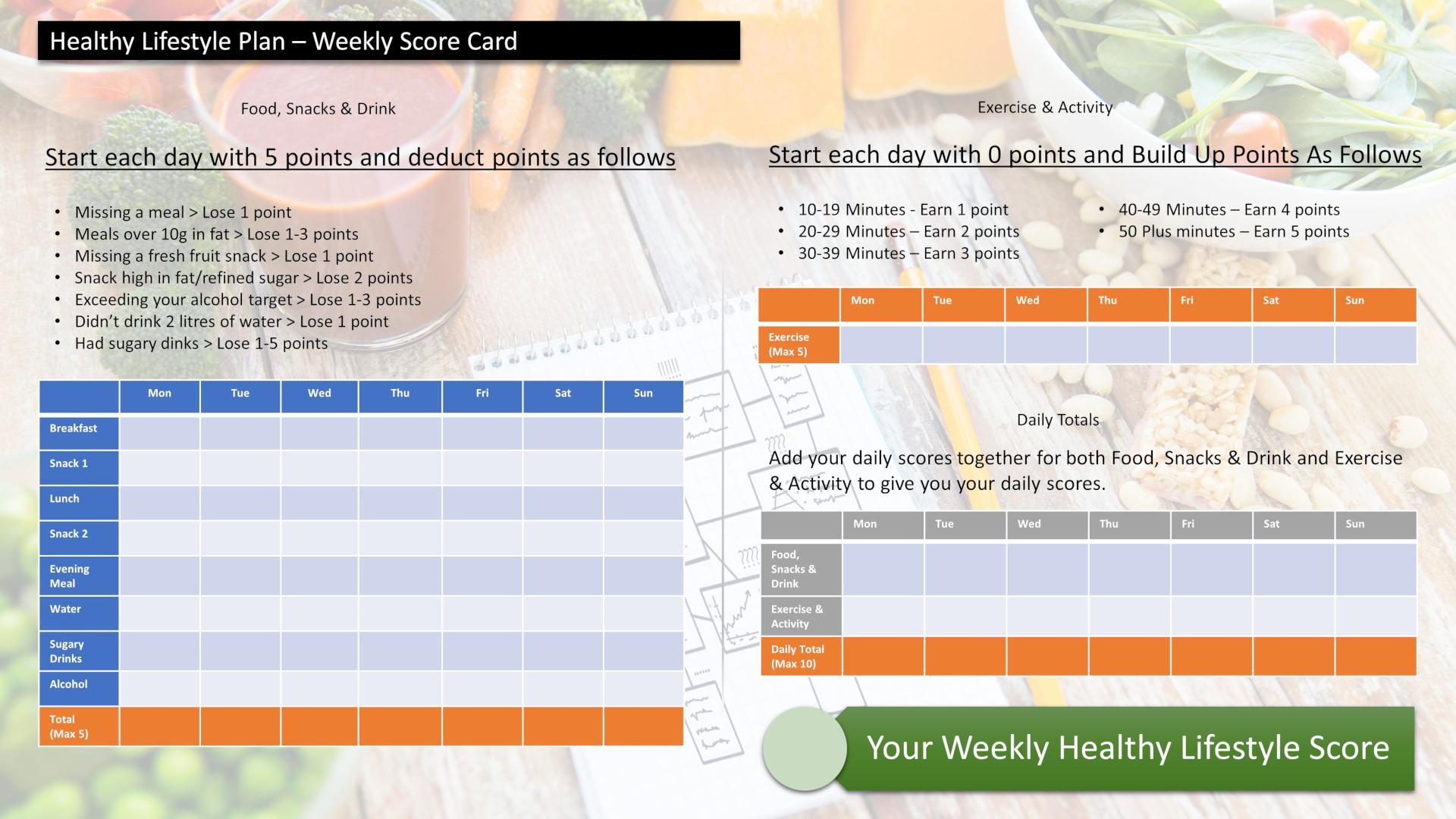 Score your way to good health with our healthy lifestyle plan and it's unique 70 point weekly scorecard!