Brilliant! It's Monday and I'm back to blogging. I am dying to get started this week. Why? Well I can return to being a full time blogger.
As you can see I am back! Although I have been blogging on and off , in truth I have been far less active than ever before since becoming a full time blogger. Although I have been fully absorbed by the things I have been doing, I have to admit I've really missed blogging and everything it involves.
It has felt really strange not being able to keep to my regular routine. My time away really has shown me how important blogging has become to me. Now it is important for me to regain the momentum.
The last month or so has been a constant and sometimes frustrating juggling of priorities, stress (yes even for me) and working against the clock.
Never will I complain about being chained to my laptop. Even positive people, which is what I certainly am, struggle when there are a lot of bumps and bruises on their journey. In the last month a situation came about where I had to help others find the courage and the hope they needed to get up off the floor through a traumatic event. I have been constantly by their side helping them through a very rough, difficult period, and helping them salvage as much of their life and possessions as I could. It has been a physically and mentally draining period, but it was something I had to do.
I did at times feel guilty about leaving my blog and online business without me. My business partners having to fend for themselves. But this was something I could not turn my back on. I was needed, and there was no alternative. One day I will write about this situation, no holds barred, but I will wait until the wounds have healed for those it concerns. It is something I will not let rest.
To give you the sense of my outrage, and to forewarn you of a cause that in the future I will be taking up I will say one thing. How any society would allow an 81 and 83 year old couple to be thrown out of a home is unthinkable. When one of these people has serious dementia it is unforgiveable. When numerous solutions were available which would of become apparent, if all parties involved sat around a table, the situation brought about is monstrous. One day the story will be written.
But today I can return to normal which is why I jumped out of bed in a state of excitement. Back to the blogosphere, facebook and all those things I've realised that have become so important to me.
This past month has been remarkable in a way. Seeing so many people sleepwalking through life, whose real world brings them no joy and no excitement. They feel something is missing in their life, that there is something more to life. But they never do anything to change things, worse still they more often than not fall prey to their circumstances
Yet there is me already living a life full of passion. Life is meant to be enthralling and passion is what makes our life fulfilling. Everyone is capable of pursuing their passion.
Passion provides us motivation to keep moving whenever life tries to knock us down. It is our shield protecting us against life's knocks.
When you are driven by your passions you start to see your problems as life opportunities. When many run from challenges, you stand up to them and put everything in.
So from today I need to get back into the swing of posting to my blog daily, and responding to my comments, and reading other blogs, so there's much to do. But I've learned a few things during this hiatus, not the least of which is that the break that I took was extremely beneficial. Why, you might ask?
It has given me time for reflection. Running a blog can be extremely time-consuming. Anyone who is reading this, assuming you run your own blog, understands that fact. Sometimes we get so caught up in the process, that we forget why we started blogging in the first place. I started my blog because I love personal development, and coaching others. Taking that break reminded me how much I truly do love helping and supporting people through personal growth. It's been something I've loved since I was a child and my Mum introduced me to Jose Silva.
This time off has given me the courage to go with my convictions.
Have you ever had an inkling to do something bold, but shrugged it off?
Or started a project, only for it to fizzle out?
Sometimes we let go the things that really matter to us.
Is it a lack of confidence? A fear of looking stupid? Or do you have so many ideas, you simply don't know where to start?
Becoming a blogger impassioned me with direction, purpose and provided me a platform to share ideas with others. I was moved to share what has been valuable to me in creating a happy and healthy life, and sharing my passion, ultimately making a difference.
As a life coach, my business (and my passion!) is helping people discover what they were born to do—and then helping them do it! To help others maximize their potential. When you have a personal coach giving you that kind of support, you'll be amazed at what you can accomplish!
When you discover your passions you unleash your limitless potential and empower yourself to reach thresholds of personal success, fulfillment and prosperity that most only dream about.
And I love helping people discover their passions. In fact I'm really good at doing it. And nothing can be more rewarding than helping another to grow and live with more clarity, fulfilment, connection and meaning.
So that is what The FREE Support Group needs to be all about. Finding Your Passions. To provide information, coaching, training, support and encouragement in the pursuit of passion and fulfilling your destiny.
What I do know is that people on the path of continuous personal development are 100% more likely to succeed than those who settle for what 'is happening to them' right now.
My hope is that people who are lost, stuck in a boring dull routine, will join this support group and benefit from the resources that we will provide. I hope that it will become a growing community, sharing, networking, inspiring and supporting like minded passionate people. We offer information, training, tips and techniques to help you on your self development journey
Let me share my experiences and resources with you, so you too can enjoy the power and joy that only living your passions can bring! If you want enthusiastic partners to walk with you toward a life of purpose and passion, join us. A coach may be just what you need to take your life to a new level! I promise you it's FREE. This is my passion and joy. This is what I love to do.
Score Your Way To Good Health - With Our Healthy Lifestyle Plan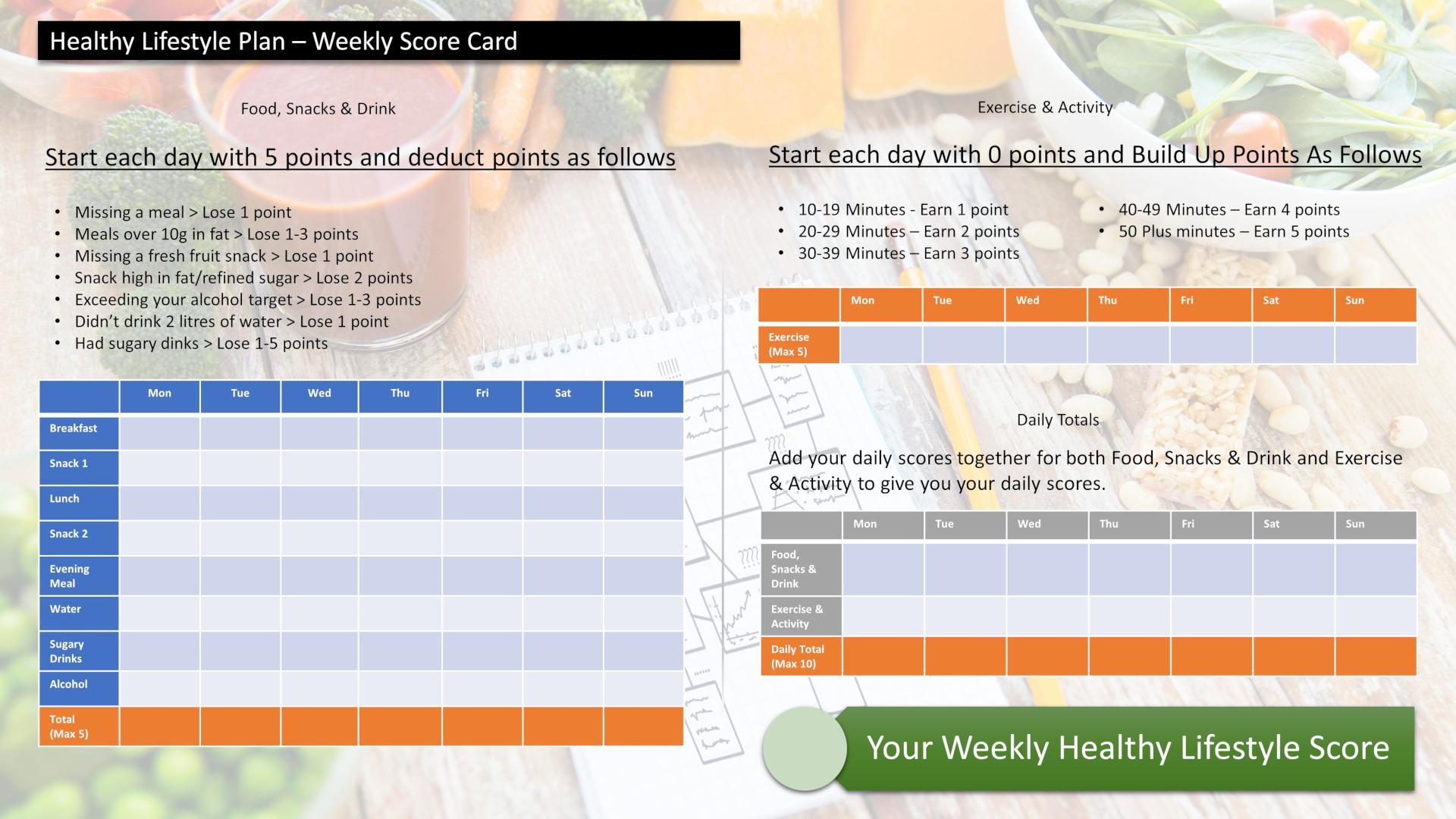 Score your way to good health with our healthy lifestyle plan and it's unique 70 point weekly scorecard!