I have my 7 top approaches to stress management which should hopefully help you keep stress in check. Stress is the major contributor to today's growing health crisis. Illnesses such as Heart Disease, Blood Pressure, Strokes, Diabetes, Cancer, Depression, Anxiety & Chronic Fatigue are just some of those which stress can be a major contributor.
With so many dangerous conditions being attributed to stress, to me it's a no brainer that everyone should be doing something to contribute to their stress management.
Stress is a fact of life, and it is here to stay, but you have a huge role to play if you want to diminish the affect it's having on your life.
Managing stress to me is a huge part of promoting healthy lifestyle living. There are so many simple and effective ways to handle stress and improve health, both mentally and physically so it makes total sense to take action and do something to get your stress in check.
Life is filled with stress and it affects everybody. If you let it, stress can drive you crazy, make you sick and ultimately harm you massively. So do something about it!
A multi-faceted approach to stress management will give you maximum results in reducing your level of stress. Stress management gives you the tools to deal with stress.
So are you feeling overwhelmed and stressed out?
Is it taking a toll on your mind, body, relationships and life in general?
Well the consequences of stress as I've said can be disastrous so its important that you take control of stress and not let it take control of you!
Stress Management is going to help you do the following:
Recognize the symptoms of stress in yourself,
Identify the sources of stress in your life (the causes),
Recognize the need for reducing stress,
Determine the best techniques and strategies for managing your stress.
Implementing a good stress coping plan,
Bottom line: getting control over stress!
Stress management is about taking charge of:
your thoughts,
your emotions, and
your actions.
Putting in place effective techniques to deal with stress is essential. Some of your options include:
1. Become Aware of Your Stressors and Emotional and Physical Reactions
Notice when you are stressed, don't ignore it
Find out what stresses you out
Learn how it affects your body
2. Identify what you can change
Can you change your stressors by avoiding or eliminating them?
Can you lessen their intensity
Can you reduce your exposure to stress
Can you make the time necessary to make a change and stick with it
3. Decrease the intensity of your emotional reactions?
Are you trying to please everyone?
Are you overreacting to things?
Are you losing perspective over what's important and what's not?
4. Adopt Relaxation Techniques to reduce the effect on your body and mind
Slow, deep breathing will bring you into a state of relaxation
Progressive Muscular Relaxation can reduce muscle tension as well as your stress.
Meditation slows your mind and brings a sense of relief
5. Build your physical reserves.
Exercise 3 – 4 times a week a combination of cardio and weight training
Eat well-balanced, nutritious meals
Avoid nicotine, excessive caffeine and other stimulants
Get enough sleep at least 8 hours a night.
Drink at least 2 litres of water
6. Eliminate Stress From Your Environment
A messy disorganized living space can be a major source of stress.
Clutter around your home is a major trigger to stress
Your bedroom needs to be set up right for bringing a good night's sleep
7. Build Your Emotional Reserves
Supportive relationships are key to building your emotional reserves
Having the confidence of sharing your thoughts with your friends
Being goal orientated where you set yourself SMART goals
Expect disappointments and setbacks, but maintain that never give up attitude
Love yourself
By improving the way that you deal with stress increases your resilience to everyday pressures and the ability to meet challenges head on.
Score Your Way To Good Health - With Our Healthy Lifestyle Plan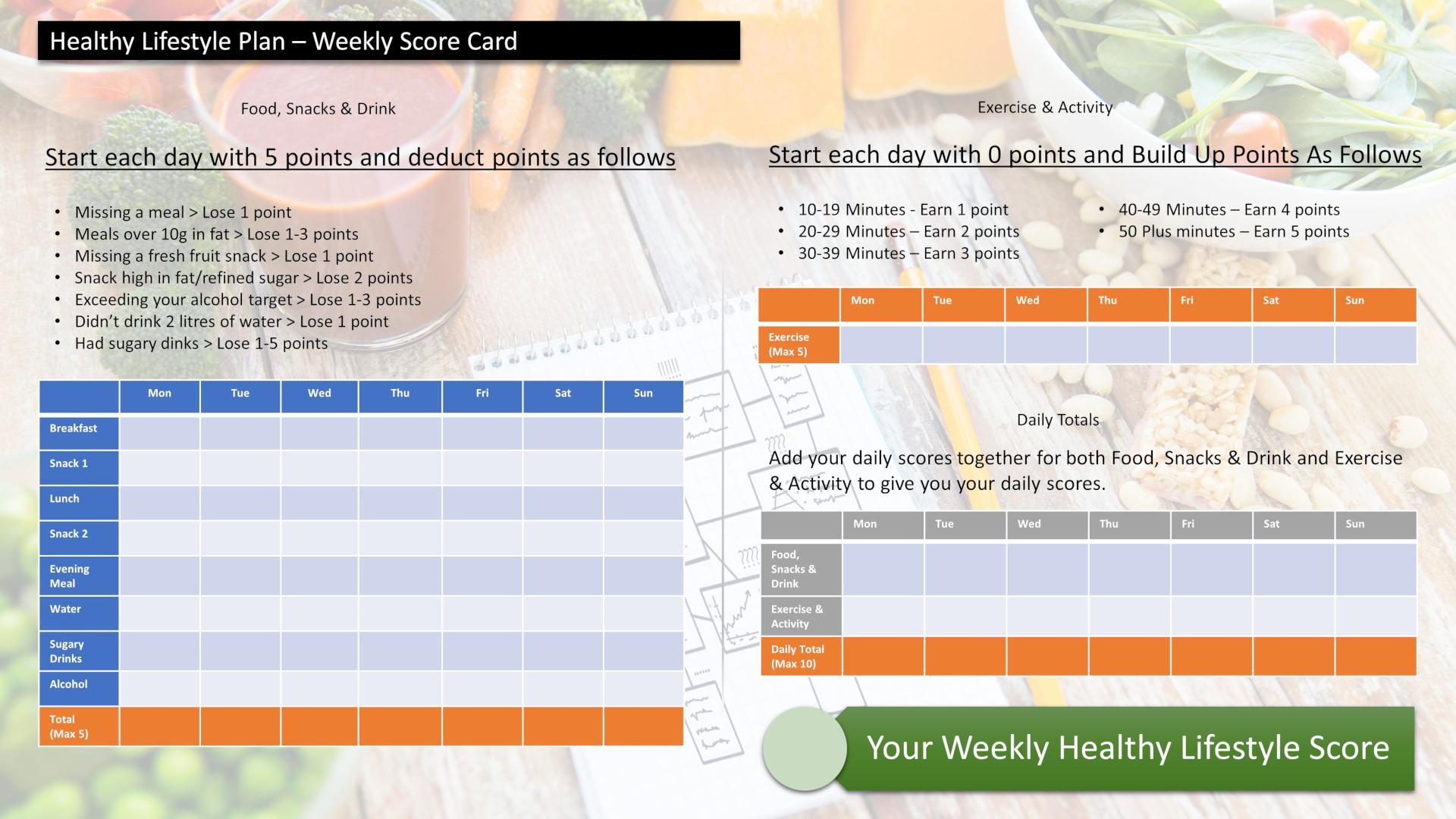 Score your way to good health with our healthy lifestyle plan and it's unique 70 point weekly scorecard!