Today I want to share a story about a young lady who has been able to overcome adversity and made her family incredibly proud. Anyone who reads my blogs on a regular basis knows that I am a devoted dad to my two daughters. So I don't apologise for wanting to write another blog concerning one of them.
I had the pleasure yesterday of spending time with Laura Jayne my eldest. While we were sitting together entertaining her own daughter Amelia Mae, my precious granddaughter, Laura Jayne received a text notifying her of a newly arrived email. It was from Northumbria University. She went to check it and found out her dissertation had been marked and her result ready for collection. This is an extremely important part of her degree and carries a lot of weight in her overall mark. Immediately nerves and fear set in. She had spent 3 months of her life researching and writing this.
Things were made incredibly difficult with the fact that right in the middle of doing it her grandma, my mother, passed away. Having been very close to my mum she suffered terribly never having experienced the loss of a loved one in adulthood. She was traumatised but carried on. Yet she still found the time to text, call and visit me helping me through this difficult time.
Well as soon as she'd read this email she just had to find out her result. So the three of us were in the car and off to the university in double quick time. One minute before we got there I heard her say 'grandma I hope you're here making sure it's all ok.' So with a lump in my throat we arrived and off she went with Amelia Mae in her arms to get her envelope.
Within minutes she was back, a smile right across her face and her words were 'I'm sorry I just had to open it I got a 2.1 dad I did it.' For the 2nd time in minutes I was chocked up. She really had, she has done something quite miraculous and shone like the star she is.
In a months time university life will be over for her and her final result known but nothing will take away the resilience she has shown or her never give up attitude. She has so much to be proud of and I hope she realises this.
What she has accomplished over the last 4 Years is simply miraculous and she is a shining light and example to anyone coming through adversity.
Here was the girl who has suffered from extreme back problem through her teen years. On completion of her a levels she underwent a major spinal fusion operation. Before her full recovery period was completed she was off to university.
Then she had to deal with the upset of me and her mother separating. This was made worse by firstly that she was very much a family orientated person who spending a week away from home would have her on the phone home sick wanting to come home. Secondly her mother then went back to London taking Carly her sister so she lost them both being a regular part of her life. Worsened still by the fact I had to live 50 miles away to be close to the business, and make use of the floor of my office as my temporary home, so she now had to start her new life. Thank god by then she had met a brilliant guy and his fantastic parents who put the pair of them up under their roof.
Nothing stopped her progressing with her university studies.
She then had to work to earn an income and together she and her partner found a lovely flat. My heart is bursting with pride that still she continued.
Then despite the fact that she'd been told by doctors she would never be able to have a child, she fell pregnant. She still continued with her university and work throughout this period despite awful health problems throughout.
Then she had a beautiful baby girl. She took a year off and everyone thought that would be it, her dreams of a degree were over. But come September she was back to university saying I'm finishing what I've started and she was totally motivated by making her daughter and her family proud, and of course herself. She was also determined to show her doubters that she was no quitter.
What with then my mums illness and regular visits to her hospital bed it is simply amazing that she found the time to do any studying. Her difficulties were made worse by various health issues her baby was having. But this wonderful girl managed to carry on no matter what obstacles she faced. She refused to make excuses and give up.
She had a dream and she wasn't going to let it go. And what a brilliant result she's achieved
Yes I am a proud, if slightly embarrassing dad. But the last word I will leave to my other amazing daughter who herself will I know be starting university this year. This is what she wrote hearing the news of Laura Jayne's success.
"I am unbelievably proud of my big sister! She's had to go through so much at University, from having a back operation, being an amazing mother and having more or less a full time job, and she still gets these amazing grades. I am blessed to have her as my sister and I'm so glad that I have her to look up to! There were a lot of people who didn't think she would do it but I knew she would and I'm so happy that she proved them wrong. Well done." Carly Lewis
Score Your Way To Good Health - With Our Healthy Lifestyle Plan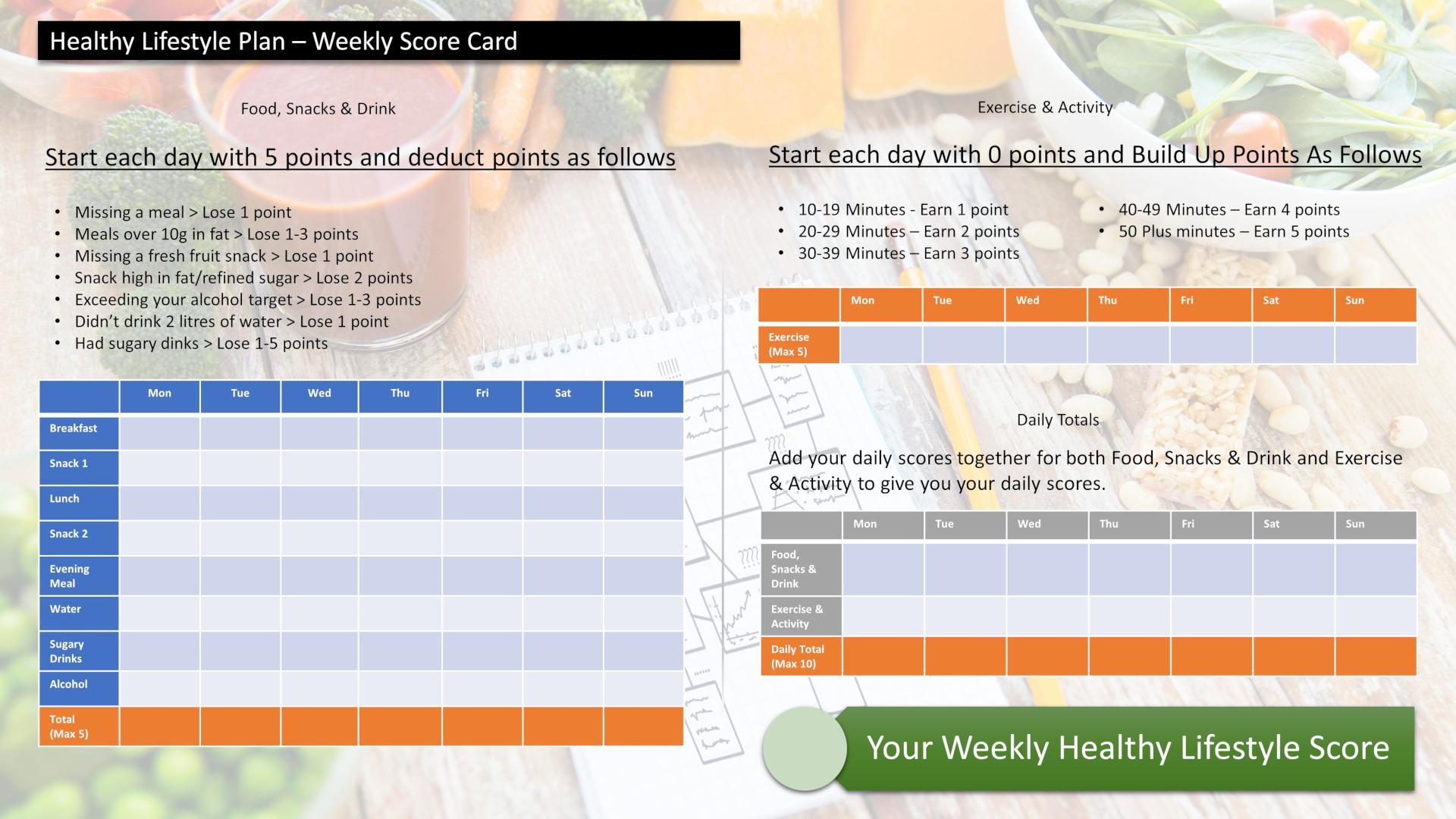 Score your way to good health with our healthy lifestyle plan and it's unique 70 point weekly scorecard!