My Mum's a fighter and the best example I've ever known of someone who will never give up.
Sometimes things don't go according to plan. This weekend has definitely been one of those times.
Saturday started of brilliantly. I had my youngest daughter Carly staying overnight, so the morning found her, my partner Rachel and myself tucking into a wonderful breakfast. Then it was off to Newcastle to the birthday party of my granddaughter Amelia Mae.
We went to my daughters house to help her and Colin, her partner pack the cars up to transport all the food off to the venue of the party. Walking in and seeing my granddaughter in her party dress was simply beautiful.
The party itself ran smoothly, so well organised with great food. There was two outstanding cakes and Micky and Minnie biscuits made by Carly together with lots of other mouth watering foods. Everyone seemed to have a brilliant time. I just had to stand back take it all in and couldn't help feeling the pride of seeing my first born child being so grown up, having sorted this all out and having so many friends and of course being the wonderful mother she is. Watching her and Colin working so well together to make sure everything came together was in truth very emotional for me. To see your loved ones growing so well is simply so satisfying. It was also great at last to meet Colin's mum and dad, who were really lovely people, and I hope that following my daughters orders I didn't come across as her embarrassing dad.
After clearing up it was off to Laura Jayne and Colin's home to see Amelia-Mae opening her presents. Eventually it was time to call it a day so Rachel and I set off home to chill out after a truly superb day.
I must have been home for no more than 20 minutes when suddenly my phone began to ring, and at same time my phone also received multiple text messages. It was my two daughters telling me that my mother was being collected by an ambulance and being rushed into hospital. Shortly after that Denise, the mother of my two children, that sounds better than my wife who I am separated from, phoned from the ambulance, to say my Mum was in a deep sleep, the paramedics were doing a fantastic job, and they'd be arriving at the RVI Hospital shortly. I have to say thank you to her for her calmness and being able to step in and be there for my mum.
So it was back into the car and back up the motorway to Newcastle. Rachel wanted to be with me but I asked her to stay at home so I could be alone for 30 minutes and get myself into centre. I knew I'd need to be strong before I got there.
The next 6 hours or so my mum was in accident and emergency under constant supervision. She was asleep and nothing they did could wake her. She was surrounded by those she loves, and that was amazing. Carly normally lives 300 miles away, but of course was here for the birthday party. So my sister Su, me and the two children and Denise were by her side for almost all of the time. Dad was at home because he would have fallen apart seeing mum all wired up and doctors and nurses constantly doing things to her.
At about 4am mum was moved into the assessment unit, where she still stays fast asleep. I got home at 5am to Rachel who had been in constant touch and had of course been unable to sleep. In the time we've been together she has grown very close to my Mum and definitely found a way to her heart through a rather delicious Christmas Cake.
We returned to the hospital on Sunday afternoon, I went with Rachel, Carly and Dad. There was no change in her, and she just laid in bed asleep. She looked beautiful and calm.
In the next building my granddaughter had been taken in to the Child's Emergency room, and has been diagnosed with bronchitis and other things. So we were all now at the hospital with two of our special ladies being looked after. At least Amelia Mae could come home.
Last night when we had returned to the hospital, Rachel and I were standing over the bed talking to her, and Rachel asked her a question, and my mums lips moved and said 'yes.' My heart jumped about three beats, I looked from my mum to Rachel, who was crying, and at same time we both said 'did you hear that.' She is now still in her deep sleep but we know there's still a chance that she may wake up. I can't remember the question but i'm sure it could have been, shall i make you a Christmas Cake this year. We would use any tactic to wake her up, and that could certainly be one that works.
I believe it will come down to her choice. Is she ready to join my sister Jan in heaven or does she still want to remain here? Only she can answer that. My Mum's a fighter, and three or four times we have thought in the past that she will be leaving us, but she has found it within her to fight back.
You see that's who my Mum is, a strong lady that will always fight against the odds and come up victorious. That is what her life story has been all about. Standing by her bedside I suddenly came to realise she has always been my shining light and the reason that throughout all my life, I have never given up. I owe all I have, and all I am to her.
So time will tell how this story works out, but my Mum's work will always be continued and I pray I can contribute to this world in the same way she has been able to. And I want her example to each and every one of you, that no matter how tough life may get, fight for all you're worth!
I thank god that she has her family close to hand to support her through this.
Score Your Way To Good Health - With Our Healthy Lifestyle Plan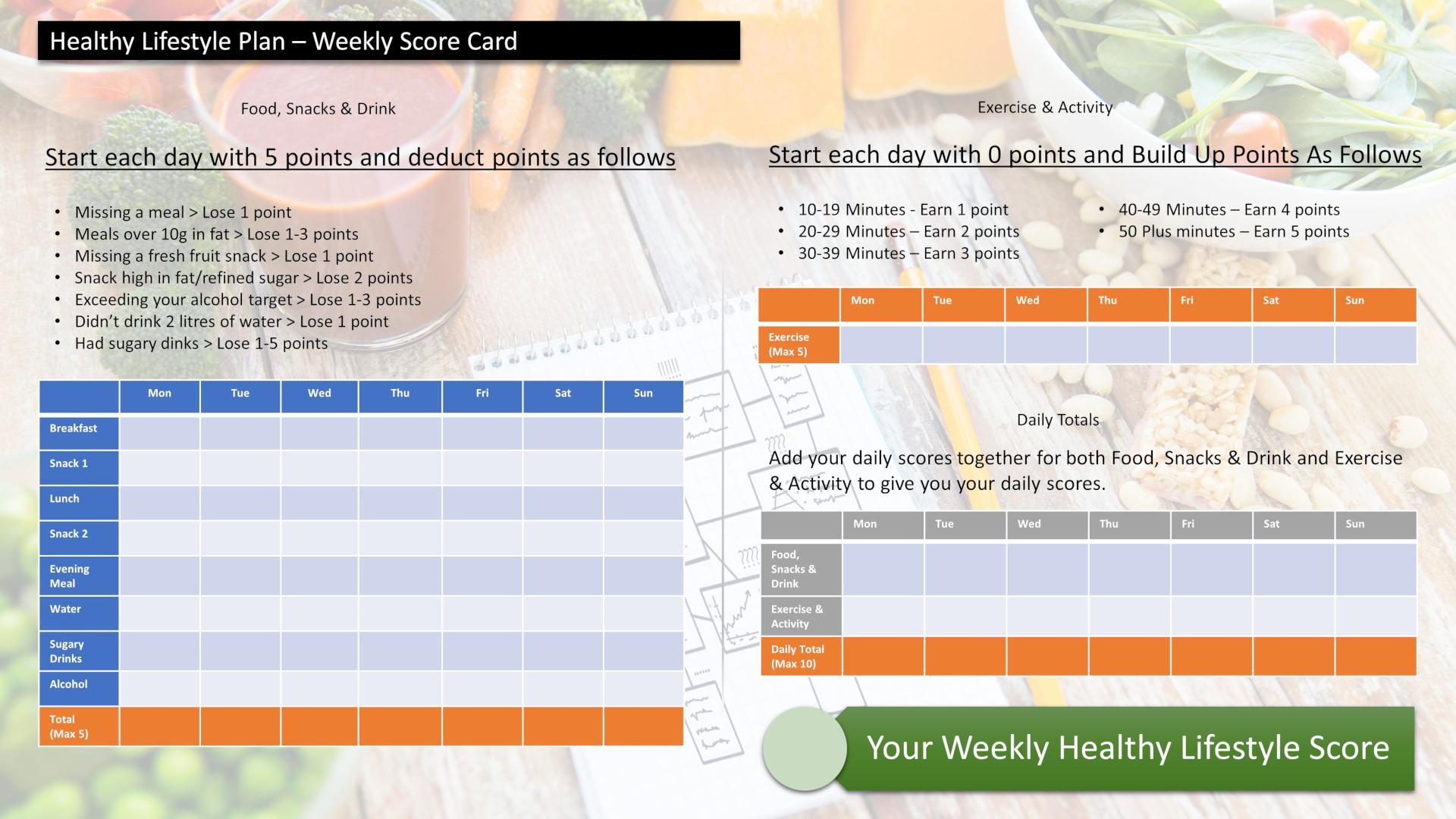 Score your way to good health with our healthy lifestyle plan and it's unique 70 point weekly scorecard!