Sometimes we rely on the strength of others to help us. Everyone has a story about people they can count on – friends, family members, neighbours and more. Today, I just want to sing the praises of some very special people.
Firstly, I'd just like to thank everyone that participated in the End to End – John O'Groats to Land's End, Diabetes Challenge at my Gym this Saturday. The support we gained from these guys was a massive help, they were each unbelievable individuals. I was overwhelmed by the support we received.
To me charitable giving is a gift – physically, emotionally and spiritually. First and foremost, it's a matter of the heart. The motivation for me is best said by Winston Churchill, "You make a living by what you make, you make a life by what you give."
Thank you just doesn't seem to be enough for everyone who helped, supported and participated.
Let me demonstrate what lengths some people will go to support a worthwhile cause, as well as support others that they know and believe in. The Fitzsimmons family for starters. I've not known them very long. They have been regularly attending my gym a few months now. They put their all in to their workouts, well that's when two of them aren't face booking on their mobile phones. They are always smiling and chat to everyone. Three more friendly people you couldn't wish to meet.
What they did to support the event was simply awesome. They went out into the local community and raised an unbelievable number of donated prizes to our raffle for diabetes. What they collected was totally unbelievable. They went knocking on almost every businesses door, asking them to donate something to help us raise money for diabetes. They came back with so much, it was truly fantastic. They didn't stop there. Mum, Jeanette, Daughters, Hayley and Emma, Dad, Brian, and Cousin Daniel, contributed many miles on bikes and treadmills to help us reach our target. There were many more who put the sweat in, and I will be mentioning them in a post soon.
It has got me thinking. Just by being there, putting their efforts into the challenge, not only helped a very worthwhile cause, but also showed me how wonderful the human spirit can truly be. There are individuals in all local communities who would happily contribute support to improve the quality of life for their fellow humans.
Sometimes we rely on the strength of others to help us. Everyone has a story about people they can count on – friends, family members, neighbours and more. Helping a fellow human being, while it can be inconvenient, has a few modest advantages:
It makes you feel better about yourself – it just feels good to help out a fellow human
It connects you with another person, at least for a moment, if not for life;
It improves the life of another, at least a little;
It makes the world a better place, one little step at a time;
And if that kindness is passed on, it can multiply, and multipy.
Friendship and support are the building blocks of our world.
In the hustle and bustle of modern life, so many people have forgotten how to be caring human beings. They simply plow through daily life with their jobs, their fears, their insecurities, their challenges. Many are working a 40 hour plus a week, with mountains of debt, huge amounts of daily stress, and poor health. In today's world while trying to achieve and accumulate material things like wealth, fame, money etc we must not forget our duties towards our fellow human beings.
Helping others is a source of joy and strength in our lives. We can be compassionate and helpful to our family, friends and people in our community, as well as to those we have never met or seen. The manner of compassion and help you give others is completely up to you. Only you know what skills, aptitudes and resources are at your command, and only you can know the moment to help someone.
Take a step every day to try to impact someone else's life in a positive way. And although intentions of giving to others should be to help them, if done sincerely, this can be very rewarding and give us a great sense of accomplishment. Giving to others can be simple and really doesn't have to cost anything as some may believe.
The trick is to keep your eyes and ears open, and to understand that when we help each other life becomes better for both.
So take just a few minutes today, and do a kindness for another person. If every person in the world did one small good deed for another person every day, then the world would be a better place.
Here at ten ways you can help somebody today:
Give the Gift of Possessions– Go through your clothes, ornaments, books, cd's to weed out those that are of no value to you anymore. Box them all up and take them down to your local charity shop.
Give the Gift of Assistance – The next time you see someone stuck at the side of a road broken down in their car, stop and ask how you can help. They may just need to borrow your mobile phone to call the recovery company.
Give the Gift of Teaching– we all possess special talents, and knowledge. Use what you know and teach it to another.
Give the Gift of Listening – Genuinely listen to someone. Do not interrupt them, don't daydream during a conversation, and try to respond only when asked…this is listening. Looking back at someone directly into their eyes when they are talking to you shows them that you are interested in what they are saying and will make them feel good. Often someone who is sad, depressed, angry, or frustrated just needs someone who will listen. Venting and talking through an issue is a huge help.
Give The Gift Of A Written Note or an email – Send out a thank you note, a get-well card, or maybe just write a letter to an old friend. Write telling someone how much you appreciate them, or how proud you are of them, or just saying thank you for something they did. How you make others feel with this type of effort is unmeasurable. Other people understand the thoughtfulness behind a written note. And the fact that you took time out of your day to do such a thing will always make make them feel good, even if only for a moment.
Give The Gift Of A Compliment – A simple compliment like "you look nice today," or a sincere "thank you for what you are doing" can go along way and should be part of our daily routines. This kind of recognition makes the other individual involved feel better and will generally make them feel more comfortable.
Give The Gift Of Affection – Don't be afraid to give hugs, kisses and "pats on the back" to the people you love. Maybe tell them how much you appreciate them in your life. Affection is something that we all crave as part of our human nature. This is a very good gift to give and lets the other person know that you care.
Give The Gift Of Laughter –  Make someone laugh today! Laughter is one of the best gifts you can give because it reaches the internal soul of another and is natural. Making someone laugh is very pure and great for the inner being.
Give the Gift of a Smile – Smile more often at others. You'll see the twinkle in their eyes. For a brief moment, there is connection in our busy worlds. This is a great gift of kindness to others. When we smile, we are releasing tension within us.
Give the Gift of volunteering – Volunteer if time permits and you always wanted to help others in a particular way, find a suitable place to volunteer and follow your interests.
My challenge to you is to take the time in the next week to help somebody out.
I 'm sure we all know someone who is struggling and having a tough time. Sometimes the most important thing to help inspire or motivate someone to keep going is a little encouragement, a friendly smile, or a little help.
So shines a good deed in a weary world – William Shakespeare
Score Your Way To Good Health - With Our Healthy Lifestyle Plan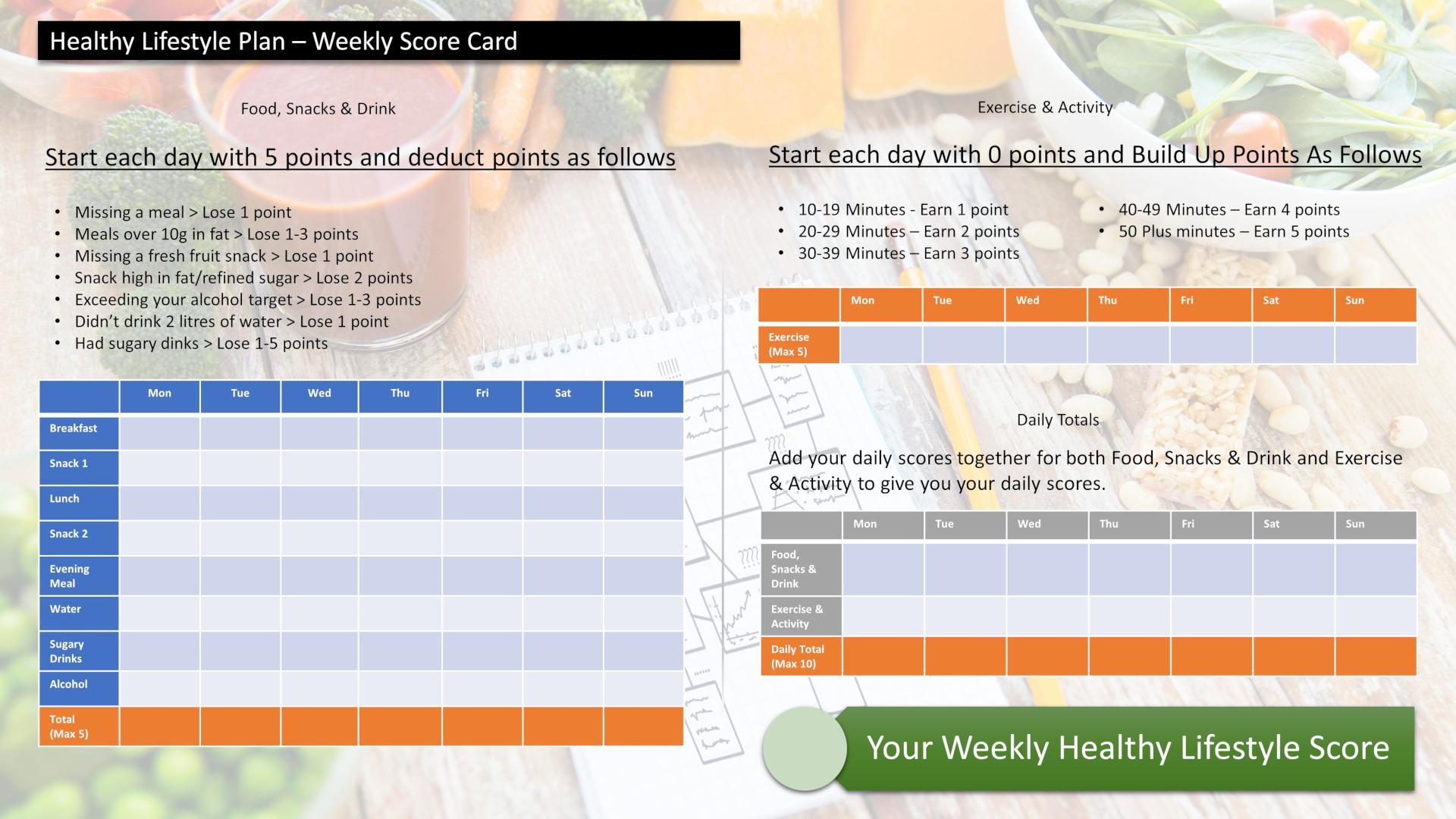 Score your way to good health with our healthy lifestyle plan and it's unique 70 point weekly scorecard!