Ever have a day go by, or week, where you end up asking yourself 'what have I got done?' You notice that your days are going by so quickly, yet without any real achievements? Worst still, can you remember the last time you were truly happy? The last time you laughed so hard your tummy hurt?
There was a very strange atmosphere in my gym yesterday. There was only one subject that everyone was talking about. Police have named a couple who died when their car collided with a lorry on the M62 in West Yorkshire. They were from our town, Bishop Auckland. It reminded all of us to seize your day and life for today, not tomorrow.
Mark and Tamsie McHale, two well known local people died in a crash two nights ago. He was the owner of a local Hairdressing Salon HairHaus and his wife, who I knew as she'd been a member of my gym. It was all over the National news. They had been travelling on the M62 Motorway and collided with a HGV. It's tragic. I believe they were both mid 40's or thereabouts,. Both hard working, and had established a successful business. Their lives have been cut short. To work so hard throughout your life and not get enough time to enjoy your achievement makes me think … carpe diem
Carpe diem is a phrase from a Latin poem by Horace meaning seize the day.
"Seize the Day, putting as little trust as possible in the future", and the ode says that the future is unforeseen, and that instead one should scale back one's hopes to a brief future, and drink one's wine".
Maybe we spend too much time asking ourselves "What do I want from life?"
Maybe instinctively we should know that our priority is that we want to be happy in this moment. We have to dedicate our lives to being happy. Of course we can chase our goals, our dreams, our aspirations, but not at the cost of being happy right now.
We can't, no we mustn't put our lives on hold, so that we can put all our energy, our every waking thought into our work.
It does not matter who or what you are, a homemaker, a business owner, an employee a student or an educator what does matter is that you seize the opportunity of enjoying every day you have.
Of course as a personal development blogger and coach, I would tell anyone to explore options for possibly improving every major area of your life and your career. But I will repeat not at the expense of today's happiness.
We focus so hard on achievement. Making things in our life better. But we don't take the time to make happiness. How many of you at the end of a day can actually say I did something today that made me smile, it made me really happy. That's how you should be living. Create an amazing life today, don't wait for tomorrow.
I admit that I have had a restless night. My thoughts have been about this tragic event, about how short life is. I'm asking myself 'why don't we live to be happy'. By this I mean, to many of us live to achieve something in the future, forgetting about today. I ask myself, have I laughed today. Am I excited about life because of something that I've actually done today. Has someone I've been with been made to feel great by something I've said or done. Have I shared a wonderful, loving moment today.
Yet my mindset has always been to find something positive about every situation. And I ask myself, as a personal development blogger, if even I forget to make the most of the moment, and it takes such a dreadful occurrence to remind me, how many across the world sacrifice their moments, their happiness while striving for something new.
Worse still, how many are just not living at all. Survival mode is all that they exist for. They have no goals. They have no dreams. Just live day to day miserabley. We owe it to ourselves to live life not just in the moment, but to find happiness each and every day, and give happiness to others.
I'm taking about a "Live for today Mindset." I see a simple, yet extremely powerful, way in which we should live our life. It is 6.30 am here in the UK, this post is nearly written. And I am now sharing my inner mind with you whoever you are my reader.
'Today, I will remember at the front of my mind, that this day I am currently living will only ever happen once. It will never be repeated. So I intend to make the most of it in every way possible. That is to me what life is meant to be about. LIVE FOR TODAY!" Larry Lewis
The future is important, but do not allow yourself to neglect the present.
I intend creating something on this blog. I know I'm going to call it LIVE FOR TODAY! But what is it I can provide that would help my readers live for today. What is it I can provide each and every day to bring even more meaning to my life, and the events which lead me.
Today, I ask for your help. Please, comment, tell me your idea of what my LIVE FOR TODAY section should be all about.
And I do ask you today, please, share this post. I don't know why, but I think it's important. Now I beg you, go and do something today to make you happy, and make somebody experience their own happy moment.
Score Your Way To Good Health - With Our Healthy Lifestyle Plan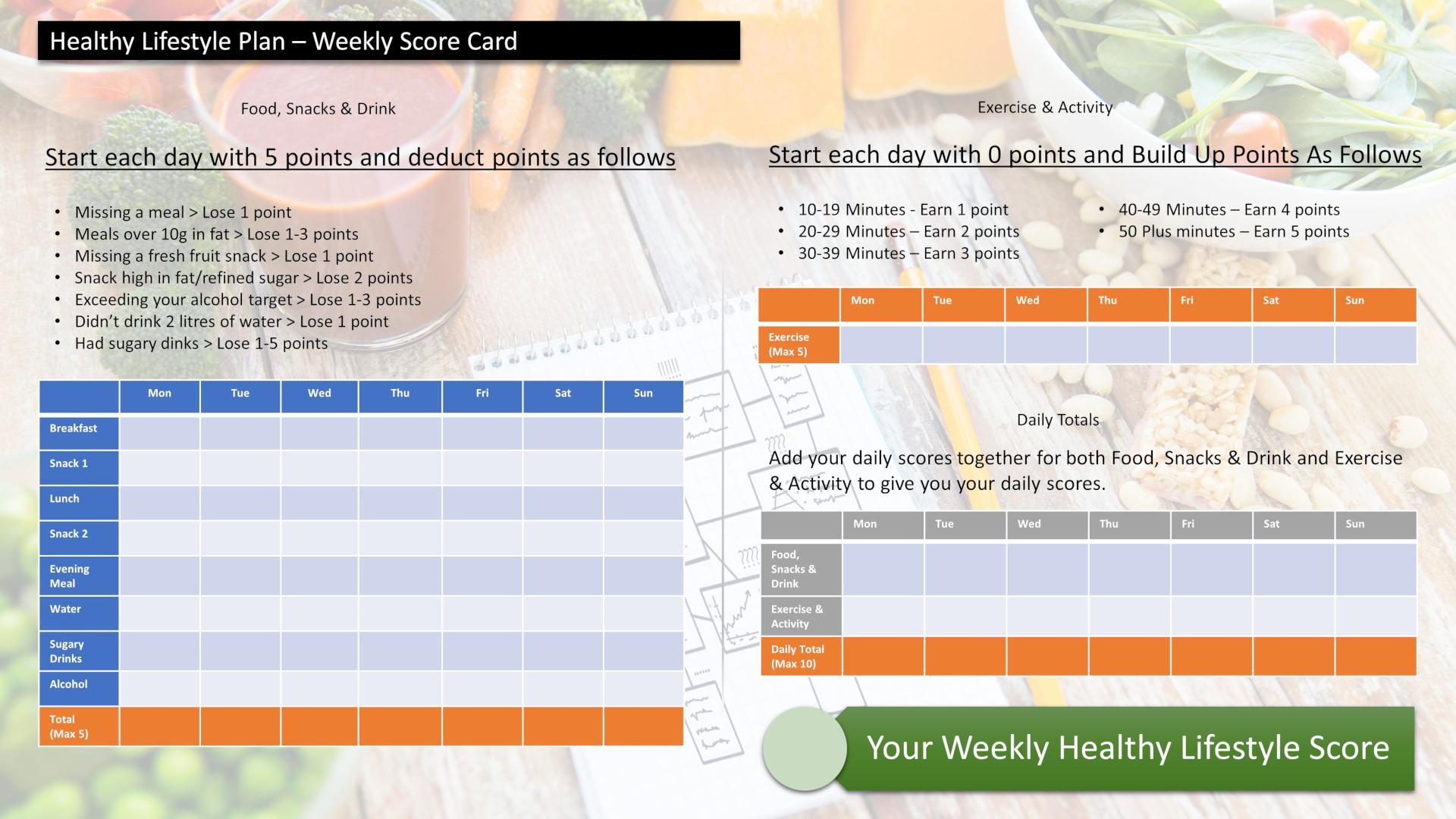 Score your way to good health with our healthy lifestyle plan and it's unique 70 point weekly scorecard!