What is the difference between those who succeed in life and those who struggle?
What if you could control your life with a simple on switch?
At some point in their lives, many people ask themselves 'am I doing what I should be doing with my life?' Am I on the right path? And more importantly, how do I know the right path when I find it?
The simple truth is, when you are on the right path, doing the right things, your life feels truly empowered. Life is no longer a struggle, and every day seems to have meaning.
Full time blogging and building my very own online business has provided me the space to create the life situation that I enjoy most, combining work and freedom to develop projects that I infuse with my full passion and energy. I find it difficult to describe what I do as work, because I love it so much.
Certainly, the unknown has been stressful and more challenging than a regular 9-5 job. Still developing this blog, building it and adding so many advanced pieces has been a challenge to say the least. But the rewards are felt every day. Having made the switch from full time employment in the fitness industry to blogging has seen things changing instantly, and so much for the better. It felt like I'd been carrying around a heavy load all my life and suddenly I was relieved of it. Blogging is so much fun, and writing about a subject I love is just awesome.
First of all, I'm happier, and this happiness projects outwards in all aspects of my life. Anyone who loves their work knows this is how it is when you truly love what you do.
Most of us just stumble through life and get through it as best we can. But they just seem to accept this is the way it has to be. That's life, and I can't hope for more. But that is not true … life can be so great, and you can love what you do, and make a great life from it.
It sometimes takes a big event in our life, normally a bad one, before we ask a key, powerful question "What should I do with my life?" Once you find yourself asking this of yourself, jump for joy, raise your hands to heaven and give thanks, because now you start living the life of your dreams. You will now be inspired to pursue your dreams and discover the impact you are meant to have on the world! Dreams …. Oh they are the things you once had, that time has taught you to bury and forget.
How do you find the answer? What's the point of asking such a great question when you're not going to be able to find the answer? Well your inner voice is the perfect place to find what you're looking for. By quieting your mind, taking a deep breath, and really listening, you will find the answer.
But how do you activate it. Well in truth it's been there all the time, you've just not been listening to it. It's been speaking, but we can't hear it, maybe it's just you don't let yourself hear it.
When any important question like "What do I want in my life?" surface in your mind, you really will benefit from consulting with your inner voice. You possess the answers you need to live a life that successful in every way. Listening to your inner voice can lead you on a path that feels deeply satisfying. Your life in every department will flourish once you connect to your inner voice.
Questions have great power but only when you have the resources to provide the answers. The right question asked and freeing your inner voice to answer can change the direction of your life.
But what's your inner voice telling you? And how do I make a true connection with it?
Try this simple exercise to tune in to your inner voice:
Go somewhere that you feel safe, peaceful, and comfortable that will be free from distractions.
Sit or lie down, close your eyes and be aware of your breath. As you breathe in through your nose be aware of how you feel as air enters your body and fills your diaphragm. Be aware of how you feel as you exhale through your mouth. Feel your diaphragm contract as air exits your lungs. Continue to do this for a couple of minutes.
With your eyes still closed be aware of what you hear, smell, taste, and feel with your senses go from outside of yourself to within. At this point, ask a specific question "What should I do with my life?" Be aware of images, visions, feelings, knowings or sounds that come to you. Stay in this moment, being aware of what is coming to you.
When you are ready, bring your awareness back to how you feel, slowly open your eyes. Begin to move around slowly and easily.
Try this exercise at least once a day for 30 minutes. As you become more practiced you will be able to better differentiate between your self talk clutter and your inner voices inspiration. When you clear the clutter of your mind, your ability to see, hear, feel, and know will expand and it is then that you will be more able to tap more and more into the wonders of your inner voices intelligence.
What if you could control your life with a simple on switch? Join our new support system and let us help you on the journey. We will be providing heaps of value for free, more and more over time! Loddy Micucci will be focusing on this very subject in our support group. See you there.
This is Larry Lewis.
Bye for today!
Score Your Way To Good Health - With Our Healthy Lifestyle Plan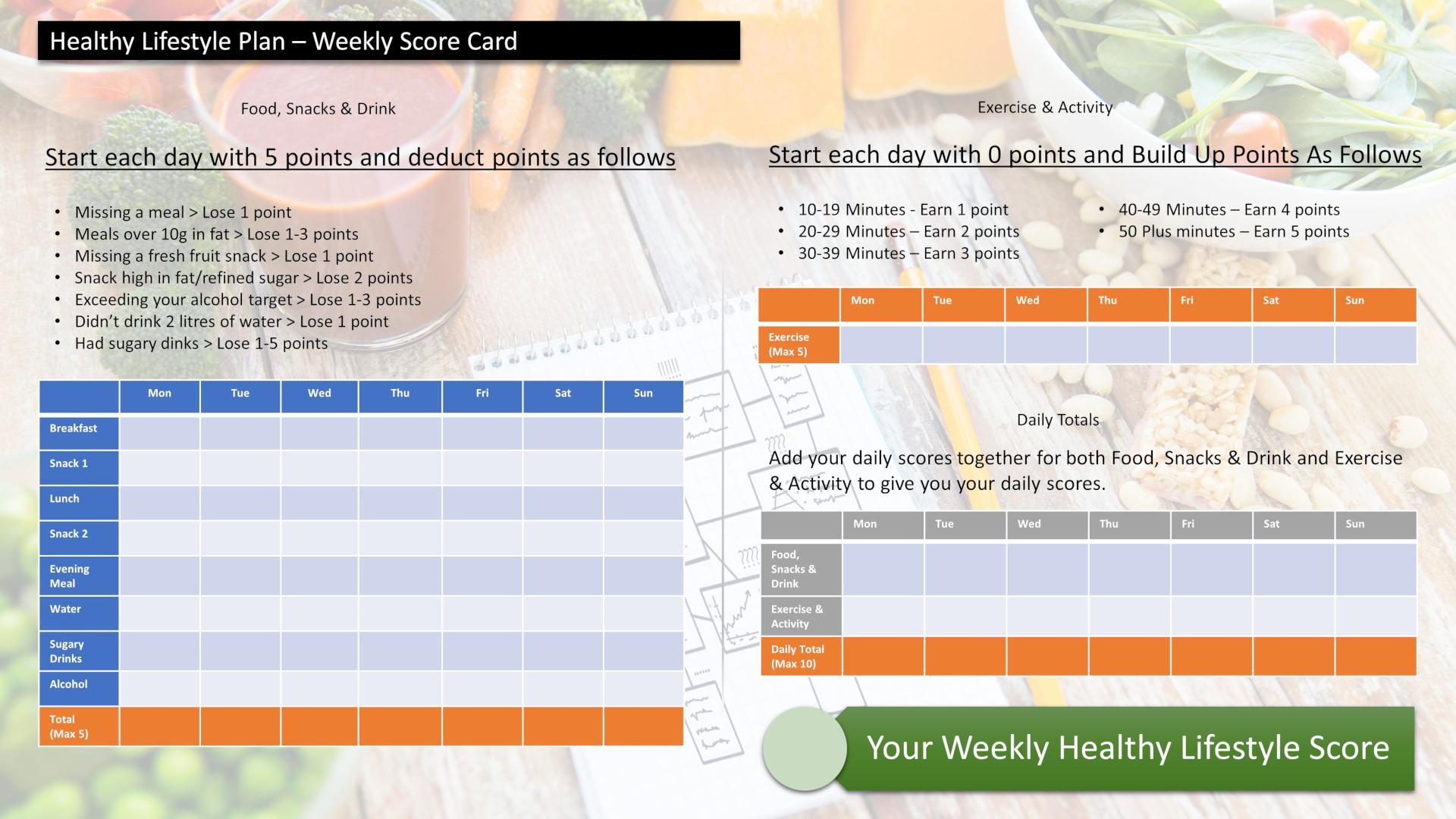 Score your way to good health with our healthy lifestyle plan and it's unique 70 point weekly scorecard!