I want to again talk about the book called 'The Secret'. Rhonda Byrne the author introduces the book by admitting, "A year ago, my life had collapsed around me". Through searching for answers in a variety of books new and old, she began to trace what she believed was a common thread in them all. She called it the "Great Secret—The Secret to Life".
The essence of The Secret is "the law of attraction." Everything in the Universe vibrates on a particular frequency. When you think in harmony with the frequency of something, you attract it to you. If you think about wealth, you will receive wealth. If you think instead about your debt, you will receive more debt. You attract what you think about; your thoughts determine your destiny.
The message this book brings in essence is that you can get everything you want out of Life through the power of your own mind. When you begin to guide your thoughts, you will that become the creator of your universe and your life.
One of my biggest passions in life is to help as many people as possible to live a happy, fulfilling, and healthy life. I have read hundreds of self improvement books, purchased a multitude of self help programmes, attended very many seminars. All I wanted was to find ideas that I can use to change the quality of people's lives.
My mission however lies in interacting and sharing my knowledge and experience with individuals searching for a breakthrough to bring about an improvement in their life.
Having watched and read the Secret, I want to bring The Law of Attraction to as many people as possible particularly when so many are facing very tough times.
As the film The Secret swept the world, stories of miracles began to circulate of people healing from chronic pain, depression, and disease; walking for the first time after an accident; even recovering from a deathbed. Other people used The Secret to bring about large sums of money and unexpected checks in the post, to manifest their perfect homes, life partners, cars, jobs, and promotions. I know personally many people whose lives have changed for the better because of the secret. It has worked for so many people, why not you.
Yet I always feel in a quandary when I write about The Secret. In one hand I know how many people's lives have been positively benefited by reading the book or watching the video. Each and every one of these people probably wants to do exactly the same as me, to stand in front of an audience and tell them about the secret, how it took them from a point of distress to a point of happiness and achievement. Like me they also fear the reaction from many. The doubters, the critics, the non believers. The part that I will never understand, is how some of these non believers, who I know truly care about others, will still try and tell those that will listen not to believe in the secret. My disbelief is that why would anyone tell another not to allow themselves to take on board such a positive message. To give them hope, something great to believe in, has to be one of the greatest things you can do for another. There are so many people troubled at the moment, if anything can give them some light at the end of the dark tunnel they find themselves in, then it's our duty to share our knowledge.
I do not believe that anyone can claim that reading the book or watching the movie will bring no benefit. Without doubt there is something in this book that will definitely make you feel better about yourself. Check it out, I promise you will benefit in some way from it! What have you got to lose? If you are struggling desperately to find a way out of your current bad situation, maybe you will find the inspiration from The Secret.
I accept there are negatives associated to the Secret. Firstly an entire cottage industry has been created around the book. Many people have seen it as a way to make money, and have created untold number of products around the secret and utilised excessive marketing.
Secondly although positive thought and positive attitudes are paramount to a successful happy life, positive thoughts without ACTION doesn't get the job done. So if the book has a failing it doesn't tell you to get up of the floor and take massive action.
'Are your thoughts worthy of you? If not – NOW is the time to change them. You can begin right were you are right now. Nothing matters but this moment and what you are focusing your attention on' (from The Secret)'.
I've attached a link which is the trailer for the film. Take a look! The Secret Trailer.
I'm happy to talk to anybody about The Law of Attraction. I would love others to use my comment section to share their opinions whether in support of the secret, or as a non believer! If anybody wants to tell their success story to inspire others, I ask you to do so.
Score Your Way To Good Health - With Our Healthy Lifestyle Plan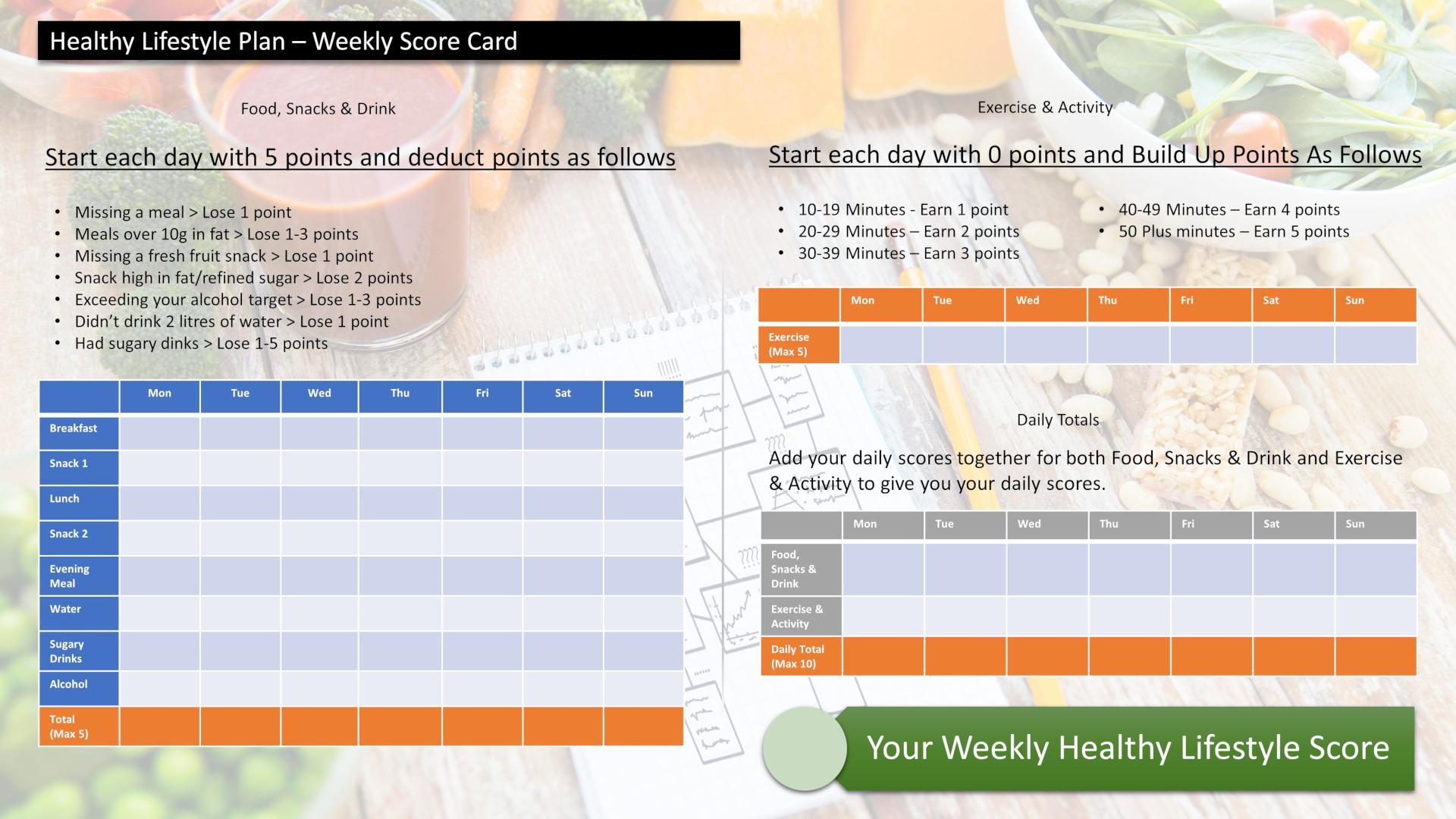 Score your way to good health with our healthy lifestyle plan and it's unique 70 point weekly scorecard!