Just a couple of days ago my newest grandchild was born. At 3.12am on the 21st May 2015 Joshua Paul Laurence Scott took his first breaths as he began his life's journey. He joins his sister Amelia-Mae and is the son of my first born daughter Laura-Jayne and her partner Colin. Mother and child are absolutely fine.
About 12 hours after my daughter gave birth, I was able to kiss her and congratulate her for the miracle she has brought into the world and then hold this ever so tiny gift, my beautiful grandson in my arms. It was like the entire world stopped and all I could see was his tiny little face, fingers, toes and hear his murmuring!
It felt as though my heart suddenly filled with love for him. The strong bond and love was ignited from this very first moment I held him. What a joy!!! To then see his sister lie next to him, snuggle close was simply one of the most wonderful moments of my life.
So now that my grandson is here, my thoughts extend to the future. For me, grandchildren not only are a joy for today; but an amazing possibility for the future.
When we baby boomers look at our young we see so much potential; and opportunities. Joshua the world is your oyster. You will have the freedom to choose your route, well with the exception of alas having to support Newcastle United, and I pray that's the only piece of bad luck that will ever come your way.
I want only the best for my children and grandchildren. There are really no words to explain how I feel except profound gratitude for how I have been blessed. My excitement, joy, the positivity I feel coursing through my body and the deepest feeling of my love for him and his sister brings me focus and drive for all our futures. It has uplifted me. His birth has been a rebirth for us all.
My Grandchildren are my life's most precious gift and they more than anything have helped me get through my recent health problems. Being able to share their life, see their development will ensure I do everything possible to live a long and healthy life.
I want both of them to realise that they're a wonderful gift from God to both to their family and to all the world. Today I found myself wanting to jump out of bed to get back to blogging. This gives me a chance to reach out to others and gives me such a positive feeling of contribution. It also lets me continue my writing journey heading towards being a published author following through on my passion for the written word that comes alive for my readers and will leave a legacy for both my grandchildren. I have even more of a reason now to blog – to continue sharing the growth of both my daughters and now that of my grandchildren.
I want both my grandchildren to live the life of their dreams! Pursue their hopes and dreams. Not living life small. For them to travel the world, acquire many skills, forever keep learning, making their lives special and developing wonderful life long relationships.
I pray that I have many years of spoiling them both, giving them my unconditional love and plying them with presents, spending quality time together and creating priceless memories and also teaching them those things I've learnt that I want to share with them.
In fact I'm going to write a series of blog posts called a legacy for my grandchildren what they need to know. One day I hope they will read them that will bring me unbelievable happiness and they will know I love being a blogger but I love them both even more. I'm a very lucky man, gifted with two beautiful daughters who I am very proud of and 2 grandchildren who have made life feel fantastic.
I'm now going to close my eyes and feel the love and excitement for the life that now awaits four special people together. They have ahead of them a path to take which will bring each of then total happiness.
Laura Jayne, Colin, Amelia Mae and Joshua love what life has to offer. Make every day special and prove to each other daily how much you love one another. Together you make an amazing family.
Score Your Way To Good Health - With Our Healthy Lifestyle Plan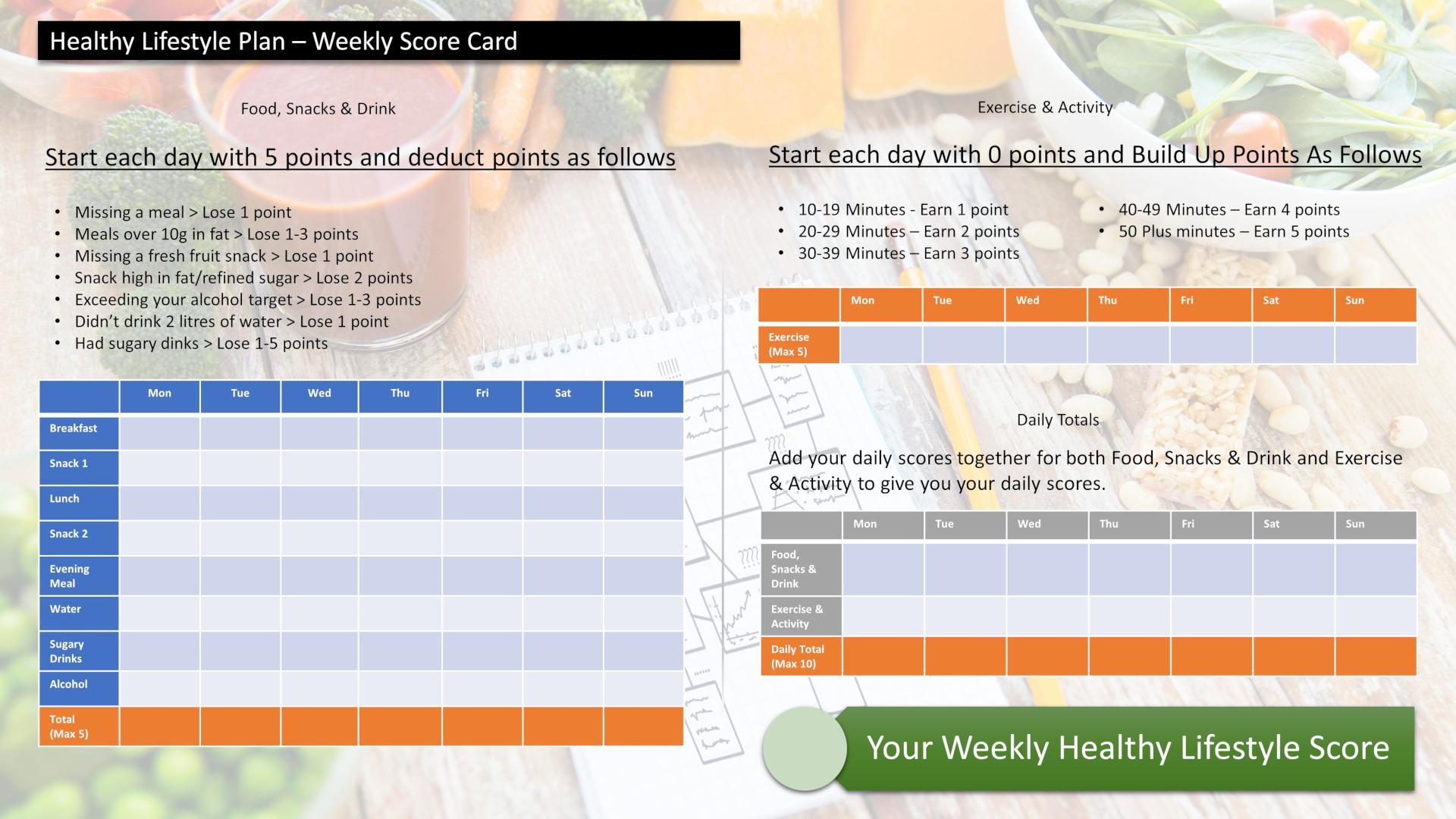 Score your way to good health with our healthy lifestyle plan and it's unique 70 point weekly scorecard!