The one thing every one of us shares is that we want to be happy. Yet the last thing we give ourselves time to do is focus on fun and happiness.
We live in a world that is always rushing around, everything is happening at full speed. We are always busy, busy, busy.
In fact so many of you are verging on being workaholics. You spend every hour you can working, spending no time on yourself or with your family. You have a to do list as long as your arm, there are bills needing to be paid, you're feel pressurized by a lack of time, and your job responsibilities are simply overwhelming, so much so, they've taken over your life. And god forbid you allow yourself free time for fun and happiness.
While working hard is a necessity of life, few people at the end of their lives wish that they'd put in longer hours at the office. Instead, they wish that they spent more time with their friends and family, engaging in activities that made them happy. My career is important to me, real important. My business drives me, excites me, motivates me to keep going day after day, but never at the cost of making time for fun and happiness.
Remember the old proverb "all work and no play makes Jack a dull boy"? Not only do we become boring when we don't take a break from work, we also become unhappy. And that's the exact opposite to what we actually want.
Many of my life coaching clients who are stressed to the limit are driven by either their desire to get rich, or the need to survive in these harsh economic times, but ultimately they all come to the realisation they need happiness in their lives to bring out the best in everything else they do.
My advise to them as it is to you is make sure that not only do you take time out of your busy schedule for fun and relaxation, but that also during your day, find moments where you can just have a laugh.
No longer allow the pursuit of your financial goals stop you from enjoying the happiness you can find all around you. If you want to experience true happiness you can find it all around you.
You've got to live now not some time in the future. You can't put fun and laughter on hold any longer. Start letting it back into your life. Make the time.
You have to find ways for fun, for leisure, for goofing off? I can't understate how important this is, without it you'll feel depleted and harassed.
Happiness is never too far away. We just have to knock at its door, and it will open widely for us. Make time each day for yourself just to have fun.
So now ask yourself:
What do you like to do to have fun?
How do you feel when you are having fun?
What is keeping you from having fun?
What benefits do you get from laughing and having fun?
What new activity do you need to introduce to have more fun?
What new activity would you like to try that you think would be fun?
Thinking back, what were some things that you did that were really fun?
What can you do everyday to have some fun?
What have you been putting off that would create fun in your life?
Can you laugh at the silly things that happen in your life?
Will an attitude change of having more fun in life affect others in your life?
I love this quote from Friedrich Nietzsche "We should consider every day lost on which we have not danced at least once. And we should call every truth false, which was not accompanied by at least one laugh."
So now go "fill up on happiness"!
Thanks for reading me and go find something to have a laugh about!
Score Your Way To Good Health - With Our Healthy Lifestyle Plan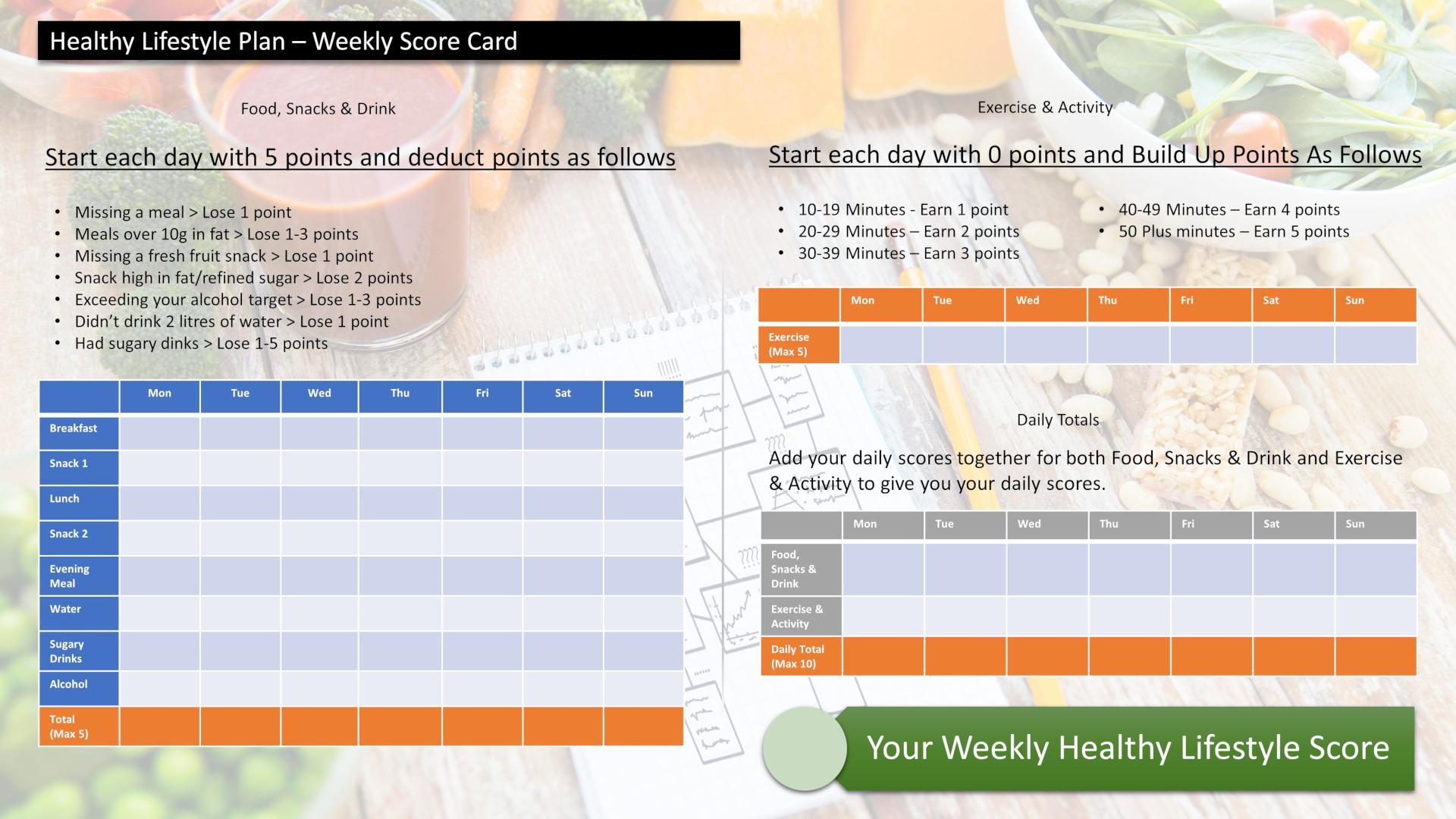 Score your way to good health with our healthy lifestyle plan and it's unique 70 point weekly scorecard!