'Poor is not the person who has too little, but the person who craves more' ~ Lucious Annaeus Seneca
I have always been very goal driven. I set myself targets to achieve goals from a very early age. Life to me was about setting my sights on the things I wanted, and to take action to make them happen. So, when a wonderful lady, Sue, put forward her ideology that life should be aiming for contentment, I found this a really difficult concept.
She said to me: 'Are you suggesting that people will always be dissatisfied and want more? How do they recognize the end goal? Who wants to always have more and more? That's not the key to happiness. Contentment is'.
My belief is that life is always about wanting and achieving more. Her belief is that it is joy and happiness through contentment that should be our ultimate goal. I researched the meaning of contentment. I searched for the understanding I needed to be able to discount her concept, support my own views or take hers on board.
I realised almost straight away that life was about finding the right balance between two equally legitimate but competing views.
I realise that there will always be periods in people's lives when they are not happy, a time when things appear gloomy, when they wish that they have more than they have already. Maybe their job isn't going well, or their relationships, their finances, their health is in a bad way. Things can get really awful when they're afflicted with major illness, or when a loved one passes away. At these times when they are unhappy, they focus on all the bad, negative things in their life.
Others who have great jobs, great relationships, great finances and great health can also be unhappy. For many their whole existence, the life they live is all about acquiring possessions and achieving goals. At times they feel short-lived contentment; maybe after a good meal, while soaking in a hot bubble bath, after sexual release, the end of a good gym workout, having drunk a superb glass of wine, after a visit to the opera (or your favourite group) or following a job well done. But after a short time they are discontented again and go back to chasing their dreams.
It seems to be a human trait where we are always dissatisfied, wanting to achieve more. So what is contentment? Wikipedia, the free encyclopaedia suggests that Contentment refers to the 'neuro-physiological experience of satisfaction and being at ease in one's situation'. Contentment is a matter of being happy with what you have, instead of wishing you have something else.
"Not that I speak in respect of want: for I have learned, in whatsoever state I am, therewith to be content. 12 I know both how to be abased, and I know how to abound: every where and in all things I am instructed both to be full and to be hungry, both to abound and to suffer need" (Philippians 4:11-12).
Buddhist' define contentment as 'the freedom from anxiety, want or need. Contentment is the goal behind all goals because once achieved there is nothing to seek until it is lost'.
To feel contentment in life you have to be able to notice all the good that is in your life at this time. It necessitates you to no longer crave for things to be different to the way they are right now. It takes awareness on your part of seeing the good in your life as it is now. So even when you are struggling with your job, relationships, finance and health, there are still good things that you can focus on instead, and by focusing on these, you will maintain a positive outlook, which will combat stress.
I'm definitely a goal-oriented person — I always have my eye on a goal. And once I've achieved a goal, I begin looking for another. Setting effective goals is inspiring. Working towards my goals wakes me up in the morning feeling that something wonderful will happen today. It's what brings passion to my life.
But this does not mean I am not a contented person. I'm extremely content with my life, with what I have, and with who I am. I will always be motivated towards goals, enjoy the challenges life throws at me, and enjoy the journey that life is. The true power of goal setting, is not so much the attainment of the goal, but the journey you must take to achieve it.
The journey of life should be to seek contentment, as our priority goal. Together with this our energy and motivation are fuelled by desire to learn, grow and achieve goals. The key here is to ensure no matter how much more you want to have and be in your life, that right now, at this very time, you experience happiness and yes contentment with what you already have.
"Health is the greatest gift, contentment the greatest wealth, faithfulness the best relationship". Buddha
So contentment to me, means to be content with your situation in life, content with what you have, but to realise it is within the human consciousness to have the desire to make improvements, no matter how happy we are with our lives. If we don't improve, grow, help make the difference to the world, the people around us, our communities, then we have given up on life. So contentment is a matter of being, being content with what we have and who we are, but always trying to improve.
Sue gave me a vital piece of the jigsaw of life. To balance my goal driven personality, with the feeling of contentment with the now, provided me with the fuel, to improve my life and those whom I touched. The more you focus on being contented, the more contentment you create for yourself. The more power you have to achieve more.
There can surely be no better tool in your armoury against stress. To achieve your goals in the future it is essential to achieve contentment with your present. Feeling contentment with your present sends stress back to the past.
The concept of being content is a very important asset in our daily life. If one is content, he will live in peace, harmony and happiness. These qualities can't be purchased or acquired through wealth or fame. If a person is not content, he will inevitably drive himself crazy. He will do his best to satisfy his needs, but never ever will he be happy or satisfied. He will never have peace of mind and he may continue to live in anxiety and have mental disturbances.
'True happiness comes from a sense of peace and contentment, which in turn must be achieved through the cultivation of altruism, of love and compassion, and elimination of ignorance, selfishness, and greed' ~ Dalai Lama
Score Your Way To Good Health - With Our Healthy Lifestyle Plan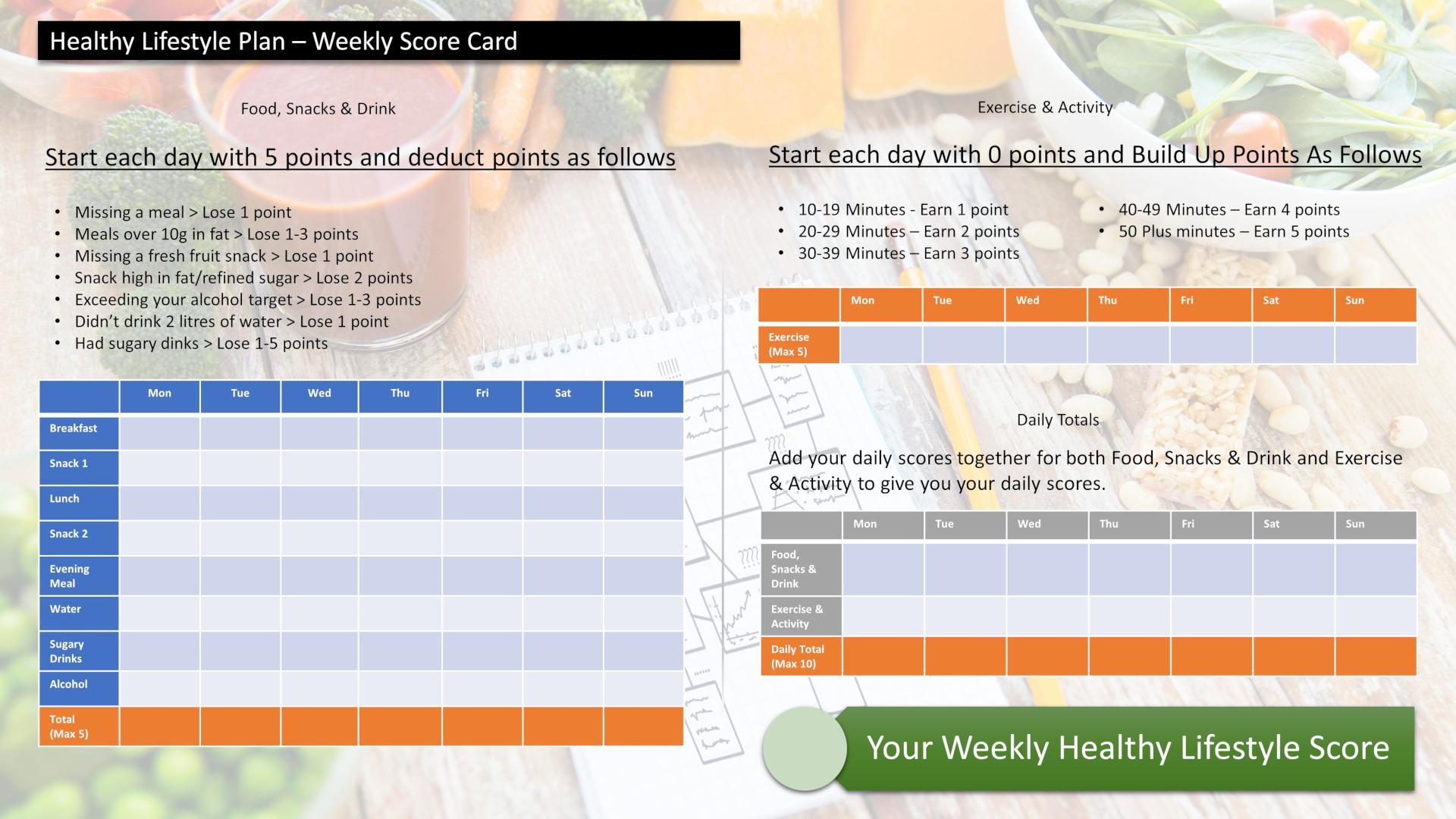 Score your way to good health with our healthy lifestyle plan and it's unique 70 point weekly scorecard!