Today I want to introduce you to something that I believe is a must have for every baby boomer … your bucket list. Having reached my 50th birthday my determination to make the most of my life, and every minute of my days, seems to be more important to me than ever before.
Time is passing me by quickly – and as it does, I ask myself whether I have all that I want to show for it. Am I fulfilling my potential? Am I successfully achieving a balance across all the parts of my life? Am I making a difference?
A quote by Oliver Wendell Holmes says; "Many people die with their music still in them. Why is this so? Too often it is because they are always getting ready to live. Before they know it, time runs out."
Have you thought whether you will be satisfied when you get to the end of the road? Will you do things differently if you know how much time you have left?
You do not need to wait until you are older or find out you have a life threatening illness, to act on your bucket list. A bucket list is a list of things you want to do before you die.
There is no perfect time or moment, so make the time now to start living. Think about the things you want to do, be and have.
Ask yourself "What else do I want to do, be and have in order to have no regrets when I die?" Let your imagination open up to the possibilities and immerse yourself in how you really want your life to map out. Clearly identify what matters to you most.
Now set yourself some powerful intentions and value driven goals by creating your "Do, be and have" list so you know your priorities in life.
So get yourself sat down and write down on a pad your list. Jot down all of the goals that you wish to achieve throughout your life.
This exercise will work best if you allow yourself as much time as you may need and a quiet place, away from distractions. Time is one of the most valuable assets that we have. Taking time out to pause often and reassessing how we use our time can help us refocus, reprioritize and reenergize.
I use this reflection time to make sure I'm not wasting time, and forgetting things of importance. I refocus my attention to make sure I am very much action orientated, constantly doing things that will ensure I'm accomplishing much and living a fulfilling life. I think of the things I literally want to have, those I want to do, and I write them down. I also reinforce the things I want to be, like a great father, partner, son, client, leader, coach etc.
Let me just briefly explain why I love having this list to pinpoint for me what I need to do. It's a great motivator for an action orientated person like me. Simply I see the alternative as being someone constantly procrastinating, always planning but never doing, in fact a person who never makes a decision to act about anything of importance. What I want to avoid is to get to a point in my life where I look back and see how much more I could have accomplished in my life if I'd taken more action in the past.
So my advise to you today is to start living a life without any regret and start making a list of "Things to Do before I die" your Bucket List.
Here are a few articles that I enjoyed that may assist you in this task
Bucket List Ideas – 1000 Things to do Before You Die
What's on Your Bucket List? 101 Things To Do Before You Die
Trailblazer: John Goddard – Life and The Ultimate Bucket List
"You know, the ancient Egyptians had a beautiful belief about death. When their souls got to the entrance to heaven, the guards asked two questions. Their answers determined whether they were able to enter or not. 'Have you found joy in your life?' 'Has your life brought joy to others?'" Morgan Freeman from The Bucket List 2007
Score Your Way To Good Health - With Our Healthy Lifestyle Plan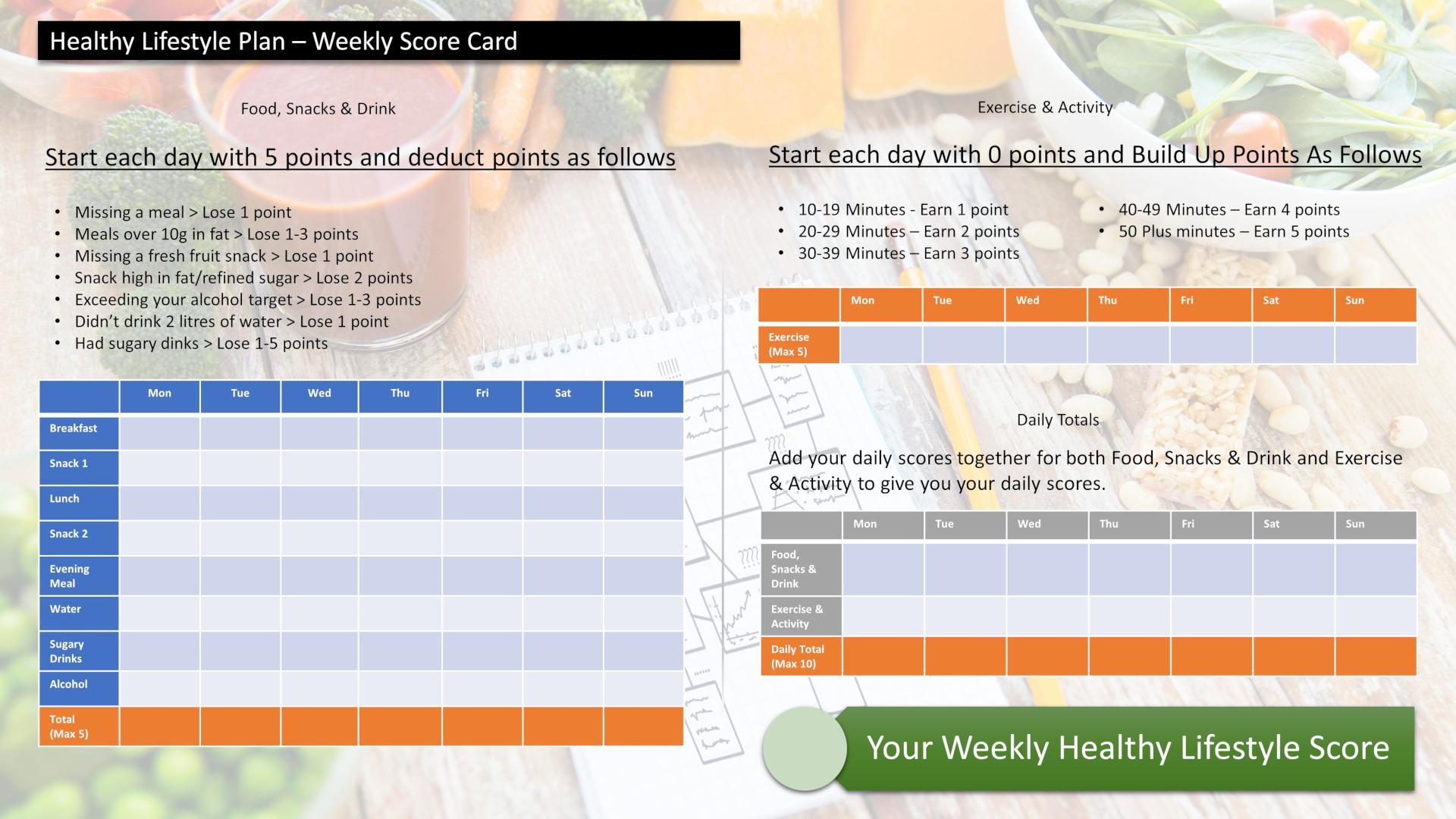 Score your way to good health with our healthy lifestyle plan and it's unique 70 point weekly scorecard!