I don't believe there is a more important time in our life than when we reach the age where we transition to adulthood. Everything changes, no longer are we limited in any way, and you have the world at your fingertips.
If there was one thing I've constantly hoped for as a parent, it was that my children would grow up happy. Carly, my youngest daughter will be starting her first job as an adult very soon. An exciting but scary time.
She is now finding her way in the world, and through her transition to adulthood she is now starting on her journey to find her place.
It's so strange to be thinking of her starting out on the road of employment. Wasn't it only yesterday that she was merely a toddler?
I wrote an article the other day about how hard I was finding it with only seeing her very occasionally. I miss being so central to her life. Yet I do celebrate how well she has adapted to having her own independence, and know that she's truly starting out not just on her transition to adulthood but a new adventure. I marvel at how well she has grown up.
Now is the perfect time to work towards fulfilling her childhood dreams. Now they should be adult dreams for her future.
With rising unemployment and increasing debt it is not an easy time to be young. But nothing should stand in the way of working hard to get all they can out of life. They just have to decide what they want and go for it.
All young adults need to dream their dreams and work to bring forth their visions for their future. They can make their own choice as to how they want to live their life.
This can be a time of lots of experimenting and continuous change for the young person, exciting for them and worrying for those who love them. It is a very important time, and also a very healthy part of growing as a person. It only becomes unhealthy if it goes on too long.
I'd like to offer a few tips on how to make the best of this transition to adulthood.
Be Driven by exciting goals
You have to be driven by exciting goals for your future, seeking an exciting career, which will make your life great, exciting, fun. For me the only way to live is to be motivated, inspired, dedicated, driven, everyday 24/7 loving the life you live. We should all chase our dreams, and never allow circumstances, ourselves or others to tell us it is impossible to attain. Start with small steps but go for every one of your goals. So focus on your future. Set exciting goals and visualize what you want for your life. Knowing what you want for yourself and your life is key for your future.
Make every day count
The one thing I want her to realise is how important it is to make every day count. There will be key moments for you that may change the course of your life in an instant. But every day you have to take the most out of it. Spending your life focusing on the attainment of future goals all the time is wrong. You have to make time for living in the moment, right here, right now.
Don't Let Fear hold you Back
Fear can hold you back. The uncertainty of life creates a lack of confidence in many, and the fear of making a success of your future stops many from even trying. Even when good opportunities present themselves this fear stops them in their track. How often is fear holding you back from what you really want – in business, in your relationships, in your goals? Fear is the most paralyzing emotion going. It's nor­mal to have some of these fears. Nobody lives their life with­out some fear from time to time. It's nor­mal, but that doesn't mean we have to just accept these fears in our life. The key is to real­ize that many of these fears are a state of our mind. And our mind — we can change!
Take time for Happiness
Although I am somebody who grew up revering goals of all kinds: big, small, readily attainable and wildly ambitious; I've always understood the importance of happiness. No matter what you achieve in life, no matter how hard you work, never forget to give yourself happiness in every day of your life. Don't get caught up in being busy all the time. Learn that you must take time out of your day to focus on yourself — and your happiness.
Laugh at your own mistakes
Can you laugh at yourself? I try not to take things too seriously, so I can laugh at myself when necessary. We all made mistakes at one time or another. How do you view mistakes? Do you view mistakes as something negative or positive? I think mistakes are absolutely necessary for our growth. What we really need to do is to remember our magnificence and realize that we are all winners. Seize opportunities, learn from mistakes, and be your own best friend by giving yourself the same support you would give others.
Focus on solutions
Sometimes it is easy to focus on our problems, worries, fears, and stress. In fact it is so common to see adults stressed out totally and showing how their life is proving to difficult. You hear these people frequently talking about their problems, but rarely hear mention of solutions. Your life should be focused on finding solutions to every problem that comes your way, because there is always an answer, you just have to find it.
Recognize Your Personal Worth
If you do not appreciate yourself and your personal worth you will not achieve half of what you should. You have to appreciate your individual value, recognising your strengths as well as personal value.
"Try not to become a man of success. Rather become a man of value." Albert Einstein
This can be one of the most challenging transitions in life but your transition to adulthood no matter how difficult it will be, if you stay strong and believe in yourself it will work out great.
Score Your Way To Good Health - With Our Healthy Lifestyle Plan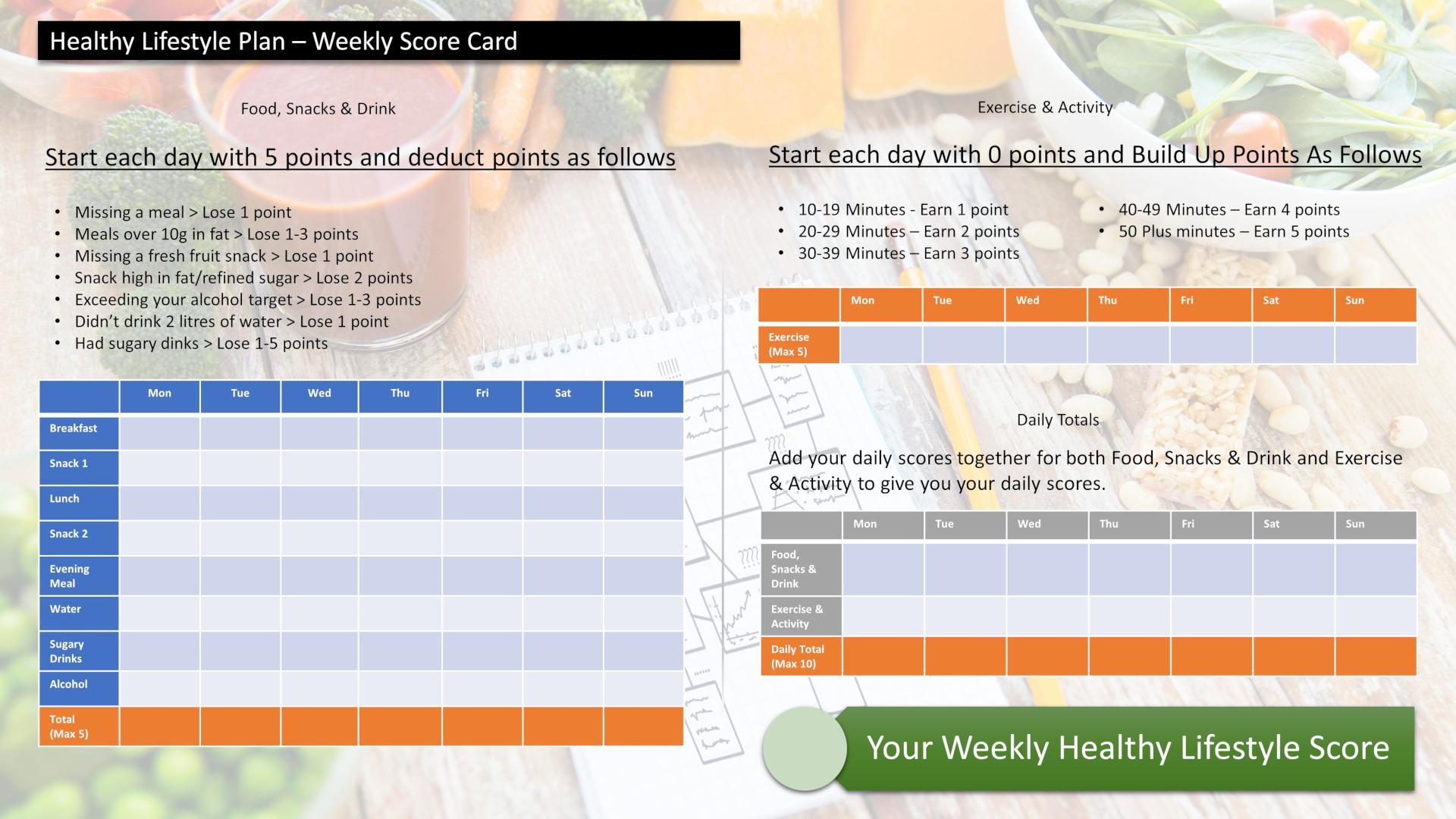 Score your way to good health with our healthy lifestyle plan and it's unique 70 point weekly scorecard!