Do you have difficulty to live fully in the present moment? If you do then you know how much of life is just passing you by. So what do you need to do? You need to take the time to completely centre on the here and now, not worrying about the future or thinking about the past.
Last week on returning home from the gym I took a look on Twitter and was immediately struck by the nightmare in Belgium. Innocent people, moving about their city, some departing on their holidays had their lives ended by this barbaric, inexcusable attack. Like many of you I'm sure, I went straight on to a news channel and followed the reports of what was happening. People murdered and many others scared for their lives.
The biggest shiver that I felt down my spine was of an image of an empty pushchair surrounded by debris from the explosion at the airport. There was no discrimination. Men, women and children, all ages, all races.
Seeing this image of a pushchair, reminded me as both a father and a grandfather how short life is, more so how unpredictable it can be. We will never know exactly when our time is going to be up. We can't afford to waste a moment. Thinking of my loved ones at a time like this, where the world is reeling and we all think of our vulnerability, reminds me that the greatest gift we can give to another, is our time.
"The proper function of man is to live, not to exist. I shall not waste my days in trying to prolong them. I shall use my time." Jack London
It hits you when your health declines that life's not unlimited. You will have a certain number of days but no more. My struggles with illness over the last year have truly woken me up to how limited our lives are, and how little time we have to make something of them. We are running out of time. A tragedy like that which has happened in Brussels rocks your world and makes you realise how scarce time is. I grab every opportunity I can to see both my daughters and grandchildren although it is never enough.
We must discover the secret to living each moment, in love with life.
'Moment' is a strange word. Is it a little thing, or something big? We say, 'It'll only take a moment.' But in a single moment 30 or more lives can be lost as have in Belgium. We must take time to make each moment a little more special, and many moments incredibly special.
When we are in love with life, we live it to the fullest, and waste as little as possible.
To live in the moment means being conscious, aware and in the present with all of your senses. It means not dwelling on the past, nor being anxious or worrying about the future. We concentrate our attention on the present. Seizing each moment in life allows us to prolong its value and make it more meaningful.
Is there a formula—some mix of love, work, and fun for a good life that you love?
How do we know what makes us in love with life?
Maybe you'll find the answer to that question by asking another question.
Imagine if you had a month to live: how would you spend it?
Perhaps spending it with the people you love, paying attention to every word they say and thing they do. Just soaking up the love you feel for them. Maybe travel and enjoy some amazing experiences, incredible sights, exploring the world. You could spend it learning as much as you can, in books and by studying life itself. Alternatively you could create something that you leave behind for ever more, like writing a book which would contribute to making the world a better place.
That's nailed it for me. That's what I'd love to do, loving my life, every second I had left.
What I also know is, that whatever I am doing, I will focus on that activity fully. I will totally engage in, and feel I am doing, enjoying the process.
"If you worry about what might be, and wonder what might have been, you will ignore what is." Unknown
I haven't missed the fact that I've chosen travel, necessitating flying, spending time in airports, as where yesterday's tragedy took place. I really do believe something instilled in me by my mother that when we leave is written on our bottoms the day we are born. But also we cannot live in fear allowing these murderous terrorists to win. I choose not to!
What would you choose to do?
Whatever your choice, each moment is limited, fleeting, precious. Don't waste another one.
"You must live in the present, launch yourself on every wave, find your eternity in each moment. Fools stand on their island of opportunities and look toward another land. There is no other land; there is no other life but this." Henry David Thoreau
Score Your Way To Good Health - With Our Healthy Lifestyle Plan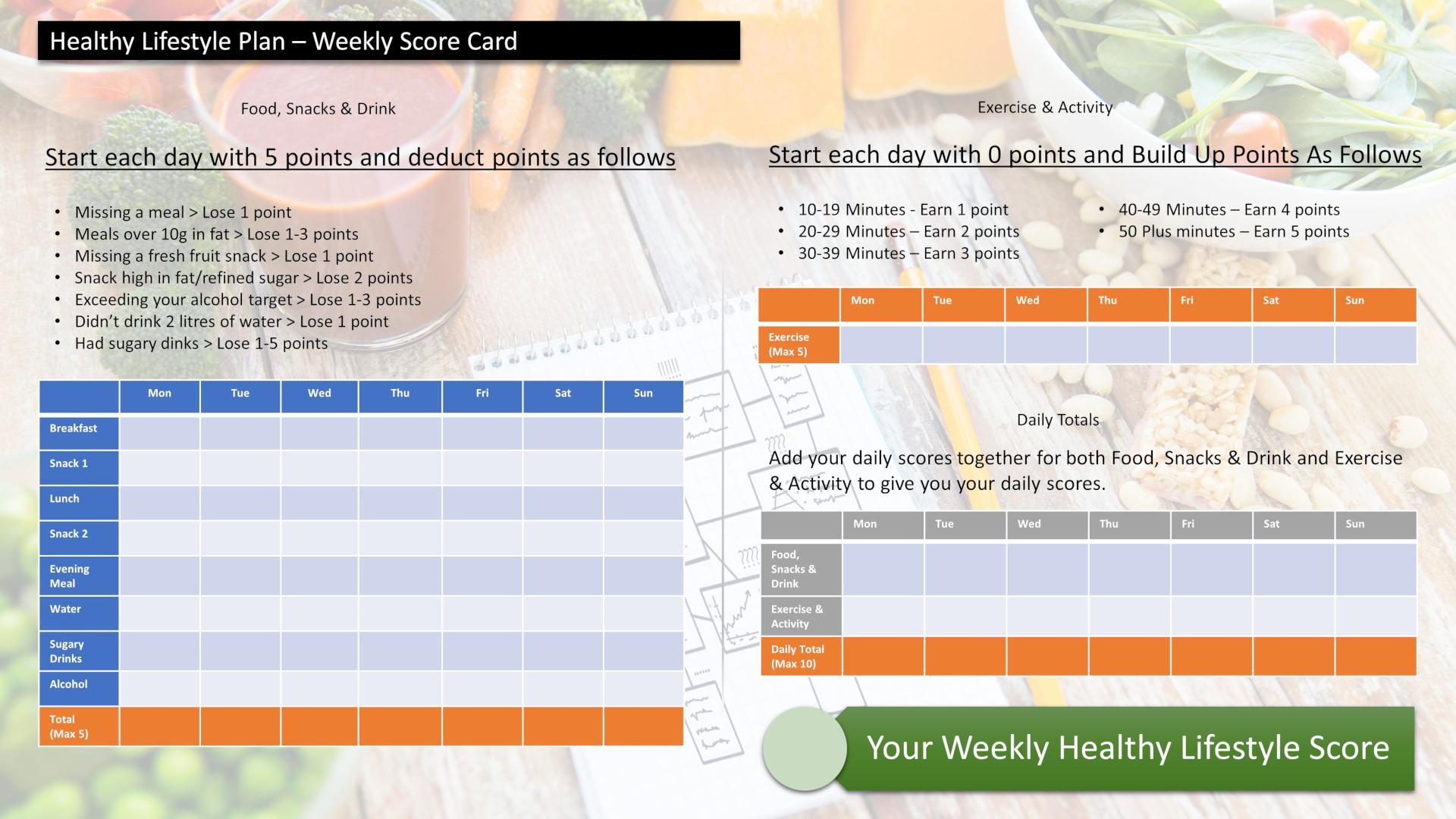 Score your way to good health with our healthy lifestyle plan and it's unique 70 point weekly scorecard!