2016 has been a tough year for many and I know how difficult it can be to find either the time or energy to be thankful for what you have.
I'm not just talking about the Brexit exit.
Many of you will have had to contend with many troubles and difficulties far closer to home.
Financial problems, relationship issues, health concerns, I'm sure each of you has been challenged by one thing or another this year.
I know for me health has been a major area of difficulty. Even we healthy lifestyle bloggers aren't immune to illness. Three operations and more to come next year. Just as I thought I'd come to terms with my eye difficulties and learnt to cope I suddenly had new issues, this time in both eyes, and this for a while has knocked me back slightly. But not for long. I learnt long ago that no matter how tough life may be, how badly we are struggling, there are two things that will keep us going, one is having goals for your future, ones that excite you and make it worth struggling through, and the second is living with gratitude.
No matter how bad things may be we can always find something to be grateful for. It just takes a conscious effort to remember to be thankful for what you have.
Yes you read me right. Even when things are at their very worst, life seems to find you buried under an avalanche of problems, there will be things in your life that can provide you a source of gratitude.
I know at these sort of times it seems so hard to find something for which to be grateful to acknowledge being thankful for what you have. In fact it seems impossible. Times when everything just seems to have gone wrong, the bills are piling up and nothing seems to be going right.
It is at these times when you have to find things to be grateful for. Real things that are a blessing in your life. Thinking of what you are grateful for consciously brings positive thoughts to your mind and stops you from over-focusing on the bad. It can pick you up, it really can. I learnt this truth for myself. By being thankful for what you have you can use the feeling to power yourself through any problems.
I woke up to this myself on the day where I found my life at the lowest point I'd ever experienced. I had slipped into an incredibly negative mind-set and began questioning the point of me carrying on. It seemed my life could get no worse, and worst still every time it seemed things had begun to improve I'd be met by another obstacle to knock me down. Having gone through the effects, the very costly effects, of my Retinal detachment in 2009, including losing my magnificent home, my business and my health, it had taken time to re-establish myself, create a new life and rebuild it. But rebuild it I did. Then in November 2014 it felt like my life had once again been wrecked when I suffered from another retinal detachment. On Boxing Day morning I woke, but couldn't raise myself out of bed. There was no point, I was going nowhere, seeing nobody. My family weren't seeing me and this just hurt so bad. It was the first Christmas without my mother who had died in the February, and my relationship had ended in the August. So here I was in pain, no vision from one eye, unable to walk, drive or do anything, I was isolated and alone.
I was feeling sorry for myself in the worst way possible. I could do nothing. No reading. No writing. I'd fought so hard to bring about change in my life and now I felt as though I was back to square one.
I then recall these words written by my daughter Carly:
I can't believe I got in! I'm absolutely buzzing!! Just shows that hard work and dedication pays off!! Future nurse, here I come! #nurse #university #cccu #canterbury #excited.
That was written on receiving the acceptance from Canterbury Christ Church University.
Then there is my other daughter Laura-Jayne who had already blessed me with a granddaughter Amelia-Mae and now was pregnant again with another grandchild for me to love.
These two thoughts began to ease my pain.
Yet they weren't here with me, helping me through literally my darkest time.
But isn't that what unconditional love is all about.
Love is a strange and beautiful thing.
A love that is unconditional and all-encompassing is so powerful.
There is never a day that goes by where I don't say "I love you" in my head when thinking of my children.
It's this unconditional love that keeps me going strong, and that keeps me getting up every day no matter how tough things can be.
I was blind to this, a choice expression I know, until this day lying in bed ready to give up.
I couldn't demand they pay me back, return my love, reward me for it. That's not what it is about. They both have their own lives. Seeing them succeed at university, one having beautiful children, warms my heart.
And yes I'm grateful for having them in my life, and the love for them in my heart. It was enough on this Boxing Day for this to pick me up.
With that power provided by being grateful, I was able to bring back into my life the power of goals. It also provided me the defence against any future problems, remembering to be grateful. I've not looked back since, no matter the challenges I've met through ill health.
Yet I know It can be really hard to find gratitude when our mind is overrun with negative thoughts where doom and gloom seem to be our destiny.
You have to start small.
Find little things to be grateful for.
Your family.
Friend.
The hair on your head (if you have any).
For every breath you take.
Seeing the stars at night (please God).
Hearing the wind blowing through the branches.
You just have to make an effort to find something for which you are grateful. It may well be easier to do it at the same time every day, I choose just before going to bed, and again 1st thing in morning, perhaps keep a journal in which you list the things you are grateful for.
So tonight immediately before going to bed take a few deep breaths, close your eyes and think about everything you can be grateful for, just think about everything and after about 5 minutes, open your eyes, and write everything that came to find on a piece of paper. Then read them over one more time, and then just say THANK YOU.
Make this the start of keeping a gratitude journal. From now on every night prior to going to bed, read it and then think of anything else you could add.
Instead of feeling sorry for yourself give thanks for what you have.
Please take the time to be thankful for what you have. Although I am extremely goal orientated, I know one thing:
You must never let the things you want in life, make you take for granted the things you have. Larry Lewis
Ask yourself, "What am I grateful for?"
"Be thankful for what you have; you'll end up having more. If you concentrate on what you don't have, you will never, ever have enough." – Oprah Winfrey
Share one thing you are grateful for in the comments below.
Score Your Way To Good Health - With Our Healthy Lifestyle Plan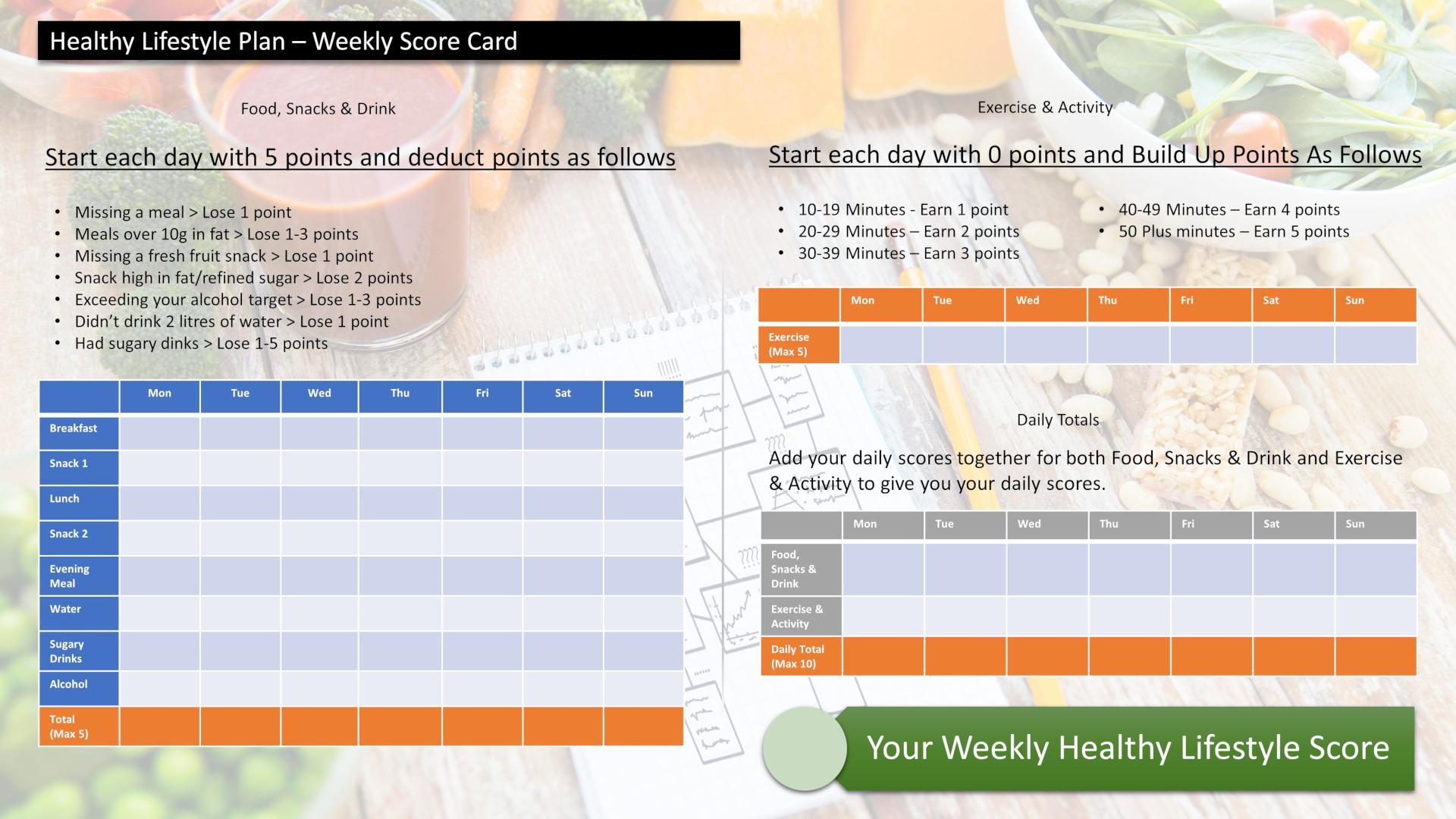 Score your way to good health with our healthy lifestyle plan and it's unique 70 point weekly scorecard!