I love this quote by author Alan Watts
"Better to have a short life that is full of what you like doing, than a long life spent in a miserable way."
Life has to be about living. You have to set out every day to enjoy what you are doing, and to experience happiness.
Too many people put their life on hold while they try and climb what they see as the ladder of success. They have this notion that when I get to the top I'll have both the time and money to now enjoy what I do. To these people it's all about the destination, and the journey is their means to an end.
This is no way to live!
No matter what you do in this life, no matter what goals you reach out for, one of the most important things you must do is live every day as though it could be your last.
It's so easy to get caught up with day-to-day living, the need to make a living or the necessity to survive in a difficult economy that you never seem to find the time to actually enjoy life.
Of course it's unrealistic to expect every day to be full of exciting moments, but how often do you allow yourself to be adventurous or spontaneous creating exciting times in your week.
There's a famous saying I'm sure we've all heard before that "Life's not a dress rehearsal". Life gives us one journey and it is senseless not to make the most of it. Of course you should be ambitious but at the same time enjoy life at the same time.
I admire every one of you who wants to be great. Who works long hours to make an impact in the world. Who wishes to be remembered and leave a lasting legacy. I know I do. But you have to strike a balance, with one eye on your future the other has to be with the here and now.
This week is the perfect example and has reminded me that at times I forget about the here and now. So much has been happening within the business, such great stuff that I've been totally absorbed, happily burning the candle at both ends. But this week I've come to London on business. My day times as usual have been hectic, but I have found the time to eat out with my daughter on three occasions. We have probably got to know each other better over these few days than ever before because of this time. It has been wonderful. But if I'd been at home I wouldn't have had that time I'd have been working away. So I have come to realise you have to make the time for yourself and give those loved ones around you more of you than they've been getting. After all ' all work and no play' is another apt saying.
Work and success will always be important to us, but when we remember to Live every day as though it could be your last we are bound to enjoy the process of living far more.
There are lots of things I'm sure every one of you would want to do through your lifetime so doesn't it make sense that you started doing some of them so as to tick them off your list.
So let me finish with a few questions.
To live as if TODAY was your last day:
What are you going to do?
Who do you need to call?
Who do you want to be with?
Now go and do each one of these things.
Score Your Way To Good Health - With Our Healthy Lifestyle Plan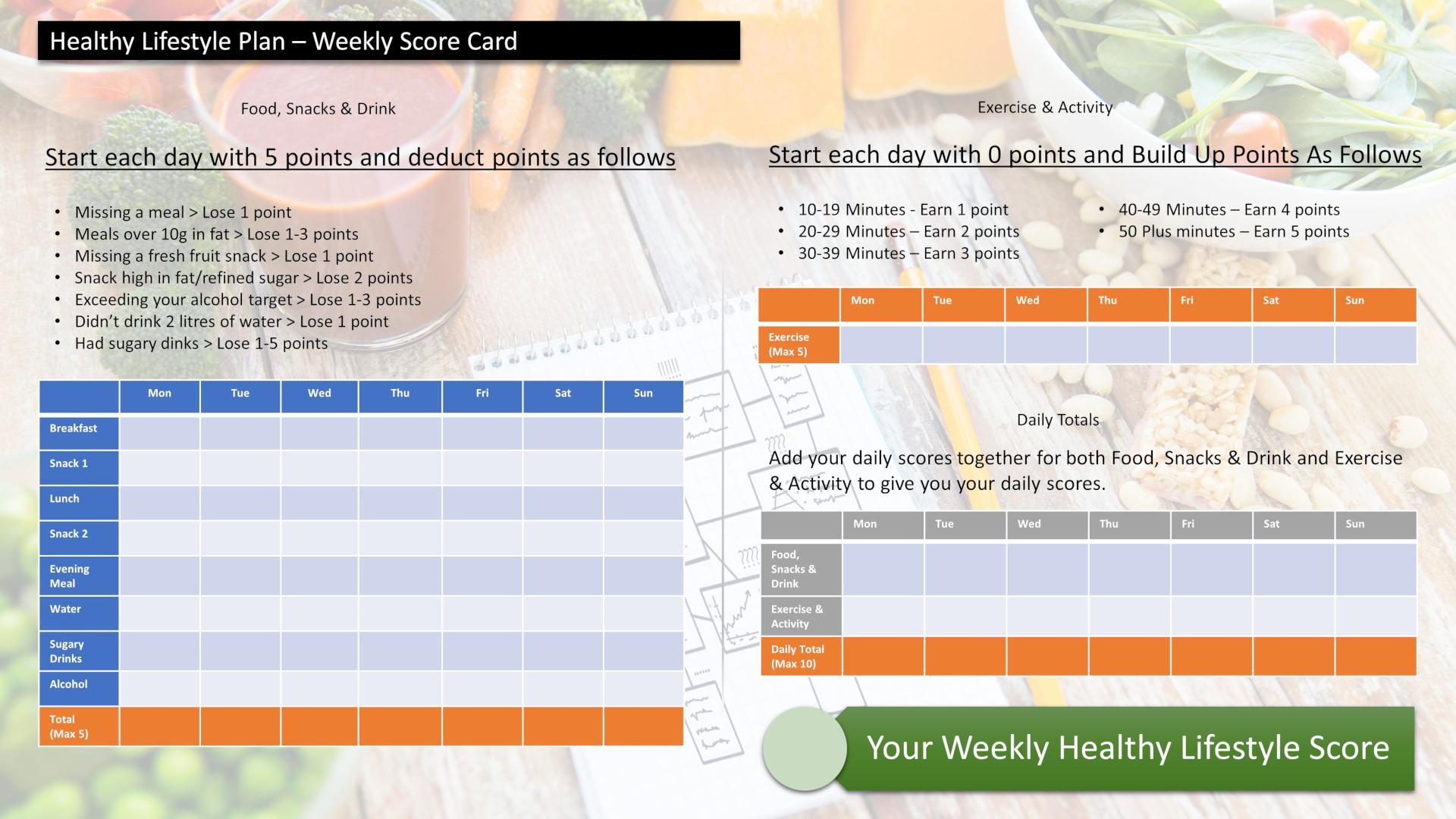 Score your way to good health with our healthy lifestyle plan and it's unique 70 point weekly scorecard!