More and more, you have too much to do and too little time. Your responsibilities and obligations seem to pile up. There are never enough hours in the day. You may be earning more money and doing better than you have ever done before, but you often feel overwhelmed with the demands of your job and your personal life. You may be working harder today than ever before, yet you are getting less and less happiness and satisfaction from what you do.
When our lives get too hectic, and all our energies seem to be focused on dealing with problems, it's all too easy to find ourselves "off balance", and not paying enough attention to important areas of our lives. At this time our life is out of balance, neglecting certain areas of our lives. Family, health, personal development are often the first, and this can lead to frustration and intense stress.
We often fall into the trap of only having time to deal with urgent tasks, so your non urgent tasks keep getting neglected. You tell yourself there will be time to deal with them later. But later never comes.
Just because something in your life is not urgent, doesn't necessarily mean it's not important. So often focusing only on urgent tasks means we neglect what's truly important to us. By the time these things become urgent, it's often too late to affect them. They needed time and focus well before they became urgent.
For example, take a relationship. If you only invest in your relationships when they become urgent (you are on the brink of divorce or your child has become self destructive) you can't just "take care of it." It becomes a dominant issue that could take forever to "fix," if it can be fixed at all. Focus needs to be centred on issues such as these before they come urgent. This might mean turning off the computer and mobile phone when you get home and really investing time and attention on your loved ones. And that big box, which is constantly growing in size, with an ever increasing number of channels, should, no doubt, be on for a lot less hours than it is already.
Our health must be considered as the most important area of our life. We have to eat well and exercise, because if we don't we could find ourselves in a life risking situation later. Now, your health may not be deemed as an urgent area for consideration, but when a health issue becomes urgent, it stops everything else. But if you take the time daily to eat well and exercise NOW, you take care of your body so that you lessen your chances of ill health. Even today, after so many years in the fitness industry, it amazes me how many people join gyms only once they have been diagnosed with illness. It's time many of you got your lifestyles right and prevent illness in the future, and do something good for yourself before it has become urgent that you do.
Get your lifestyle on the right track! Get up a little early and focus on creating a balance in your life.
You have to decide what is important. What do you really want to be and do with your life? What is your mission? What do you want people to say about you 30 or 40 years from now?
Enjoy life!
Score Your Way To Good Health - With Our Healthy Lifestyle Plan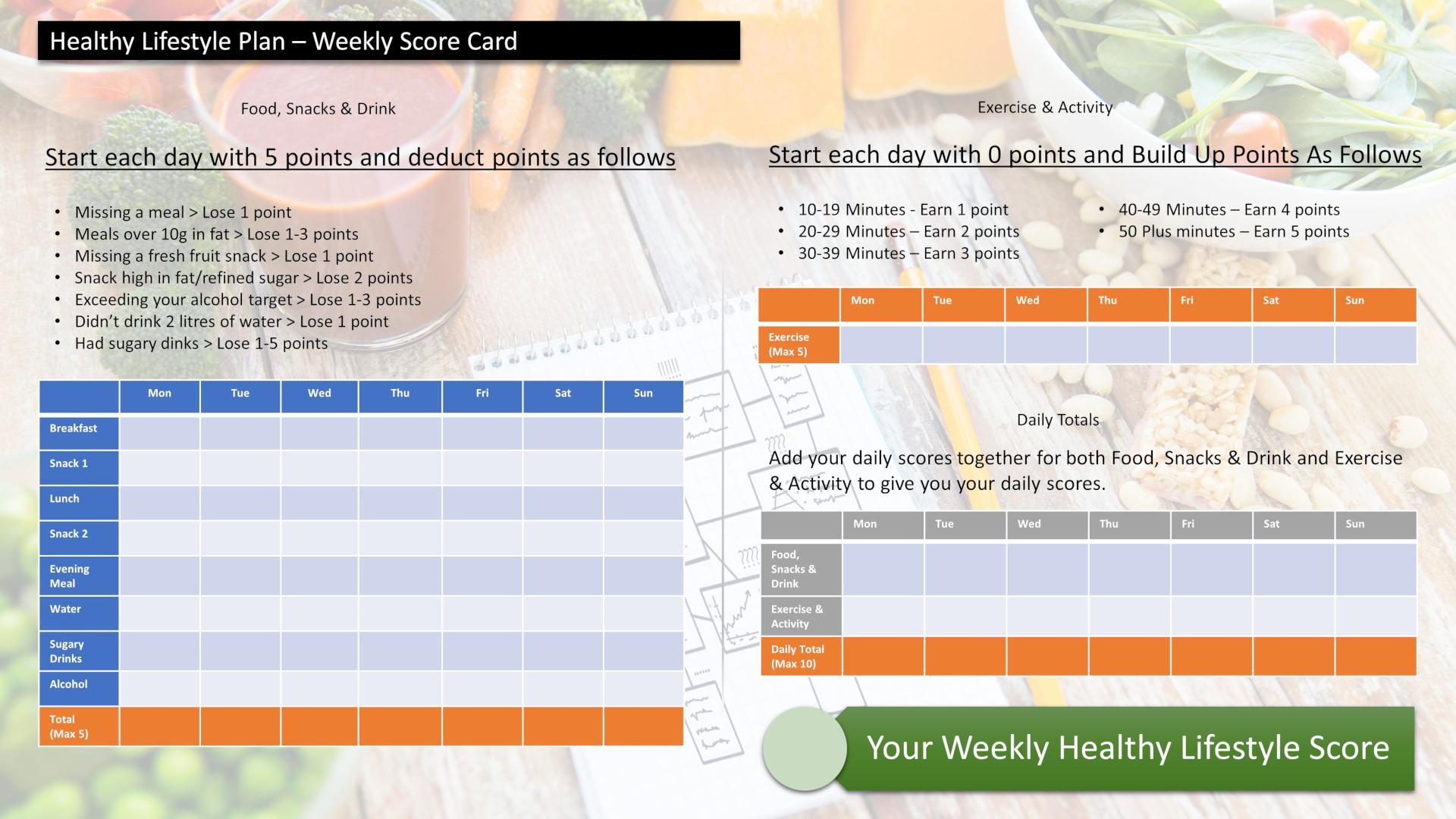 Score your way to good health with our healthy lifestyle plan and it's unique 70 point weekly scorecard!