How do you stay healthy and happy as an entrepreneur? We all strive for success, of course we do. The lure of going out there on our own as an entrepreneur doing something never done before is the holy grail, but with it come dangers.
Failure of course is not an option. You will need to be resilient and have the determination to get through all obstacles. Well let me warn you now, the biggest obstacle you will face is yourself. It is because you forget to make yourself a priority as you are too blinkered on your business. Nothing else matters, until it does.
Let me introduce you to the worst enemy of an Entrepreneur. Not your competitor, your bank manager, nor the tax man. We are talking work-life balance or more specifically the lack of.
Whether you're just starting out on your entrepreneurship journey, or if you've been running your own business for a while, your role is going to be a frenetic one. You're constantly thinking, planning, doing and pushing yourself to do better. You have to take all of the burdens and the responsibilities solely on your shoulder and work steals a lot of your time. It is these long hours the worry and stress which comes with the role that can cause an Entrepreneur harm.
That's why you need to develop strategies to keep yourself mentally, physically and emotionally healthy. The number one strategy is paying attention to your work-life balance.
The simplest definition of this over used term is that Work-life Balance is the separation of one's time and focus between working and family or leisure activities.
Managing your personal life alongside your professional life is one of the greatest difficulties you will face. Where's the time to take care of yourself? Around the world, 30% of small business owners report working more than 50 hours per week, nearly 20% report working 60 hours or more and almost 80% report feeling like they work too much.
I for one can vouch for the negative impact of overworking on your health. This is why I sometimes sound as though I'm on a soap box, it to me is the one thing I want entrepreneurs to understand, they are risking their lives when they fail to take care of themselves. The relationship between overwork and bad health is clear. From my example bad health wreaked havoc on my life.
The thing is, working harder, longer is not good for your health, neither is it sustainable or even workable over the long term. The more dependent your business is on you, the more tied to it you become. Your ill health would therefore be the worst thing possible for your business.
The lesson I want you to take from today's article, is that you must make yourself as much a priority as you do your business. You need to look at your life as it is right now and determine if you have a healthy balance or not. This is something I know doesn't come naturally to most. In fact it is very rare for people to make time to even audit their lives.
What do I mean by this? Well as an entrepreneur I have no doubt you analyse your business constantly, all the finer details you place under the microscope, so your finger is on the pulse of all areas that matter, to the business. But you don't give yourself the same treatment. So, auditing your life means really taking inventory of everything you're doing and being, then prioritizing what's important to you and eliminating what's not.
Can there be any better time to do this than now with the holiday season fast approaching?
Conducting a life audit can help you determine whether you're in control of your life and whether your life is headed in the right direction. It is like doing a balance sheet, just one of your life.
All you need to do is look at 10 key areas. Ask yourself how satisfied are you with each? Are you letting yourself or others down in any of the areas? Are you not achieving your best in any area? Are you neglecting any areas? Review each one of these areas to ensure you are spending enough attention to each, and if not set about making changes. These can be written in the form of goals, hey even New Year Resolutions.
The 10 key areas are:
Physical Environment
Love and Intimate Connection
Passion. Purpose and meaning
Secondary Relationships
Physical Health & Wellness
Mental Health
Primary Relationship
Finance & Money
Professional identity
Recreation and Relaxation and Personal Enrichment
It's up to you whether you give yourself the time to audit your life. Your future is in your hands after all. That's the beauty of being an entrepreneur. Your business hopefully will flourish, fame may well be yours, but it all rests on you maintaining your health, on protecting your work-life balance.
So please, entrepreneurs, for the sake of your own personal productivity as well as that of the economy, take this advice and protect your work-life balance as if your life depends on it.
All the effort you are putting in comes at a price, don't let it be your health, your relationships or your ability to have fun. Your goal of success needs to be matched by your goal of happiness.
For further information on how to audit your life and implement a good and healthy work-life balance check out my series of articles here.
"Looking back over my 50 years as an entrepreneur one of the major keys to my success has been my ability to maintain a healthy balance between work and play." Richard Branson
Work hard but enjoy life. Be the best Entrepreneur you were destined to be.
Score Your Way To Good Health - With Our Healthy Lifestyle Plan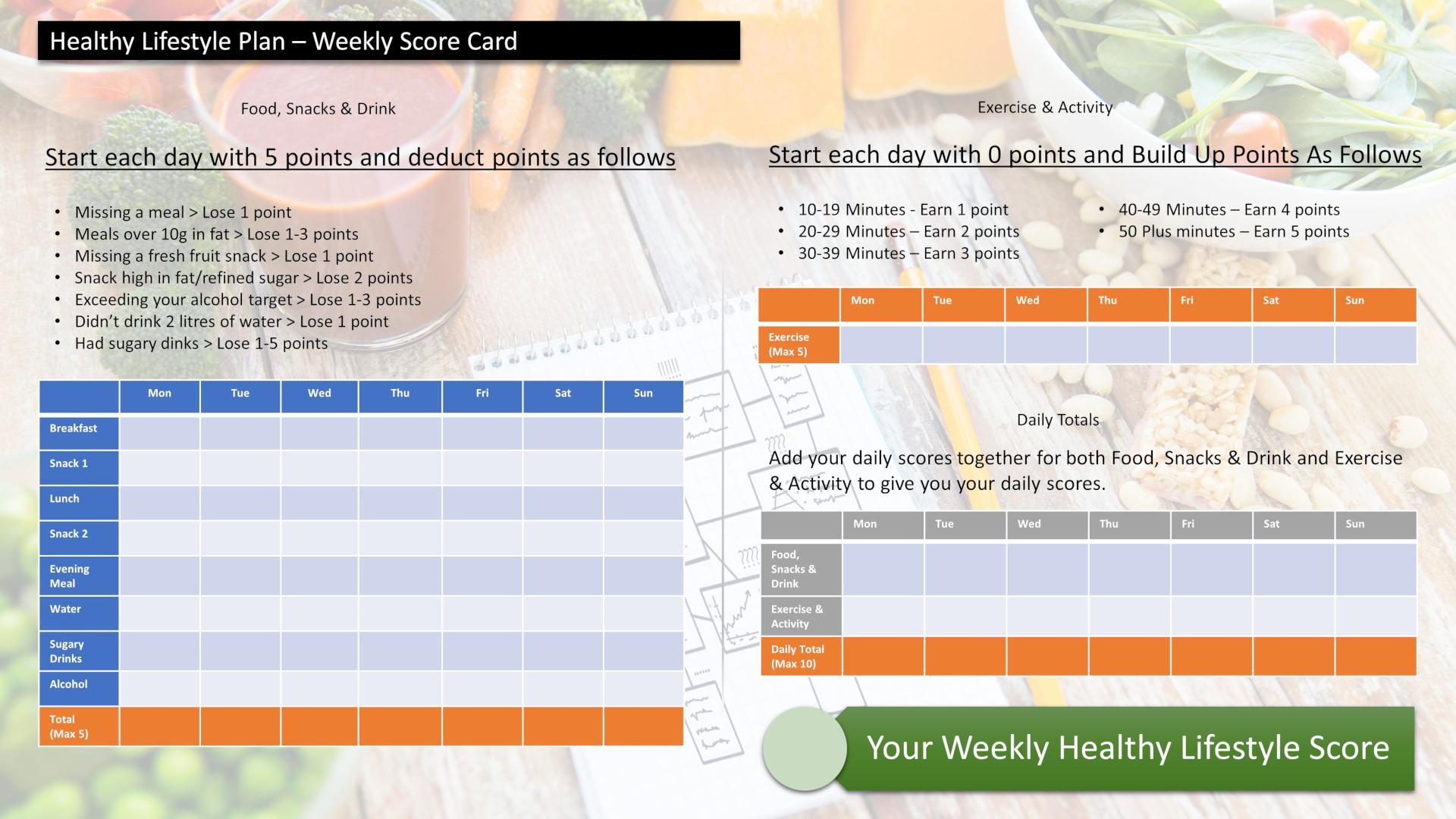 Score your way to good health with our healthy lifestyle plan and it's unique 70 point weekly scorecard!