When you start to focus on experiences rather than belongings you will start to enjoy life more.
You only live once, and life is oh so short. Wouldn't it be crazy not to live life to the fullest, and focus on happiness. Yet so many of you don't. You spend most of your life trying to get your hands on possessions instead of allowing yourself to focus on experiences and allow yourself to build wonderful memories.
If you really want a more fulfilling life, it's not how much money you earn that matters, but how you spend your time. We all make the same mistakes, thinking the more we earn, the happier we'll be.
Losing a significant amount of my eyesight may stop me from doing many things I used to take for granted yet I refused to allow it to take away my ability to enjoy life, in fact I allowed it to wake me up to what was important. I realized that we should live each day to the fullest because you never know—it could be the last. Now I make sure that I am grateful for each day I live and make sure I live each day to the fullest.
In my mind a good experience will generate positive memories that far outweighs the benefits of a new material possession. Seeing my daughter on a horse at her riding class just brings a smile to my face and a warm glow radiating from my heart. Money can't buy happiness, but used wisely, yes it will bring you fantastic memories.
I have in truth only woken up to the true importance of life since my reduced eye sight and health problems. Previously I had been obsessed with making money and buying lots of possessions. But what real happiness did this bring me. What memories did they provide?
How much pleasure do they now bring me? Having struggled with my vision for about 7 years and subsequently had to give up my business, lost my house and went through a divorce. I ended up with nothing. Apart from a suitcase of clothes and my computer Al those 'precious possessions' were gone. Literally nothing to show for my money. Their benefit incredibly short lived.
Yet I have been able to hang on to many special and wonderful memories that throughout my life I had been able to enjoy. Nothing could take them away. And this has helped put my new perspective on life. These will be with me for ever.
A day out with my grandchildren will last me a lifetime. The simplest things matter. Just yesterday I got the chance to take my granddaughter into a shopping centre. For the whole time she held my hand. It was lovely and I'm smiling just thinking about it. What a tonic she has been to me throughout this period of my life.
I now live every day to build memories. I'm only to aware that we don't know how long we have to live. I don't know how long I'll be able to see for. So now my number one focus is to create powerful and important memories that I wouldn't trade for anything in the world.
I spent most of my life working hard putting in crazy hours often 7 days a week chasing flashier and better cars, bigger houses, all the new technology gadgets, designer clothes and overfilled draws of jewellery and other items. Then there's the fancy bedroom suites, kitchens and bathrooms fitted into various of my homes.
But, are these things really what life is all about? Are these things worth all those hours of working? Do these things really bring lasting happiness? They never did me. Holidays, they're experiences, magic moments, so they last for a long time in your mind.
When you think about most things we purchase though, they're unnecessary. Often your hope was buying them would lead to happiness. If it did, it would only be short lived.
Memories on the other hand remain a whole lifetime. As you only live once make it count!
Score Your Way To Good Health - With Our Healthy Lifestyle Plan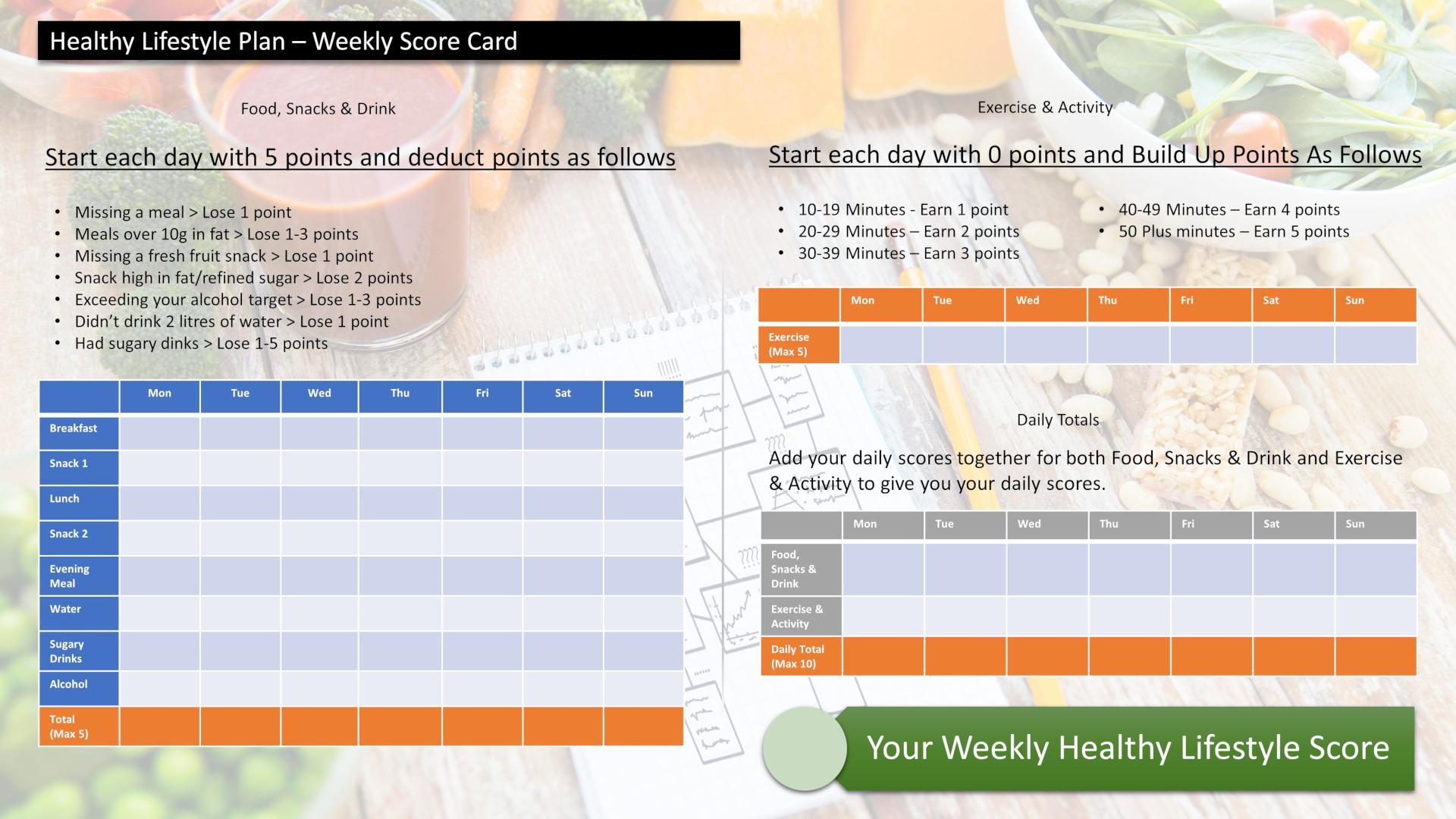 Score your way to good health with our healthy lifestyle plan and it's unique 70 point weekly scorecard!