It is very easy to fall into bad habits. There can be nothing worse than getting to the end of an evening and looking back over your day and thinking how little you actually did, and worse still realising you've achieved nothing. When this keeps happening day after day, week in and week out, you know you've got a problem.
I woke up to the fact that I was accomplishing almost nothing from my days, just getting through from morning to night doing nothing. This was just after my eye operation, life was simply ambling from day to day with little achieved. After a while this became so frustrating. Too much time spent in bed, eating packaged meals, rarely getting dressed, not even showering.
I will never forget this quote:
Twenty years from now, you will be more disappointed by the things that you didn't do than by the ones you did do, so throw off the bowlines, sail away from safe harbor, catch the trade winds in your sails. Explore, Dream, Discover. Mark Twain
Staying in bed all day, bemoaning my luck having gone through another retinal detachment, letting one day fade into the next, if allowed to continue, would give me incredible disappointment when I get to take my last breath. I couldn't let this continue.
Do you feel sluggish, exhausted, and just unproductive in general more days than not? Find you accomplish nothing almost every day. Like me you know this can't continue.
Your starting point has to be to pick a time you'll get up every day for the next week. Set your phone alarm to that time. Get up every day when it goes off. No snoozing. No lying in bed. Up and out. Getting out of bed is the foundation of your day. Remember we are setting out to prevent any more time going to waste, to no longer allow ourselves to let the entire day pass by without accomplishing or achieving anything.
I set about in order to structure my day by planning my day in writing the night before. I didn't set myself unrealistic targets either. I realised I was entering the next phase of my 'recovery' and it would be wise to plan my day realistically but with clear priorities. This is what you must do. Sit down and plan your day.
Ask yourself 'what do I want to achieve from my day?'
By answering this one question gives the best chance of structuring your day in the best way for you. I have no idea what your life situation is, or what you need or want to do with your day, but I do know that if you don't put structure around your day, you will be unproductive.
But before you do, I want you to consider one other thing.
For me I feel that we have a choice. Too waste our day or make the most of it. Having wasted so many, and having gone through a period of very bad health, finding life is very different due to loss of vision in my one eye, I will go further when looking at 'making the most of my day'. Having come to the realisation that life is not permanent, I now strive to make every day the best it can be.
So start with this question:
Ask yourself 'what will make tomorrow the best of days?'
I can't tell you what to do, I can just recommend you spend time thinking about what you need to do. Work it out. Write it down and follow it through tomorrow.
Chose to create an amazing day, every day. Decide tomorrow is going to be the best day ever!
I look back at my life thus far and realize the best days of my life weren't necessarily the days something great or exciting happened – such as business or financial success. Rather, they were those days when I felt good about myself because I grew as a person; days when I grew mentally, physically, and spiritually; days when I connected with someone; shared my love for another, and wrote something inspiring, days when I helped someone, where I looked after my health by exercising and eating well, where I focused on visualisation my perfect day in the future and ended my day through meditation and planning my tomorrows.
What can you do to make your day the best of days?
Score Your Way To Good Health - With Our Healthy Lifestyle Plan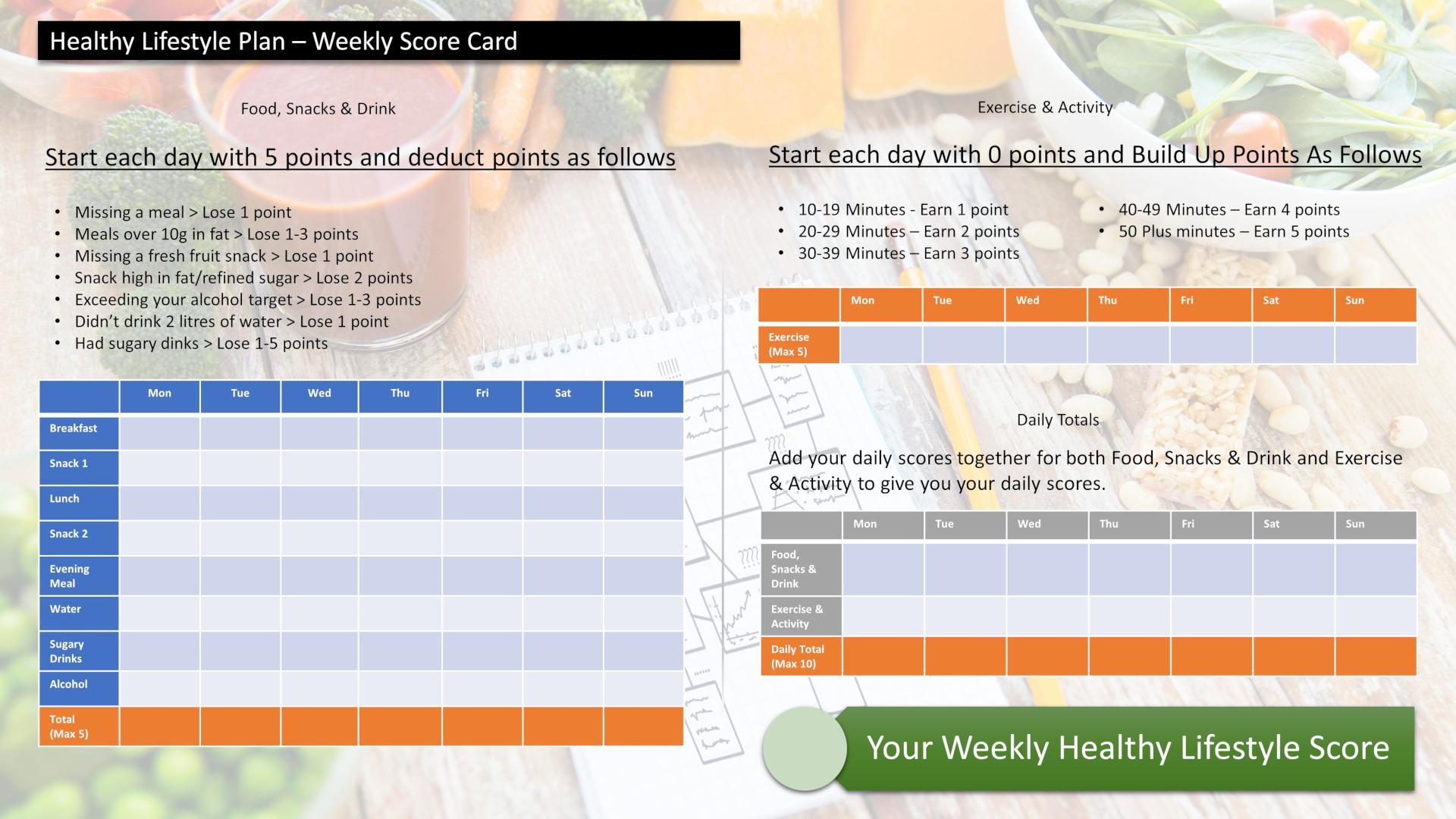 Score your way to good health with our healthy lifestyle plan and it's unique 70 point weekly scorecard!