What I now know, with one hundred per cent certainty, is that anything is possible. When you put not just your mind to something, but you support this will a huge amount of effort, you can achieve your heart's desire, but the key is you must put in enough effort.
Imagine that anything you want to accomplish could be made possible when you put the time and effort in to the right place. If you work hard, put in enough effort and never quit you will achieve what it is you want.
A few health scares were the catalyst for me to take notice of my life. To truly look at what I was doing, being and receiving. These kind of life events have a way of waking up our sleeping soul and help us to decide to go after our dreams. I focused my efforts into the specific areas I wanted, instead of all the different ones I had been doing, and this change transformed things for me dramatically.
Alternatively having someone tell us we are not going to succeed often can be as good a wakeup call as any.
My daughter was recently challenged by her tutor at college, who told her that if she didn't improve on what she was doing she was going to struggle. This hit her really hard. She has dreamed for a long time of getting into university to study midwifery, and suddenly that possibility seemed a million miles away.
Well this robust lecture certainly has acted as a wakeup call to her and increased her desire to learn, grow & succeed! Now she knew she had to put in enough effort to get back to where she needed to be.
Maybe she had lost a little bit of her motivation. After all a lot has been going on what with the separation of her mum and me, her relocation to London and now her sister having gone through her pregnancy and having brought into this world her niece.
I think also she's been scared. She's had to make a lot of decisions, like which University to choose. This has pressurised her enormously, particularly with those around her putting their pennies worth in. It's a difficult decision without these added pressures. She doesn't want to upset anyone, so I think subconsciously she may have created barriers and obstacles between her and her goals to avoid having to take action, and this stopped her working hard.
She probably didn't even realise it. It was even more difficult to see what needs to change for her to get unstuck. She wants to achieve her dream of going to university but she really didn't know what she was doing wrong or what to change.
So I think for a time she slightly lost her way. I think she'd forgotten why she's at college and the purpose behind having to do all her assignments. Remembering the 'What's in it for me' For her it's the stepping stone to the career she so wants, midwifery, and delivering babies into the world.
She had to once again realise that there are millions of people out there would die to live the kind of life she does. She should consider herself lucky that she's got options that millions of others don't. She has unbelievable choices and opportunities just waiting for her to grasp them.
So she had to get back on track. The words of warning from her tutor indeed were the wakeup call she needed.
She had to step up a gear. Not in the near future, but right now. Now was the time to start. Not tomorrow. Not next week. She could put it off no longer.
And now the proud father can step in. She has definitely stepped up. She's gone into over drive and worked really hard this past week. She's done more than just put in enough effort, she's excelled at the effort she's put in.
She has proven that when you want something enough you just have to start doing things towards it. You get nowhere by thinking about something, or wanting it, but not taking action. But also at times you need to be reminded of what you want.
We all make mistakes. That is the best way of learning anything. And she has learnt, and is really pulling out all the stops now to get herself into the right place. She has spent in the last week countless hours in the college library working away. She's inspired, sitting down and doing what she needs to do. She's now got the momentum and I know she won't stop. My daughter has learnt an important lesson in how to move forward in life.
Believe it or not, there is NO such thing as the "perfect time" to start something. So if you have a dream, but are doing nothing towards achieving it, start right now. Then focus on finding at least an hour every day pursuing your dreams.
Tomorrow will be no different from today, but you will be one day further away from your dream.
I believe in the power to manifest our own destiny. And the key I believe is to TAKE ACTION! You can't just sit back and hope for good things, you have to go out there and perform.
My message today for my daughter and all my readers, is that you can be, do, and have anything you want when you put in the effort to create the reality you desire. You must start doing the things you need to do to produce the wants you want.
And to her tutor thank you for your words, you have inspired my daughter to her brilliant best.
"The pessimist borrows trouble; the optimist lends encouragement." William Arthur Ward
Score Your Way To Good Health - With Our Healthy Lifestyle Plan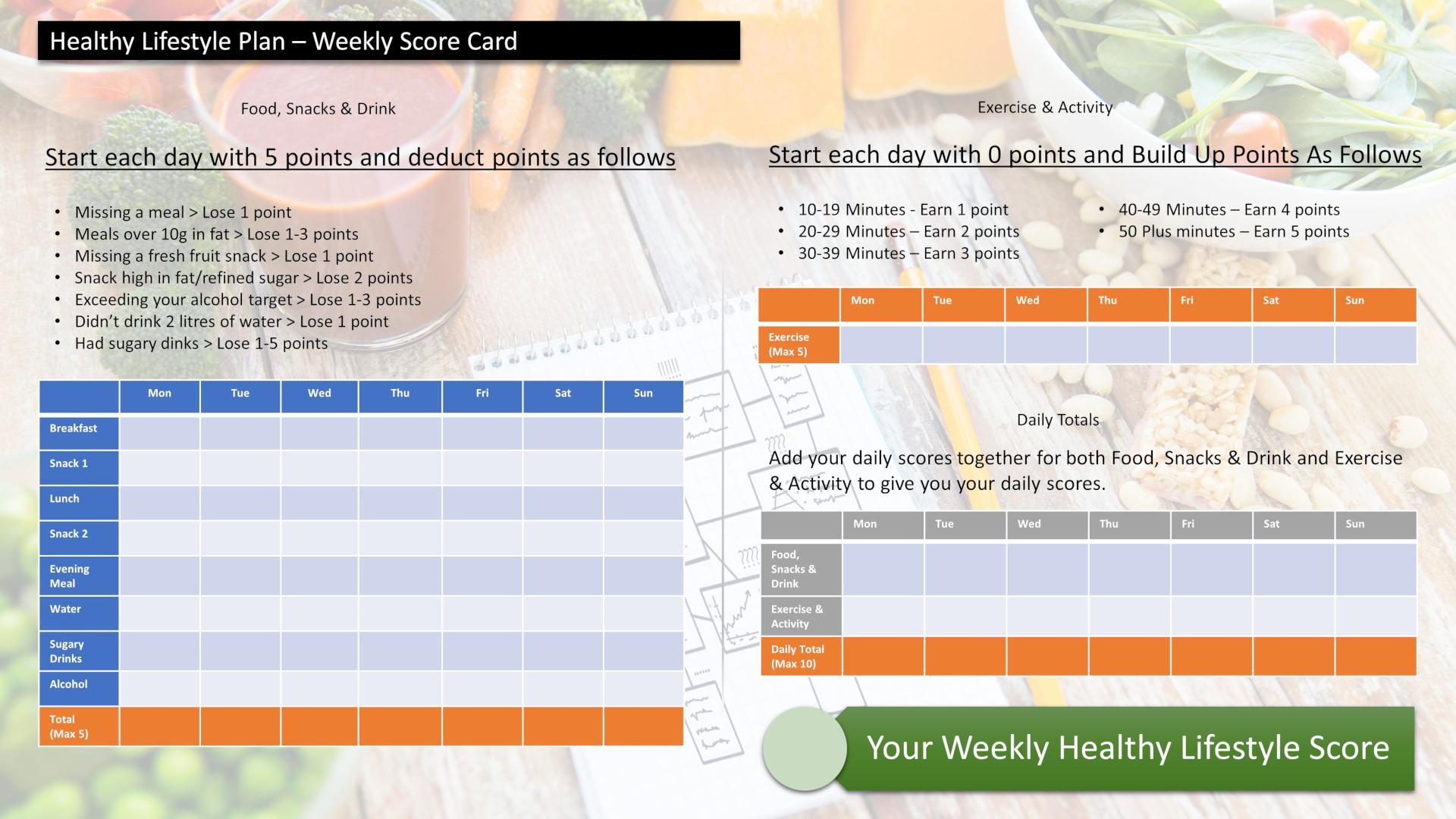 Score your way to good health with our healthy lifestyle plan and it's unique 70 point weekly scorecard!