Before I headed back to my home in the North East I went to visit the resting place of my sister Jan at Waltham Abbey Jewish Cemetery. Every time I stand at her graveside I just feel the emotions well up inside of me. This time was different.
It was a glorious sunny afternoon. I had been in London for four days mixing some business with family time spent with my youngest daughter Carly. It was time for me to return North but I couldn't come to London without going to make sure everything was ok at the grave.
So there I was standing by her stone and any onlookers would have been surprised by the sight of a big strapping giant of a man crying his eyes out like a baby.
In fact I do have a baby to blame for my emotional outburst. You see this was the first time I'd had the opportunity to visit the grave since becoming a grand father. So I was standing there looking at my sister's gravestone and felt the need to get my iPhone out, go through the picture library and start showing my sister the collection of photographs of my granddaughter Amelia-Mae.
That's all it took. My first thoughts were why aren't you able to be here and share the joy and to give the love that you always gave in such an overflowing way. I saw the multitude of gifts she gave that first time she came back into the life of my two girls and to this day no matter how young they were at that time they remember what a special person she was. I thought to myself but in a way speaking to her, you are so badly missed, and I wish you were around to enjoy the wonderful things happening in my life.
My sister was very special. Such an incredibly talented and beautiful person both externally and internally. She had the world at her fingertips. As a dancer and actress she had many big moments, the opportunities were always there, the possibilities endless.
But she passed away so young. Far too early, well before her uniqueness was able to impact the world. If she'd fulfilled her destiny I have no doubts the legacy she would have left would have been amazing.
In addition to her talents and warmth of nature and loving disposition she was also unbelievably caring, particularly about animals. Stray dogs would never be left on the street. She would put her life in danger to rescue them if need be, take them home, tend to them, care and look after them. At one time I remember her having something like 8 or 9 dogs and 4 or 5 cats. Whether animal or human being she would never see another creature suffer and would do everything in her power to help them.
So there I am standing at her graveside pictures of Amelia-Mae now shown, and I'm asking myself why the tears. It's 12 years since her passing. Enough time to grieve, to say my good byes. Amelia-Mae after all carries her middle name and ensures she'll never be forgotten. I kept asking myself 'Why?'
I heard from within words that I created long ago, your sister's life meant something. Through those words I'm convinced she had delivered to me a message that I needed to be reminded of.
I then told her something that had happened to Carly at a Spiritualist Church last week. Yes I started speaking to her as though she was there with me. I felt she was. I then said I know you already know but you spoke to Carly last week and gave her a message telling her not to give up on her dreams of acting, reminding her that acting talents ran through the family. I thanked her, both for such an encouraging message and for watching over my daughter. I then asked her to please carry on and I'm sure she is already, but also watch over Laura-Jayne and Amelia-Mae. Carly was so excited when she told me this. It had made her so happy. It had made a big difference for her.
Then again I heard, your sister's life meant something. Through you let it be so. Make the difference, you know how!
I don't know if you've experienced a moment like this but you start looking around to see if you can suddenly see this person you feel you are speaking with. 'Where is she?'You then remind yourself, she is no longer here, and a coldness touches you, and you feel this sadness that's so hard to describe.
How dare I feel sad. Any sadness can only be for me, because my sister's life may have ended to early but the way her life was going at the end, I have no doubt she went to a better place. Secondly, how could I be sad when In some way it was now obvious, I hadn't lost her, she was in a way still able to touch my life and communicate with me.
And the message she had given me was precious. A reminder of everything that was important to me, that could so easily be lost in the excitement and workload of building our new business.
I now knew without any doubt I had to complete my resurrection. I am now on the last leg having built a phenomenal business from the ashes of what went before. Completion isn't far away. I have to be the success I am destined to be using my skills, talents and passion for fitness and sport, build the ecommerce sites and relaunch a big name in the nutrition and supplement market and get a great man to the top where he is meant to be. Mind you I hope his not reading this unusual piece of writing by me. . This is all meant to be, a path I had to take. From there, for the first time I clearly now saw what else I had to do. Bring my coaching skills, love of personal development and bring the lessons I've learnt and teach the 'never give up' philosophy.
These words came flooding into my mind … show them what your sister never learnt, how not to give up, the one thing you have demonstrated time and again throughout your life.
Then the memories came flooding back of me being constantly taken to specialists, and then the words 'Remember you're the kid they diagnosed would be in a wheelchair before 13.' It was my love for playing sport and never giving up to the pain that proved those doctors and their diagnoses completely wrong. I had not thought about this for at least 20 years.
I now knew without any doubts that my story and what I have had to contend with through my life, the way I never gave up, would be an inspiration to others. And that is the meaning of the journey I have been on, the destiny I have to fulfil.
As I draw this to an end please realise I find what I have written here as hard to comprehend as you probably do to believe.
When I deliver what it is I must, one thing you can all believe is it will be totally free because the only payment I'd ever want is to know I've inspired someone to fight, never give up and achieve success. Then we both can say thanks to Jan and know her life meant something.
This really was Larry Lewis, thank you for reading me today!
Score Your Way To Good Health - With Our Healthy Lifestyle Plan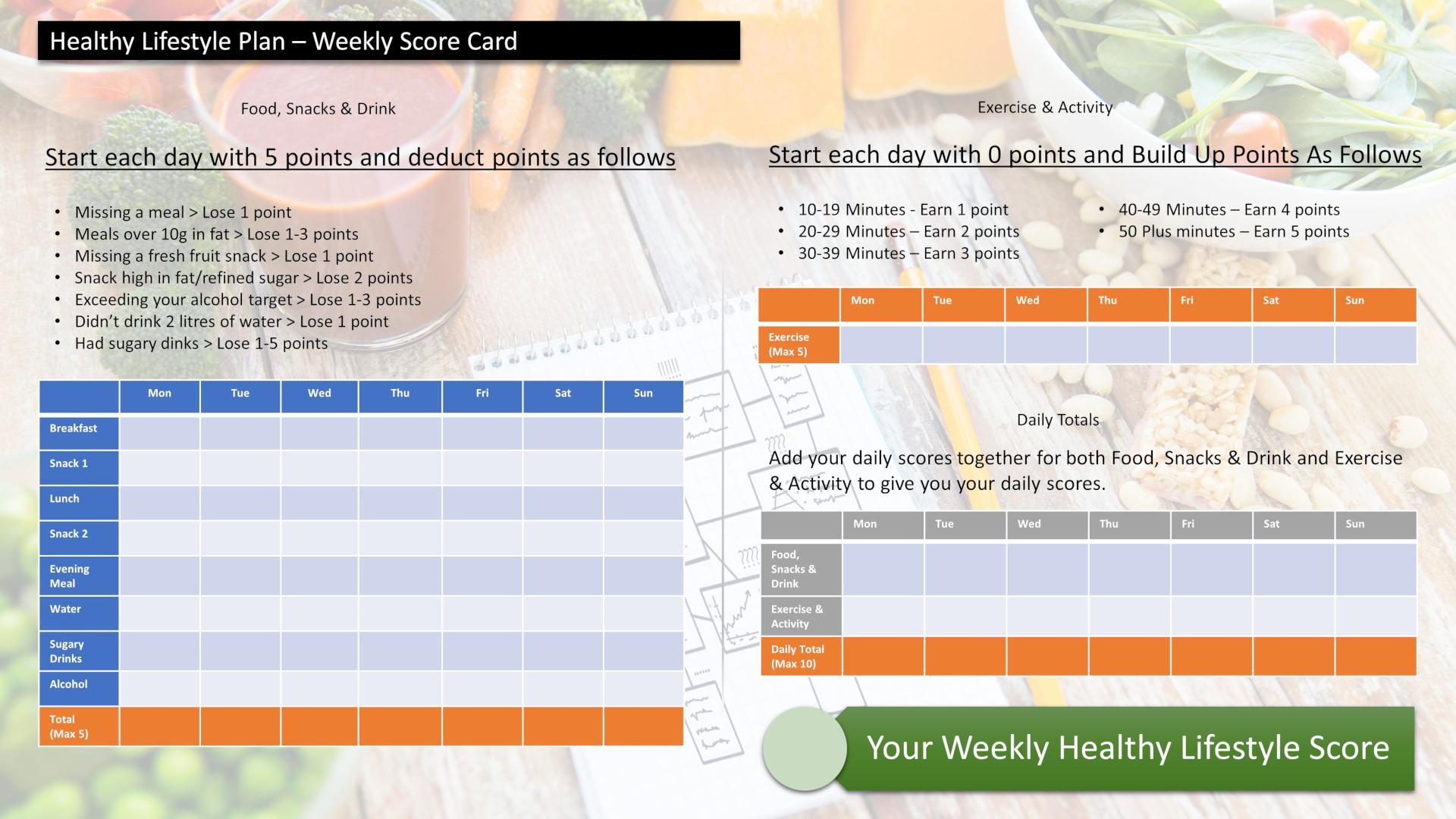 Score your way to good health with our healthy lifestyle plan and it's unique 70 point weekly scorecard!