This post is dedicated to my mum Paula Lewis and to all the mums and dads who are greatly missed.
I would like to start by saying that this isn't a typical day for me or a usual sad story about losing a loved one.
Today, as I write this on Sunday 22nd February, marks the first anniversary of the passing of my mother. Can it really be 365 days since her death and her battle with the dreadful effects of dementia finally came to an end?
The first few days I remember feeling empty. Like there was this large piece of me missing and I couldn't find it. A hole in the center of my heart clearly visible to everyone. But, that's not what this blog is all about.
I want to share the things I have come to realise in the year since my mother past away.
Her final few years were difficult for everyone. She had been a shadow of her past self, due to the impact dementia had on her. No more was she the fountain of all knowledge or the person you could go to talk through your problems. Dementia had left an empty vessel. She may now be gone, but will never be forgotten and I have come to realise so much which is what I want to share with you today.
These are the things I have come to realise in the year since my mother past away.
Feel your lost loved one by your side.
You could say I have grown closer to her since her death than in her last few years of life, Communicating with her had become nearly impossible, and seeing her so changed was challenging for all of her family. But now things feel very different. I am certain she is with me standing by my side guiding me, invisible to the eye, but every now and again there are signs making me certain she's watching over me. Surely this is the way we should all deal with the loss of a loved one. Not seeing them gone for ever, mourning their loss carrying so much awful pain, but just knowing they are with us making sure we're OK. I can assure you it's such an empowering feeling.
Realise the importance of leaving a legacy.
All of her experiences accumulated to a life well-lived, and she left her legacy. This to me is one of the most important things I've come to realise. In the 12 months that she has been gone I've created 2 powerful coaching programs, one where I help others reinvent themselves, the other where I help them use the power of goals to achieve their dreams. It feels that I've been working at a far greater level since her death and I am fulfilling my destiny and yes I'm convinced mum is by my side pointing me to find the right places. I not only see helping to improve others lives as my calling and my mission in life but the way I can leave a contribution to society once I depart this world, my legacy. Any time I take a detour I find messages that tell me to stick to my plan and I'm sure these are from my mum. I am empowered by my efforts to create a long lasting legacy as well as reassured that I'm being guided, so I know wholeheartedly that I will be successful.
Celebrate the life of your lost loved one
In truth I would say that I haven't mourned her passing, instead I've celebrated her life and the contribution she has made. Our loss is very much down to us feeling empty without this person in our life. And to me holding on to this feeling would be simply selfish. Mums last years were so difficult and she I have no doubts is in a better place. So I don't hold on to her loss but simply celebrate the life she lived.
Not a day has gone by where I've not spent time thinking about her. This has not been in a negative way. I simply recall how she guided me, shared her passions of personal development which became my own passion and my career path. She is also responsible for my love of both reading and writing. Surely this is the way you need to deal with the loss of a loved one remembering their contribution to your life and ensuring you carry on following what they taught you.
Look out for messages they send to us
I have the belief that she is still here with me, watching and directing me on my path. This thought has been strengthened by the number of times something with a butterfly has come into my sight. I'm not talking once or twice but numerous times. This beautiful creature has great significance to my mum and every time I see one I take it as a message. I believe we should hold the thought that indeed our lost loved ones are going to always be with us so we need to be open to hearing, seeing and feeling their messages to us. My logo for the business I am running happens to be a butterfly, because I truly believe everything I'm doing is because of thoughts that have seemingly come from my mum.
Live in the moment
Make the most of every day we have. Losing anyone should wake us up to how precious life is. We never know when that last day will come. Even though we should all dream of our futures and do what we can to create it the way we want, but not at the cost of happiness in this very moment. Life cannot be put on hold nor can our pursuit of success be at the cost of not enjoying every day in the right way. We have all heard that saying about live each day like it were your last. You don't have to go that extreme, but be aware that life is temporary and needs to be treated as a wonderful gift.
Know your calling, find your passions.
Find your calling and passion so it enables you to be excited every morning when you wake up to face another day. This is a better alternative than allowing the pain of waking up every day and being saddened by the love that has been lost, and feeling that part of your heart and soul isn't here anymore. By holding on to a passion that means so much to you allows you to see the possibilities of life and makes you simply know that you are walking in the footsteps of your departed loved one and doing something that would make them proud of you. When you allow yourself to be Inspired by their memory and use this to drive you it's incredible what you can achieve, amazing how things seem to just full into place.
Live a life full of gratitude.
Every day I am grateful for the time I was able to spend with my mother. Be grateful for everything you have and show gratitude for it because you never know when it's going to be taken from you. No matter how goal focused we may be we should always give thanks for what we already have, and give time for those in our lives. I came to realise over Christmas where I was unable to spend much time with my family, and of course had to accept that never again would I be able to spend a second with my mum at this special time, how we can't take anything for granted. So make sure you're grateful for every good thing, and wonderful moment you experience. Make sure you also show gratitude to those who are important to you. Tell your loved ones how you feel about them as much as possible and thank those supporting you and contributing to your life.
Love the cycle of life.
After good times, there will be bad times, but then after bad times there will be good. Our family were devastated by losing my mother in February 2014, and we had a big void in all our lives, and the size of our family was reduced by one. Then a wonderful thing happened in October. My eldest daughter Laura-Jayne and her partner Colin informed us all that we were blessed with a new arrival due in the middle of May 2015. . It is often said that when one life ends, a new life will be born. I have no doubts that our new arrival will have many of my mum's attributes and this will serve him well throughout his life. My mum will watch over his development, and yes we now know it's going to be a little boy.
Be True to yourself and others
When you are being true to yourself, you are totally honest about what you feel, value, and desire. It also means communicating your feelings wholeheartedly both with yourself and others, allowing your truth to flow through you and into the world. Life is not long enough to justify staying in situations that make you or others miserable. Create your own path of life and walk on it. Each person is different, so don't walk on ready-made paths that were meant for others. If your job brings you no enjoyment, if you feel frustrated then look to bring a career change. If relationships are doing more harm than good, be honest and give each other the space to find what you each truly want, or go off in the directions that your soul dictates.
If you have a dream, pursue it.
Too many people wait until everything is just right before venturing out. Stop waiting. Take action now. Send out what you have into the world and then constantly improve upon it. Everything you do is a work in progress, but the most important thing we have to do is believe in ourselves and pursue our dreams. You know your loved one would tell you to go for it. In the words of Steve Jobs, "Remembering that you are going to die is the best way I know to avoid the trap of thinking you have something to lose. You are already naked. There is no reason not to follow your heart."
As we were leaving the grounds where my mum is buried having gone there to honour this day, my 2 year old granddaughter Amelia-Mae said I see butterflies in the clouds. Both my daughter and myself went cold and just knew we needed no more proof that my mother is looking over us.
She may be gone, but will never be forgotten.
Score Your Way To Good Health - With Our Healthy Lifestyle Plan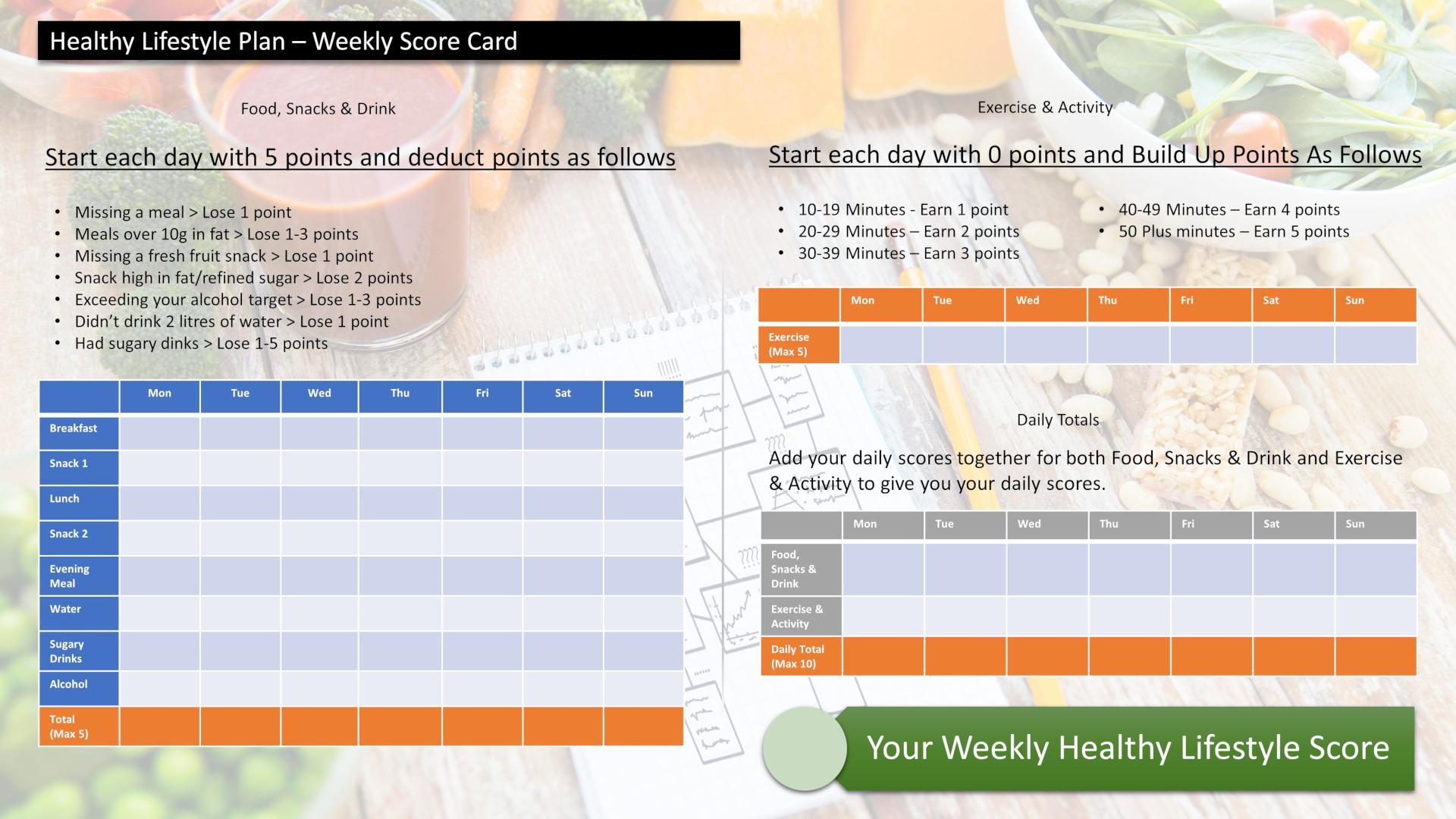 Score your way to good health with our healthy lifestyle plan and it's unique 70 point weekly scorecard!