Today I would like to introduce a fellow blogger who always takes the time to comment here at Healthy Lifestyles Living and now she has taken it a step furthur. Today she is providing us with a guest post. Who is this lady I am talking about? It is of course our top commenter for the past two months now, Martha! You can find her at Martha's Daily Devotion.
I know her blog well. I have been following her for some time, and when I get the chance I still do. Her writing never fails to empower me. She brings me a little religion, and a lot of contemplation. I never fail to leave her site, having read her latest article, without having to ponder what she has said. That is an incredible talent to create such an impression in your reader. Take it away Martha…
---
How can you say to your brother, 'Brother, let me take the speck out of your eye,' when you yourself fail to see the plank in your own eye? You hypocrite, first take the plank out of your eye, and then you will see clearly to remove the speck from your brother's eye.
~Luke 6:42
Kathy and Mindy, paralegals in a large law firm, are having lunch together on their break. All is well until Kathy spies the newly hired clerk, Alice, sitting by herself on the other side of the restaurant.
"I don't like her," she growls, stabbing her salad for emphasis.
"Who?" Mindy asks.
"That new girl. What's her name? Oh, Alice. She's such a snob."
"What makes you say that?"
"I went by her cube yesterday. Popped in to have a friendly chat. To get to know her."
"And?"
"She said she was too busy to talk to me. Really? She can't take a minute?"
Mindy dabs her mouth with her napkin before responding, "Well, maybe she actually was busy, Kathy. After all, she is new to the job and all."
"C'mon, Mindy," Kathy says, "Just look at her. Look at that tailored suit and the flashy jewelry. And, wearing them on casual Friday, of all things! Those clothes didn't come from J. C. Penney, I can assure you. She comes from money, that one. I know she's stuck up and stuck on herself."
"Well, there's one way we could clear up that notion," Mindy says.
"How?"
"Invite her to join us for lunch. See if she accepts. Get the chance to know her when she's not tied up with work."
"Have you lost your mind?" Kathy hisses hotly. "She's a princess, I tell you. She'll have nothing to do with the likes of us."
Mindy stares in silence at her friend for a few moments. How can she be so judgmental, so critical of someone she really doesn't know? Has she always been this way, and I just didn't see it? I wonder . . . Does she talk about me behind my back? Is she really my friend at all? . . .
Mindy makes a bold decision.
Gathers up napkin, plate, silverware, glass.
"And, just where do you think you're going?" Kathy inquires, her mouth full.
"To find out for myself," Mindy retorts and, without another word, heads straight to Alice's table.
~
People who are highly critical of others do so in an attempt to mask their own fears, faults, and frailties. They look at themselves just enough to know they don't like what they see, yet refuse to take the necessary steps to replace the negative with the positive. It is so much easier to project blame or guilt onto another than it is to decide to grow and change within ourselves. To live authentically. Healthier. For the better.
If you are like Kathy in the story, I hope you will decide today, right here and right now, to do some serious reflection on your life.
Begin by asking yourself these questions:
What am I lacking within that makes me want to criticize others?
Have past disappointments and failures affected my outlook?
Are my dreams and goals on hold because of family obligations?
Am I afraid that if people know the real me, they will no longer love me?
Who is the "real me"?
Start slowly. Take your time.
Remember, those planks didn't get to be that large overnight!
Be gentle with yourself. And, most of all, be forgiving.
Trusting that the Lord has forgiven you.
Know that you are not perfect.
None of us are.
Yet, it is precisely in our imperfection where God's grace can perfect us in His will.
And, give us life in abundance.
Will you let Him work His wonders in you?
~
Prayer: Heavenly Father, help us to remember that words of kindness, not criticism, lift up those around us and help us to heal from within. Guide us to reflect deeply on our lives. Give us grace to admit our weaknesses and build on the strengths You have given us. Lead us into positive lives full of passion and praise for You and the wonders You work in us all. Amen.
Written by Martha Murdy Orlando
Score Your Way To Good Health - With Our Healthy Lifestyle Plan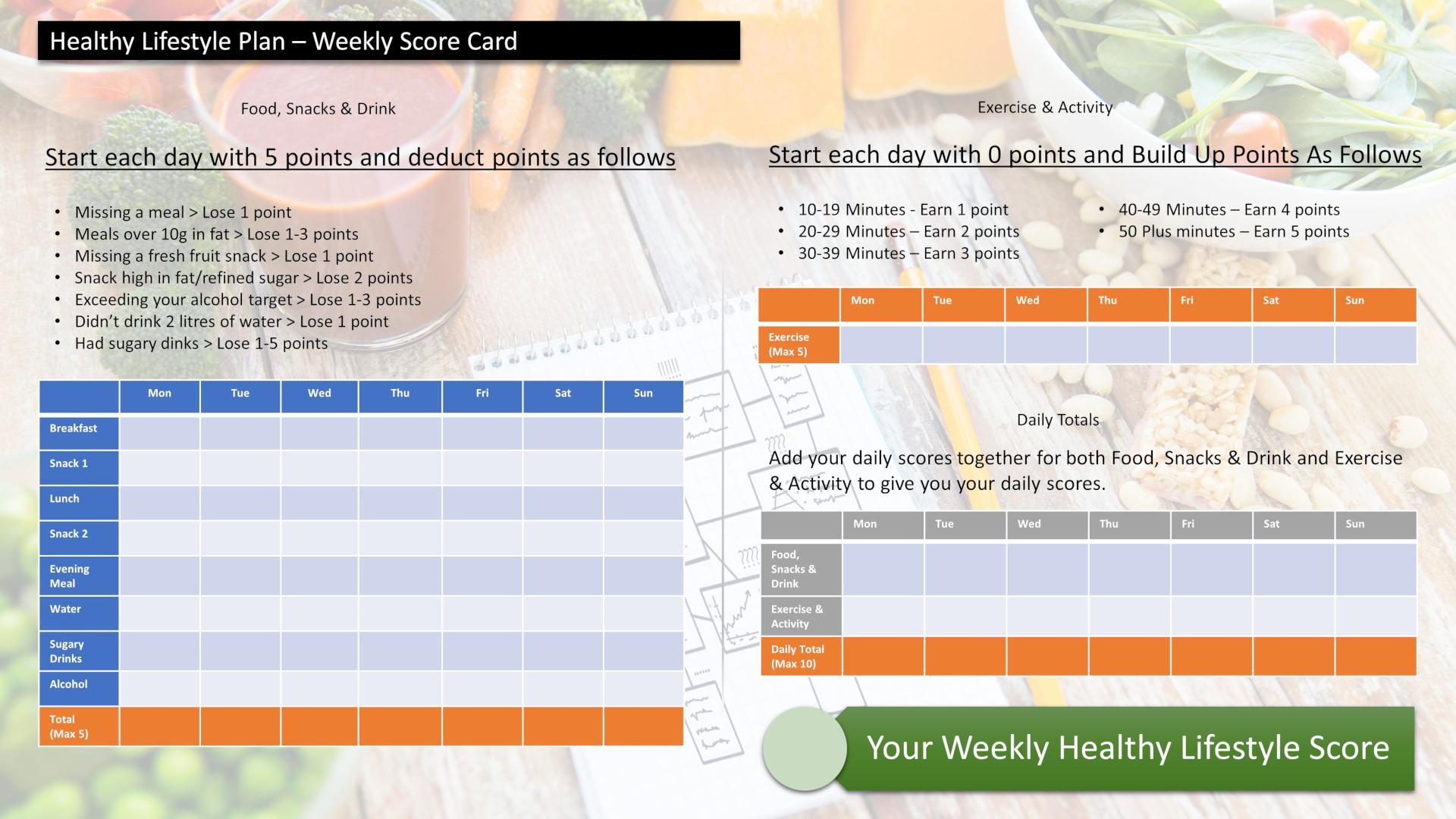 Score your way to good health with our healthy lifestyle plan and it's unique 70 point weekly scorecard!