This blog received it's 1000th comment this week – how awesome is that! Thank you! During the short life of this blog, you've helped me to learn more about the subject I love, so I'm giving thanks to all of you who have participated along the way.
At the time of writing, the comment count is 1,019, across 241 blog posts. A small milestone in the greater scheme of things, but a milestone all the same. My first comment was received on the 22nd October, 2010.
Congratulations and a big than you to Jessica Mokrzycki, of Ascending The Hills who posted this blog's 1,000th comment! Jessica's introduces her blog like this:
So join me if you will, in learning from those in the past who have walked in the light of faith and had a deep sense of the presence and knowledge of God. I will be sharing quotes I find encouraging, links, excerpts from books as well as book reviews of works I've found helpful and inspirational in understanding God more. I will also be sharing my own reflections and experiences as well as some poems. I welcome any contributions from readers, in the form of their own thoughts, comments, etc. Our combined experiences form a tapestry that serves as a tribute to the diverse nature of our loving God.
You can take a look at her wonderful blog here http://www.ascendingthehills.blogspot.com.
I am by no means a religious man. But I certainly do believe in god. So going back to my roots, having Jessica and her blog being my 1000 comment, to me is a Mitzvah.
The term mitzvah has also come to express any act of human kindness, such as the burial of the body of an unknown person. According to the teachings of Judaism, all moral laws are, or are derived from, divine commandments.
It's been my great pleasure reading everyone's thoughts and opinions, and I do hope you'll stick around for as long as I continue publishing my articles.
I'd also like to say a big thank you to Askimet. This has protected my site from 48,644 spam comments. I don't know about you but before I installed this on to my blog, I would often get extremely frustrated having to check each comment and determine which one's to keep.
Activating the Akismet plugin was like opening a can of kick-ass on spammers and, once activated, I have never had to deal with these fake comments again. What a relief.
I've had quite a journey over the last 12 months with blogging. It's been a bumpy one, full of surprises and like all the best journeys you never quite know where it will lead you, but what wonderful possibilities blogging brings you.
Just knowing there are people out there who read my blog and cared, who were willing to comment back to me, motivated me to carry on writing and do everything else you have to do with blogging. It is a great motivator for any blogger.
My blogging topic has evolved to how to follow your dreams and how to get the life you want which is my passion and what drives me to keep writing. My traffic for now has surpassed 300 unique visitors a day, and is growing all the time. My enthusiasm for blogging is as high as it has ever been. I even admit to being hooked on blogging.
Of course some days you love blogging, other times you despair and can't see the point of it. Some days it feels as if people can't get enough of your blog and other times it seems as if no one is reading what you have to say.
As a final note I do want to thank every commenter I've had. Thank you, thank you, thank you. I really appreciate all of your contributions. I can't wait to read your next comments, and all newbies will be most welcome!
Score Your Way To Good Health - With Our Healthy Lifestyle Plan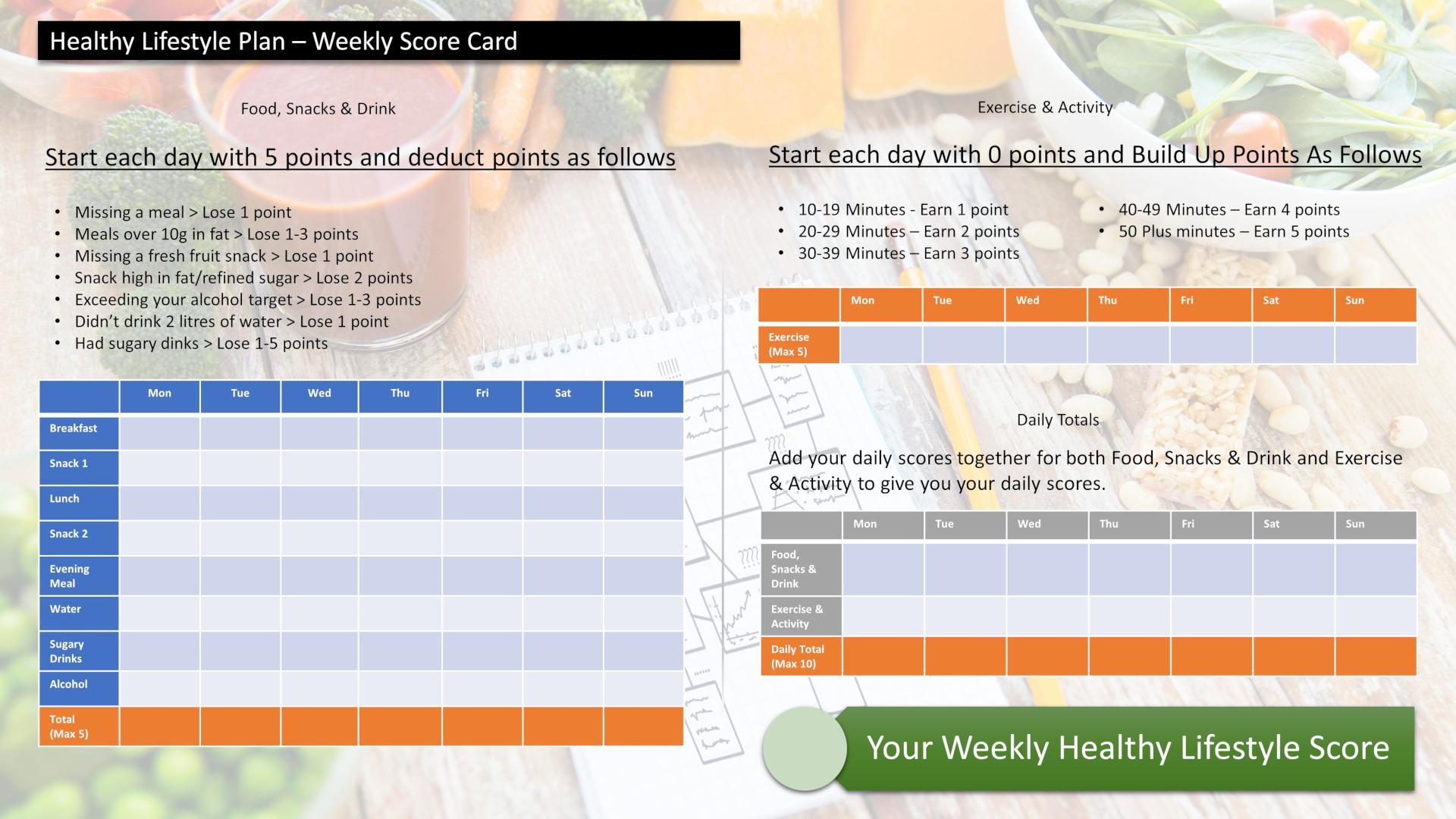 Score your way to good health with our healthy lifestyle plan and it's unique 70 point weekly scorecard!